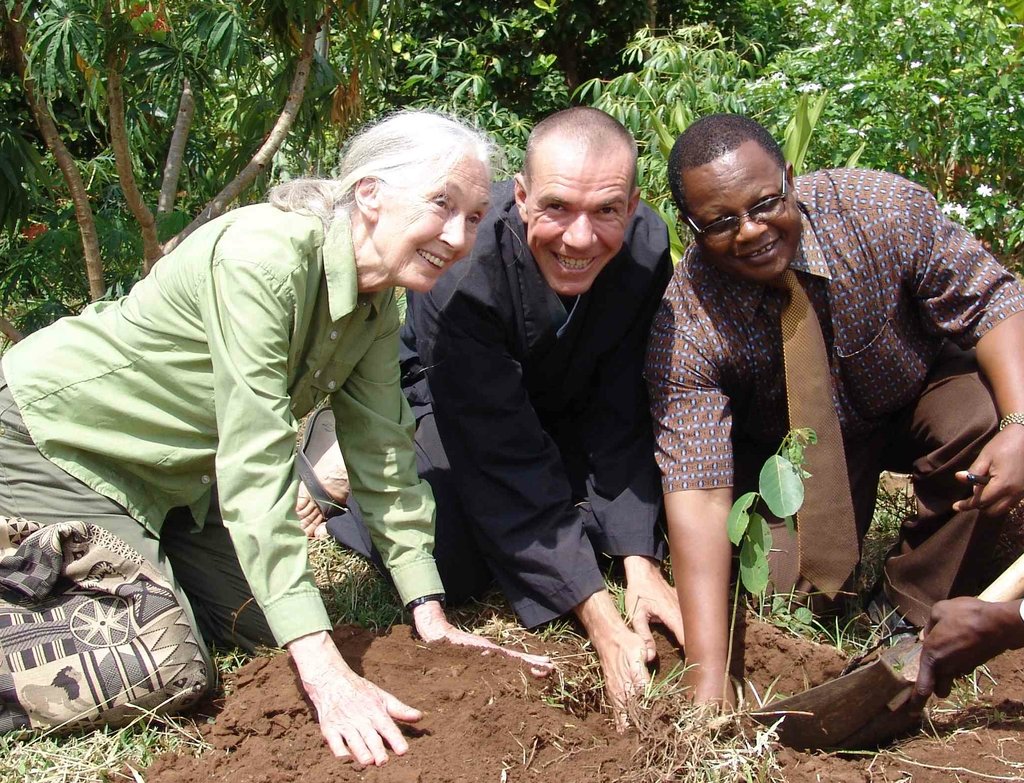 Dr. Jane Goodall pays a visit to APOPO
Internationally renowned primatologist and conservationist Dr. Jane Goodall recently spent a morning with the APOPO team – human and rat alike – as part of her larger visit to Sokoine University of Agriculture this February.
After being introduced to our work through our founder, Bart Weetjens, Dr. Goodall visited our Tanzanian headquarters for the first time in 2003. This month she was warmly welcomed back to our training facilities, where she spent a morning touring APOPO's landmine detection training field, viewing the rats in action, and speaking with our HeroRAT trainers and staff.
Following a break at APOPO's Tuberculosis Detection facility for tea and coffee, Dr. Goodall, along with her team, representatives from Sokoine University, and members of the University's Roots and Shoots club, commenced the planting of 20 fruit trees to brighten the garden of our TB Detection facility.
"I admire the work APOPO is doing with their HeroRATs, on behalf of the thousands of people whose lives have been saved, and for changing the reputation of the rats for the better," said Dr. Goodall, after completing her visit of APOPO. The entire APOPO staff was proud to present our training headquarters to Dr. Goodall and her team, and we invite her again to Morogoro anytime!
A life affected by APOPO's work
Azarias is one of many people affected by landmines in Mozambique. In 1981, he lost his right leg after stepping on a landmine in the Pfukwe Corridor of the Mabalane District. Since then he has lost his brother, uncle and cousin, all to landmines. His livelihood, livestock, was also at risk.
When asked about the mines, Azarias looked down and said, "When I heard the loud noise of a mine, I felt sad and thought of my past years. I knew it was either the life of a human being, or of a livestock that had been taken away."
APOPO has since been clearing mines in the Mabalane District, which was one of the largest minefields in Mozambique. APOPO's Mine Action Program in the Gaza Province has so far positively affected the lives of over 117,500 people.
Azarias smiles, "There is happiness, our land has been returned to us, freedom of grazing for livestock, no restrictions on where we walk. The mines have been a serious problem and we have already seen a reduction in people losing their lives. We are very happy."
Surveying the Thai-Cambodian border
Along the Thai-Cambodian border, the APOPO-PRO survey teams have now detailed more than 50 million square meters of Suspected Hazardous Areas (SHA). As a result, the surveyed land was reclassified as follows:
• 5% Cancelled Land
• 25% Confirmed Hazardous Areas (CHA)
• 70% SHA or Area With Restriction (ARW), pending further technical survey.
Alongside the four non-technical survey (NTS) teams, APOPO-PRO had two small technical survey (TS) teams, whose role was to verify information being collected. Through this verification process, 476 mines were found along with 876 explosive remnants of war (ERW). These finds confirm that the NTS methodology is correctly identifying areas containing mines.
With such a promising start for the survey program, APOPO hopes to secure further funding to ensure that we continue to play a significant role in helping the Thailand Mine Action Center (TMAC) achieve their goal of a mine-free nation.
Lieutenant GeneraI Chatree Changrian, Director General of TMAC, fully supports APOPO's efforts: "APOPO has made a substantial contribution, and has become one of the most important partners of TMAC…we believe that APOPO's efforts can contribute to a much more efficient survey to facilitate the land release process, which will bring Thailand as well as other countries in this region many steps closer to full compliance with the APMBC."
A Day in the Life of a HeroRAT-in-training
HeroRATs put their best paws forward for the camera in their latest cinematic effort, "A Day in the Life of a HeroRAT-in-training," specially filmed for GlobalGiving's 2012 Video Contest. Even though the HeroRATs were not declared winners this time around, the three-minute video remains featured on our GlobalGiving project page, Train HeroRATs for life-saving detection missions.

The video follows a typical morning in the lives of future landmine detection HeroRATs, as they train hard inTanzania to fulfill their dreams of one day saving lives in Mozambique or another mine-affected country.
All GlobalGiving Video Contest entrants were judged by Laura Knudson, Education Program Manager for the Green Living Project, a film production company that documents global stories of sustainability. Although the HeroRATs were not chosen among the final five, the rats are still proud of their effort and invite you to view the video: either right here on GlobalGiving, or here on APOPO's Youtube Channel.
Stay tuned for more films in the future as the HeroRATs shake, rattle, and roll for the camera!
Help us improve our communications by taking our survey!
APOPO's HeroRAT team is interested in improving our communications with you, our donors and supporters! We would greatly appreciate your feedback in one or both of these brief surveys:
APOPO's Online Communications Survey
APOPO's Adopt-a-Rat Program Survey
***
Thanks for reading, and until next time,
The HeroRAT team
herorats@apopo.org
facebook.com/heroRAT
twitter.com/heroRATs