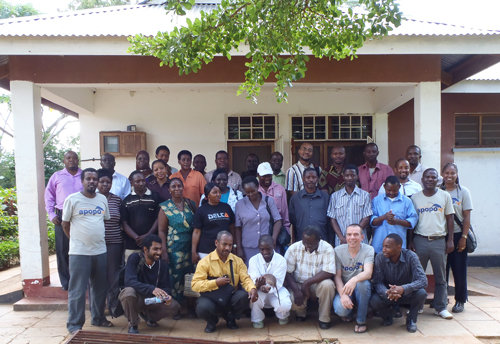 APOPO ranks 24 in Global Top 100 Best NGOs list!
This month, The Global Journal published its inaugural "Top 100 Best NGOs" list, the first international ranking of its kind. An initial group of 2,000 non-governmental organizations was researched, edited, and eventually cut to 400, before the final group of 100 was selected – and APOPO came in at No. 24!
The Global Journal is a print and online publication based in Geneva and New York that covers the issues and players shaping global governance today. All organizations considered for the Top 100 were assessed based on five key criteria in relation to their humanitarian efforts: impact, innovation, transparency, sustainability and efficiency.
Recognizing the role we play as influential agents of large-scale change, "The Global Journal has sought to move beyond outdated clichés and narrow conceptions about what an NGO is and does. From humanitarian relief to the environment, public health to education, microfinance to intellectual property, NGOs are increasingly at the forefront of developments shaping the lives of millions of people around the world."
APOPO is excited to have made the list, among an incredible group of worthy organizations. With this validation, we will continue to strengthen our impact and further our efforts to provide solutions to global humanitarian detection challenges. You can take a look at the full list of Top 100 Best NGOs here.
Wrapping up 2011 with a Win
For creatures that live and work so close the ground, the HeroRATs definitely finished their year on a high note with the news that we had been declared Second Winner in McKinsey's Social Innovation Video Contest! Thanks to the tireless voting and promoting of our friends and fans (that means you!), the good news came as an early holiday gift to APOPO's HeroRATs, when the contest winners were announced on December 13th, 2011.
Our video entry, "Training HeroRATs to sniff out TB," received 709 votes throughout the ten-day voting period and placed us Second out of 11 Finalists. We were honored to be included with First Winner, "Embrace," and Third Winner, "The sOccket," whose videos (along with the Fan Favorite Winner submitted by "Duto:IRIS") can be watched here.
The top three winners will be included in a print edition of McKinsey's publication What Matters (out this month!), will be featured in a special TV program co-produced by Link TV and Viewchange.org, and will be honored at a networking reception in New York City. Winners have also already been featured on the Huffington Post's Impact Blog!
We'd like to send our gRATitude to everyone who voted for our video in the contest. Thanks for your support!

TB Workshop a Top Success
In December, APOPO held a successful TB workshop at our headquarters in Tanzania. Representatives of the National Tuberculosis and Leprosy Program (NTLP) were invited to take a behind-the-scenes look at our TB Detection Rats, in order to better understand the processes and importance of our collaborative efforts to increase the rate of new case findings in Tanzania.
There were 27 in attendance, including Regional TB and Leprosy Coordinators (RTLCs), District TB and Leprosy Coordinators (DTLCs), and lab technicians from collaborating DOTS Centers. Professor Kazwala, from Sokoine University of Agriculture, was also present, along with members of APOPO's TB Detection team.
The workshop started with a demonstration of the TB Detection HeroRATs, followed by a video clip explaining how detection rats technology works as a diagnostic tool. The 2011 data was then presented, showing the total number of samples screened by rats during second-line screening, the total number of patients screened, and the additional cases identified by rats, from each of the DOTS centers APOPO partners with. The floor was then opened for discussion.
A newly developed reporting system was adopted, which is designed to assist the DOTS Centers in calling back patients with new cases identified by the rats. A consensus was reached for all involved to continue working closely to ensure diligent patient follow up. With the new system in place, it is hoped that the NTLP will gather strong evidence that highlights APOPO's contribution to the TB control effort in Tanzania.

HeroRATs hit the newsstands in Germany
Extra, extra! The HeroRATs found their way onto newsstands in Germany on the first day of the new year, when popular women's magazine Brigitte published an ode to our heroes in their opening issue of 2012.
Beginning with the encouragement to "Forget everything you know about rats. One day they will save the world," the article paid homage to the human-and-rat-team of APOPO through its detailed description of our work, and by spreading the word about our furry heroes throughout the country. Its publication resulted in new adoptions and donations from over 130 German supporters, all of whom referenced the article as how they heard about APOPO – now that's some influential liteRATure!
The HeroRATs thoroughly enjoyed their moment in the journalistic spotlight of writer Claudia Münster (an adopter of HeroRAT, Tyson!) and under the flashing lights of photographer Ulla Lohmann. We would like to send many squeaks of thanks their way – and of course, to the adopters and donors who took an interest in our work after reading the magazine. If you haven't had a chance to catch the article yet, be sure to download a PDF of it here.

APOPO in attendance at the 11MSP in Cambodia
From November 28 to December 2, the 11th Meeting of States Parties to the Mine Ban Treaty convened in Phnom Penh, Cambodia. The annual meeting – also known as the MSP – not only includes the 159 States Parties, but also representatives from States Not Party, civilians, landmine survivors, and delegations of experts from organizations such as the International Campaign to Ban Landmines (ICBL). In attendance were Håvard Bach, APOPO's Head of Mine Action, and Andrew Sully, Program Manager for APOPO's Thailand Mine Action Program.
Attendees were greeted with a keynote address by Song Kosal, a Cambodian ICBL Youth Ambassador and landmine survivor. Her address implored attendees to follow the theme of this year's meeting and "Push For Progress" by accelerating mine clearance, sustaining funding and cooperation, destroying existing stockpiles of landmines, and ensuring the rights of survivors, among many other crucial goals.
Cambodia's well-known struggle with landmines – deadly reminders of past civil war – causes many to feel that, as Ms. Kosal stated, "the heart of the mine ban movement is in Cambodia." Bringing the 11MSP to Phnom Penh allowed visitors to take note of the progress that has been made, but also to take stock of the remaining work to be done in a country that lives daily with landmines.
In 2010, APOPO found our way to the region when we launched our Thailand Mine Action program with the help of a grant from the Lien Foundation. The team is currently at work in the Thai province of Trat, surveying land along the Cambodian border. To learn more about our work in the Southeast Asia, visit our Thailand Mine Action page.

KKNH Sponsors "Elvis" the HeroRAT
The mission of German NGO Kriegskindernothilfe (KKNH) is to provide emergency aid for child victims of war, and for many years, the organization has supported Elvis, a young landmine survivor from Sarajevo. KKNH have paid for Elvis' operations, financed his new prostheses, and supported his social and professional development.
Now, in a fitting and heartfelt gesture, the team of KKNH has connected with APOPO to fund the full training program of one landmine detection HeroRAT, named – you guessed it – Elvis! In doing so, they endeavor to provide support not only for victims of war, but also for preventative measures which aim to reduce the landmine impact in other affected regions.
The work of the HeroRATs was first introduced to Kurt Amert of KKNH through a friend and fundraiser, Luise Zempel. Luise, together with her knitting group, had initially raised funds for APOPO in order to support Ziko the HeroRAT as part of our shared adoption program."This commitment, which we now begin with APOPO, strengthens our work, because with you we now can also act preventively," says Luise. "And – we think this is an important emergency aid, which is deeply rooted in the name Kriegskindernothilfe."
APOPO is grateful to Kurt, Luise, Elvis & the KKNH organization for their important advocacy work, raising awareness and support for landmine survivors. We have no doubt the young trainee rat, Elvis, will carry his name with pride as he goes about his daily detection missions, sniffing out mines and preventing the loss of lives and limbs.
Elvis shared his story and his thoughts on his HeroRAT namesake with APOPO! If you would like to read it in his own words, please click here.
***
The HeroRATs thank you for your interest in our work, and wish you a prosperous start to 2012!
Best wishes,
The HeroRAT team
herorats@apopo.org
www.apopo.org
facebook.com/herorat
twitter.com/herorats