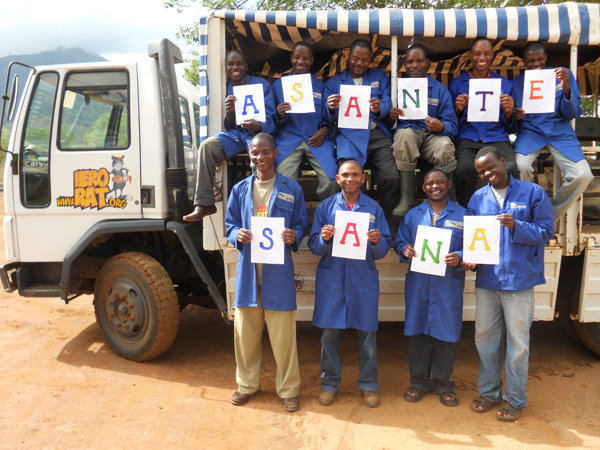 Mozambique Mine Action Achievements
This year was filled with milestones for our Mozambique Mine Action Program. Thanks to the intrepid work of the team, which now boasts 44 accredited Mine Detection Rats, a grand total of 748,488 square meters of land was cleared in the Gaza Province of Mozambique. While clearing that land, 787 mines were found and destroyed, along with 220 items of unexploded ordnance and 2,683 small arms and ammunition.
The payoff of this dedication is great: APOPO plans to finish demining of the Gaza Province, which is the most heavily mined province in Mozambique, by early next year – a full two years ahead of the 2014 deadline!
The Mozambique Mine Action Program also saw a changeover in management this year. We bid farewell to three-year Program Manager Andrew Sully as he moved to Southeast Asia to pick up the reins of our Thailand Mine Action Program, and welcomed new Program Manager, Tess Tewelde, who came to APOPO from the Geneva International Center for Humanitarian Demining (GICHD).
So what's next for our resolute team? Once clearance of the Gaza Province is completed in early 2012, the team has been tasked to clear two southern districts of the nearby Manica Province, bringing Mozambique another step closer to being mine-free at last.
APOPO-PRO Progress in Thailand
Our Thailand Mine Action Program headed into the field for the first time in 2011. Equipped with 25 staff and a partnership with the Thai NGO Peace Road Organization (PRO), the team launched a combined Technical and Non-Technical Survey of all Suspected Hazardous Areas in the province of Trat in June.
APOPO-PRO's tactic of Land Release Methodology is proving essential in accelerating the daunting task of demining the Thai-Cambodian border. Since the start of the survey, the team has been able to confirm that 25% of surveyed land can indeed be re-classified as Confirmed Hazardous Areas, while 75% of the land can be classified as either Canceled Land or Area with Restriction. During the course of the surveys, the Thailand Mine Action Program has found and destroyed 393 landmines and 859 items of unexploded ordnance.
These early results already prove that APOPO-PRO's aid will be instrumental in bringing an end to Thailand's deadly landmine problem. In 2012, the team plans to continue their survey in the province of Chantaburi. The longer-term vision is to utilize a team of trained Mine Detection Rats to speed up clearance efforts in the region and further the reach of our program's impact.
Significant funding is required to sustain this vital undertaking, and APOPO is appealing to anyone who might be able to support this effort to connect with us directly at apopo@apopo.org to further discuss the possibility of collaboration.
TB Detection: Saving Lives, Crossing Borders
Our Tuberculosis (TB) Detection Program, based at our headquarters in Morogoro, Tanzania, served as a second-line screen for more than 10,000 patients who had already been tested for TB via microscopy. Thirty-two trained TB-Detection HeroRATs screened more than 20,000 sputum samples provided by these patients, and detected over 300 new cases of Tuberculosis that had been previously missed in hospitals.
While the detection rats were sniffing and saving lives, their human colleagues were hard at work increasing the capacity and recognition of the program. Our 2010 results were published this year in the Pan-African Medical Journal, and our TB Detection Center started working with the newly developed automated line cage to enhance the HeroRAT training process.
New hospital partnerships were also established, with APOPO's technicians now gathering patient samples from a total of 11 DOTS Centers. In addition, as part of our ongoing research and development, studies are being conducted to directly compare the rats' evaluations of samples with the results of fluorescent microscopy (FMs) and the state-of-the-art Cepheid GeneXpert.
The hard work and remarkable results produced by our TB Detection Program in Tanzania has resulted in a huge victory for HeroRATs as a diagnostic method. In October, the Flemish government approved a grant of 590,000 Euros for APOPO to replicate our TB detection successes in Mozambique, another high-burden TB country. The first phase of the project is already underway, and APOPO will spend early 2012 establishing an operational TB capacity in Maputo, Mozambique.
APOPO HQ: Training, Research & Development
This year, our HeroRAT Headquarters in Morogoro, Tanzania, continued transforming ordinary African giant pouched rats into extraordinary mine-detecting and TB-sniffing heroes. As of the end of 2011, we currently have 223 rats in various stages of landmine detection training and accreditation. In June, 20 graduRATs of our HeroRAT training course flew to the minefields of Mozambique to fulfill their destinies as life-saving Mine Detection Rats.
Staff and rats in our Remote Scent Tracing Program have been lending their minds, noses, and energy to detecting and discriminating new scents, such as salmonella bacteria, illegal tobacco, and bedbugs. In addition, preliminary research into the CameRAT application was conducted. This project currently involves training six young rats to search for humans and to respond to a command to return to the site where they were released. Some of these initial research programs may result in operational applications in future, provided the necessary support is secured.
Meanwhile, nestled in their comfortable burrows deep inside our breeding kennels, still other HeroRATs have been hard at work with the rewarding (but tiring!) task of contributing to the next generation of heroes. Between October and December alone, the HeroRAT nursery welcomed 36 new baby rats, eager and willing to learn the ropes in one of our life-saving detection programs.
HeroRAT Campaign Highlights
In addition to the incredible progress of our teams, word of the HeroRATs' amazing deeds spread all over the world again this year. This exciting exposure helped draw in fans of all ages, backgrounds, and nationalities, to join us in the fight against landmines and TB!
Highlights included:
Help us make "Peace on Earth" a reality!
If you're looking for a more meaningful Christmas gift than the usual knick-knacks and electronics, you're in luck – a HeroRAT gift adoption helps make the world a better place, while being a hassle-free and instantly delivered gift, to relieve the pressures of last-minute holiday shopping!
Our featured TB and Landmine Detection HeroRATs are not only super-skilled and extra lovable, they're also articulate: adopters receive updates from their rat after the giving season is over, keeping them informed about their heroic work. By teaming up with Nala, Mojo, Cheeky or Blossom this season, you and your gift recipient are truly helping to make the dream of "Peace on Earth" a reality. To get the whole banana on the perks of adopting a rat for yourself or for others, check out our Adopt-a-Rat webpage and download our Adopt-a-Rat FAQ!
There are a number of other inspiring initiatives for givers looking to lend a paw this holiday season, too. One way is to visit our project on
GlobalGiving
, which allows you to contribute a year's worth of banana treats for one of our rats - that's cause for a full-cheeks celebration! And if you'd like to support our work as a heroic holiday gift, check out the
GlobalGiving Gift Card Challenge
. For every 500 gift cards sold, something amazing will happen thanks to GlobalGiving's bonus grants - now that's the giving spirit!
***
HeroRATs are naturally humble creatures, and this year, we're more humbled than ever by the generosity of our friends around the world. APOPO's teams could not have come this far without the help you've given, and continue to give, throughout the holiday season. Thank you, and happy holidays!

With gRATitude & good wishes,
Links: