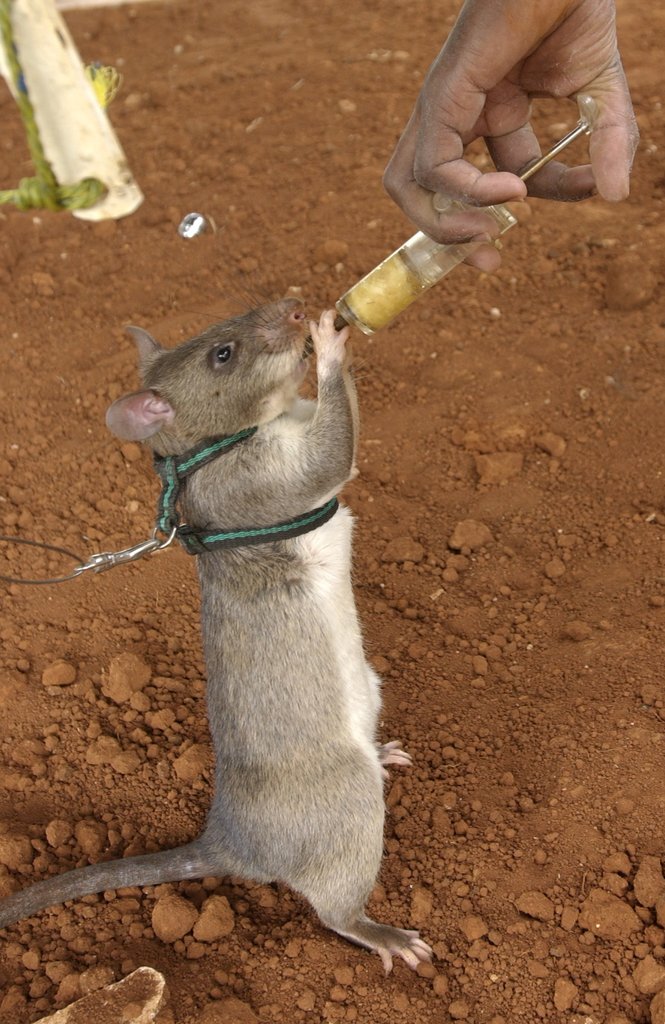 A mine action milestone for Mozambique
As the year is drawing to a close, so too are our team's Mine Action efforts in the Gaza Province of Mozambique! Back in 2008, APOPO was tasked as the sole demining organization to continue clearance of the province. In early 2012, our Mine Action team is scheduled to complete clearance of all designated areas, well ahead of the 2014 deadline.
With the help of HeroRATs, APOPO's team has cleared over 1.9 million square meters of land in the Gaza Province alone, in the process ensuring the safe destruction of 1,762 landmines, 972 unexploded ordnance and 12,168 small arms and ammunitions. A total of 26 tasked areas have been cleared and released to the local community, while clearance efforts continue in two remaining areas.
But the job isn't over yet! APOPO is committed to helping Mozambique rid itself of its landmine problem by 2014. Next year, we will continue to assist with clearance operations in two of Manica Province's southern districts, Mossurize and Machaze, covering a total area just over 1.6 million square meters.
Vote for HeroRATs in the McKinsey Social Innovation Video Contest!
The HeroRATs' skill at hamming it up for the camera has paid off: we're excited to announce that our video clip, "Training HeroRATs to sniff out TB," has been selected as a Finalist in the McKinsey Social Innovation Video Contest!
As part of their effort to "create a hub where [McKinsey] can highlight the incredible work taking place around the world," McKinsey & Company asked social innovators, wherever in the world they might be, to create a one-minute-or-less video showcasing their ideas or solutions to social problems. We are honored that our entry, featuring the talents of our TB-sniffing heroes and longtime APOPO employee Peter, was selected as one of the top 11 finalists, out of 141 entries!
Between November 30th and December 9th, the public is welcome to view all of the finalists' videos and vote for their favorite! You can vote on one video, once per day, until the December 9th deadline. The three winning organizations with the most votes will be announced on December 12th. As incentives, the lucky final three will be included in a print edition of McKinsey's flagship publication What Matters, have a chance to be featured in a special TV program co-produced with Link TV & Viewchange.org, and will be honored at a networking reception in NYC where the Link TV program will be screened. As an added bonus, each finalist will be featured in The Huffington Post!
Click here to watch all of the finalists' videos, and cast your vote for the one you think showcases the best innovation and impact. Or, click here to vote for HeroRATs now – and every day until 9th December!
Ashoka Globalizer Summit steps up social change
Between 5 – 7 November, APOPO's Founder, Bart Weetjens, along with 14 other Ashoka Fellows, went to work exploring the possibilities of scaling social impact at the Ashoka Globalizer Summit in Vienna, Austria. With a core mission that aims to match social innovators with the resources and mentorship needed to advance their innovations, the Globalizer Summit asks: "What do you need to take change to a global level?"
In order to answer this question, the Summit aligns selected Fellows with a team of expert panelists, comprising some of the most accomplished social and business entrepreneurs in the world. The teams then spend three days developing the strategies needed to advance their ideas to effect greater social change.
For Bart, being invited to participate in the Summit was an enlightening experience, and he savored the chance to learn from the experts on his assigned panel – including Jerry White, a co-recipient of the Nobel Peace Prize for his leadership with the International Campaign to Ban Landmines. "This was a great opportunity to learn from accomplished individuals, both in traditional business enterprises as well as in the NGO and social action world," says Bart. "The interaction with these panelists was quite personal, and went deeply into proven strategies to scale social innovation, like smart networks and open source strategies."
"In line with Bill Drayton's 'Everyone A Changemaker' vision, there was an emphasis on personal commitment and leadership," explains Bart, "a call for everyone in society, no matter where you are or what you do, to help make change happen."
"Poppies for Peace" sprouts support for APOPO
It's a beautiful garden for a great cause: the Klaprozen voor Vrede ("Poppies for Peace") project began in 2004, when Belgian ceramic artist Anita Huybens conceptualized, created, and exhibited more than 1,000 ceramic poppies to fundraise for APOPO. Although Anita sadly passed away in September 2008, Klaprozen voor Vrede continues to grow under the leadership of a team of volunteers, and their commitment to the APOPO cause remains strong. Earlier this month, we were grateful to receive a donation of 42,000 Euros thanks to their amazing efforts!
Klaprozen voor Vrede is instrumental in raising both funds and awareness of the global landmine problem. In the past, the sale of these poppies – at 50 Euros each – enabled APOPO to purchase two brush-cutting machines, vital pieces of equipment for our Mozambique Mine Action team!
The project continues Anita's work by exhibiting the poppies at events throughout the year, and there are several permanent displays throughout Belgium; you can learn more about their locations here. If you are interested in purchasing a poppy, you may also download a PDF of their brochure (in English, French, and Dutch).
We are truly touched by the Klaprozen voor Vrede project's recent donation, and would like to thank all of the volunteers involved for their incredible support of our work!
HeroRAT Trainer profile: reflections from the minefields
Hamoud (also known as Moudy) has been working with APOPO for five years, training HeroRATs at our headquarters in Tanzania. In January of 2011, he was among four Tanzanian trainers chosen to spend six months working with our Mozambique Mine Action team.
Because this was his first trip to Mozambique, Hamoud was excited to see how his work in Tanzania was implemented, and while there, he was determined to learn all he could from the Mozambique Mine Action team. "It's important to interact well," he says, "and you must get used to the new language and new people. You can't take the culture from Tanzania and bring it to Mozambique. They [the team] are used to working there, so you must listen to them and implement their advice." In order to listen, he had to first learn their language. Mastering Portuguese, he says, was one of his proudest accomplishments.
Of course, he also took pride in the great work he did with the HeroRATs. In one morning alone, he remembers, his rat located no less than four mines! He also discovered that he enjoyed working with one rat in particular. "Out of all of the Mine Detection Rats, Chosen One was my favorite," he reveals. "He was polite, he walked very well, and he did good work!"
Hamoud is now back in Tanzania, and has resumed training HeroRATs each morning at our headquarters. Although he is glad to be home, he says he would certainly return to Mozambique. "We are giving land back to the people for development and for infrastructure," he explains, "and I'm proud of this work."
1000 Dinners for HeroRATs
Night of a Thousand Dinners (N1KD) is a student-run gala dedicated to raising awareness of the global landmine crisis and its devastating effect on international communities. The International Relations Students Association (IRSA) of the University of British Columbia in Vancouver, Canada, recently held their 9th Annual N1KD event. This year, the IRSA chose to highlight the work of APOPO's mine detection HeroRATs at their gala!
About 230 people attended the event on 21 November, which featured a silent auction, a string quartet performance, a mouth-watering three course dinner, and a presentation on the mine action efforts of APOPO. A video message came all the way from HeroRAT headquarters in Tanzania, featuring APOPO's Founder, Bart Weetjens, who expressed gratitude to the audience for being a part of such a wonderful initiative.
A huge thanks to the IRSA team for all the time, energy and enthusiasm they put into organizing this event: we appreciate their efforts to bring the global problem of landmines into the spotlight and offer support for mine action efforts around the world.
Give a rat, help save lives this holiday season!
Move over, Kindle and iPad: this season's hottest holiday gifts have four legs, long tails, and sniffers even more useful than that of Rudolph the Red-Nosed Reindeer. Their names are Nala, Cheeky, Blossom, and Mojo, and supporting their life-saving work through a HeroRAT Gift Adoption is a hassle-free way to bring holiday cheer to anyone on your gift list!
Lucky gift recipients will be warmly welcomed into our Adopt-a-Rat program with a snazzy adoption certificate and welcome letter introducing them to their brand-new HeroRAT. Throughout the year, they will also be able to enjoy regular progress reports lovingly written and emailed from their adopted rat.
A HeroRAT adoption truly is a gift that continues to give. Long after the presents have been unwrapped and thank you cards have been sent, our HeroRATs will still be doing their life-saving detection work – and bringing cheer wherever they go!
For more info, email us at herorats@apopo.org.
***
Finally, to get yourselves in the festive spirit, be sure to visit us on Facebook and Twitter in the lead-up to the holiday season - we'll be posting 12 Days of HeroRATs for the Holidays to put a smile on your face and spread some joy to the world...
On behalf of the HeroRATs, we wish you a safe and peaceful lead-up to the festive season!
Warm regards,
The HeroRAT team
herorats@apopo.org
www.apopo.org
facebook.com/HeroRAT
twitter.com/HeroRATs