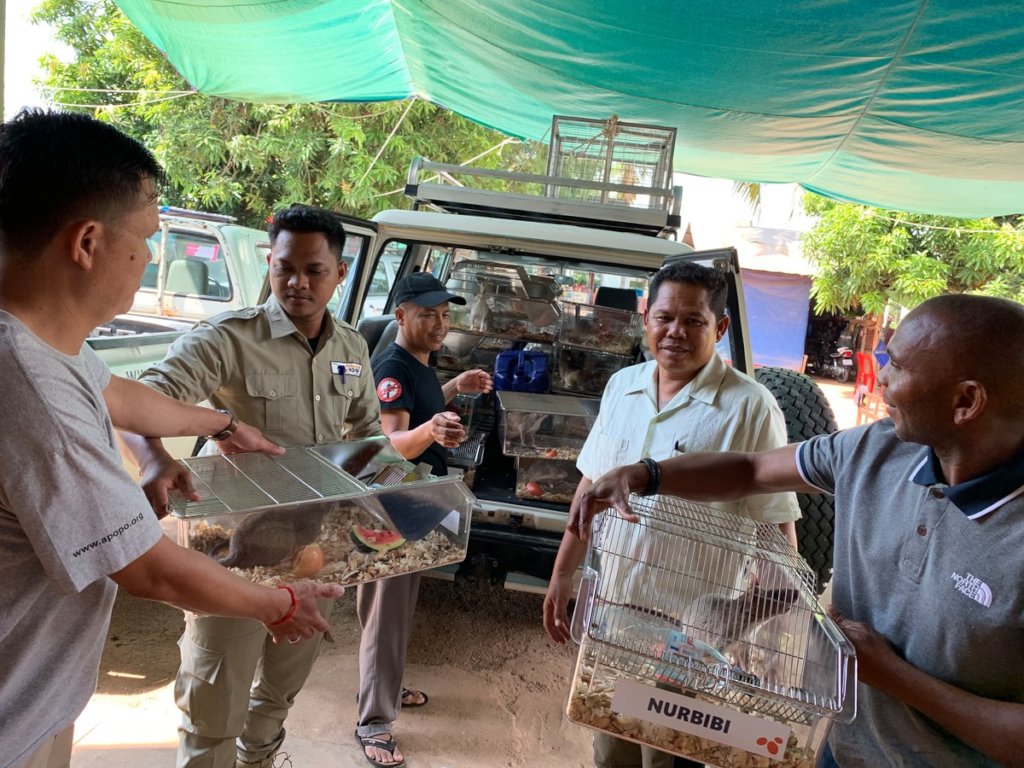 Another year has almost passed and my, what a year.

Thanks to your support we've been able to achieve so much and positively affect so many people across the world. Let's take a nostalgic few moments to review some key moments from 2019.

On January 16th, 2019 we, alongside our partner Cambodia Mine Action Center (CMAC), were thrilled to announce the completion of a minefield in Dai Ao village of the Sre Noi Commune in Varin District. A handover ceremony was held to release 520,257 square meters of land back to the community.
In February 2019 we reached a landmark - 250,000 patients with signs and symptoms of tuberculosis (TB) retested since the TB programme began in 2007. "Our experiences from Mozambique and Tanzania show that it takes both speedy testing and community health worker support to make 'Find & Treat' come true for more and more patients." - Dr Lena Fiebig, APOPO Head of Tuberculosis
In March 2019 we celebrated World TB Day - a day which educates the public on the massive burden caused by TB globally and calls on governments, civil society organizations, communities and others to step up efforts to jointly end TB.
In April 2019 we celebrated International Landmine Awareness Day reflecting upon our work and celebrating the achievements of our staff, partners, and landmine detection animals. We also welcomed 10 new landmine detection HeroRATs to their new home in Cambodia (thanks to the support of the People's Postcode Lottery) providing much-needed capacity to operations in Cambodia.
In May 2019 three HeroRATs moved to Point Defiance Zoo & Aquarium in Tacoma, Washington. HeroRATs Celine, Chiku and Mona Lisa act as ambassadors for our work and Point Defiance Zoo & Aquarium is the first zoo to demonstrate to the American public how HeroRATs save lives through mock landmine detection training demonstrations
In June and July 2019 a video about our work developed by the South China Morning Post (SPMC) received over half a million views, furthering the knowledge of our work and impact throughout the world.
On August 5th, 2019 our TB detection team in Dar es Salaam, Tanzania was happy to host Second Secretary Kim Wilkinson from the Australian High Commission in Kenya at our Tuberculosis (TB) laboratory in Dar es Salaam, in Tanzania. The Australian High Commission's Direct Aid Program (DAP) supported APOPO from January 2018 through July 2019 and the DAP grant allowed us to train six new young African giant pouched rats for our TB Detection program.
In September 2019 our very own Dr Georgies Mgode attended workshop titled 'Beyond the standard: Non-model vertebrates in biomedicine' in Berlin, Germany, where researchers from more than 20 countries gathered to share their experiences. Dr Mgode shared research experiences presenting African giant pouched rats and olfactory based medical application.
In October 2019 24 landmine detection rats boarded their first international flight for Cambodia. The rats arrived safely on Wednesday, October 23rd, raising the number of rats in our Cambodia program to 50.
On November 29th, 2019 we held a handover ceremony with residents of Trapeang Krasang, in Siem Reap Province, releasing 788,257 square meters of land that were cleared during August, September and October 2019 with over 170 anti-personnel landmines and unexploded ordnance (UXO) found and destroyed. The land was delivered back to 19 families from the village.
On December 10th, 2019 we celebrated Human Rights Day 2019 reflecting on the fact that human rights should be enjoyed by everyone. We took time to remember that our work is connected to human rights because landmines deprive thousands of people of their fundamental rights, such as safety, security and freedom of movement.
---
The above is just a snapshot of all of the things we've been able to achieve, contribute to, and celebrate throughout 2019. It's thanks to your support that we're able to continue our fight against landmines and tuberculosis, whilst continuing valuable research and development into projects for the future.
As 2019 draws to a close, here's to 2020. Here's to working together to changes the lives of beneficiaries across the world.
We wish you a very Happy New Year to you, your family, and your friends.