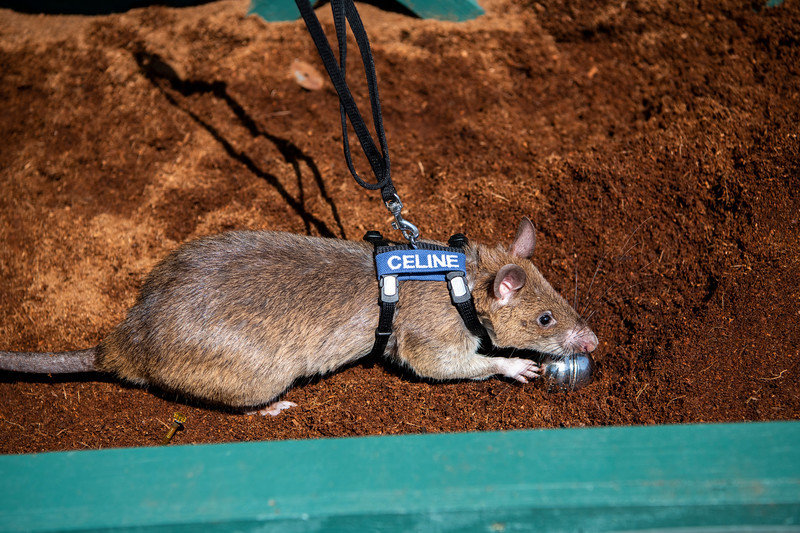 Hello and thank you for your continued support. We're delighted to bring you the following update on Q3 of 2019 which has certainly been busy for humans and HeroRATs alike!
APOPO's HeroRATs make it in America
In July 2019 we were thrilled to introduce three very important ambassadors who travelled all the way from Tanzania to the United States - more specifically - to Point Defiance Zoo & Aquarium, which was the first zoo to demonstrate to the American public how HeroRATs save lives through mock landmine detection training demonstrations.
HeroRATs Celine, Chiku and Mona Lisa took three flights to get to their new home at Tacoma, Washington in May. Before leaving they received all their vaccinations, and the long journey from Africa to America was broken up into shorter segments with regular checks along the way. They travelled thousands of miles away from home and took it all in stride. Yet again, the HeroRATs showed us how resilient they are as a species.
After getting ample time to rest up in quarantine under close monitoring from Zoo veterinarians, the rats were introduced to their new homes and their zoo caretakers. Once they were comfortable with the team and happy in their environment they were gradually introduced to short training sessions for their mock landmine training demonstration routines before having their debut in front of zoo visitors on July 20th.
Cultural Celebrations in Tanzania
The first week of August brought a celebration of agriculture in Tanzania and APOPO participated alongside partner the Sokoine University of Agriculture. The week celebrated important contributions from farmers to the Tanzanian economy and showcases new technologies, ideas, discoveries and alternative solutions that will help to improve the agricultural sector. Companies, NGOs, farmers, regional and local officials as well as the general public are drawn to see the latest developments and opportunities. The HeroRATs attracted a lot of attention and shone a spotlight on the lifesaving work APOPO does.
In Tanzania, rats are generally considered a destructive pest, ruining crops and getting into food stores. In fact, most farmers will usually try to get rid of them when found on their land. It's always good to have the opportunity to show people that rats are intelligent creatures that are very capable of saving lives. The exhibition allowed APOPO to inform local communities about the rats, but also the issues they are helping to solve such as the fight to end tuberculosis (TB) and breaking the stigma that is associated with the disease. Highlights were a visit from the Minister of Agriculture, Hon. Japhet Hasunga and also the Acting Regional Medical Officer of Simiyu Dr. Maeka who expressed great interest in our TB detection research.
APOPO presents HeroRATs at CITES Conference
Between 17-28 August 2019, our partner Endangered Wildlife Trust (EWT) of South Africa and APOPO attended the Convention on International Trade in Endangered Species of Wild Fauna and Flora (CITES) conference in Geneva, Switzerland. CITES is an international agreement between governments that aims to ensure that international trade of wild animals and plants does not threaten their survival. The objective of the Convention is to conserve wildlife and prevent international trade from pushing species into extinction.
APOPO established a partnership with the EWT in 2016 to collaborate on a proof-of-concept research study to examine the abilities of the HeroRATs to detect the world's most widely trafficked mammal, pangolin, as well as illegally logged and trafficked African hardwood. APOPO has finished the first phase of the study successfully showing that the rats are not only able to sniff out pangolin scales and hardwood but that they can differentiate them from common masking items.
With international momentum to tackle illegal wildlife trade continuing to grow, over 2200 participants met at the world's most important wildlife trade meeting – the 18th Conference of the Parties (CoP) to the Convention on Illegal Trade in Endangered Species of wild fauna and flora (CITES). APOPO's Dr Miriam Schneider travelled to Geneva to attend the conference and was given the unique opportunity to present the findings of the study at a side event of the conference: "Harnessing tools and technologies for wildlife law enforcement".
Dr Schneider was able to promote APOPO's work on a broad international platform and gain a better grasp of the current situation and developments in the wildlife trade. It also offered a chance to network with wildlife law enforcement officials and NGOs that could help to decide possible future methods for the rats to combat trafficking in real-life settings.
Little by Little Successes
In September 2019 we participated in Global Giving's Little by Little campaign which saw an outpouring of donations via the platform. Our incredible donors raised us to pole position where we stayed until closing which meant we won an additional $4,000 in bonus payments from Global Giving meaning the total amount raised was $21,635! We cannot thank you enough for the generous donations received, all of which will go towards funding the lifesaving work we carry out on a daily basis.
Thank you for being wonderful supporters.