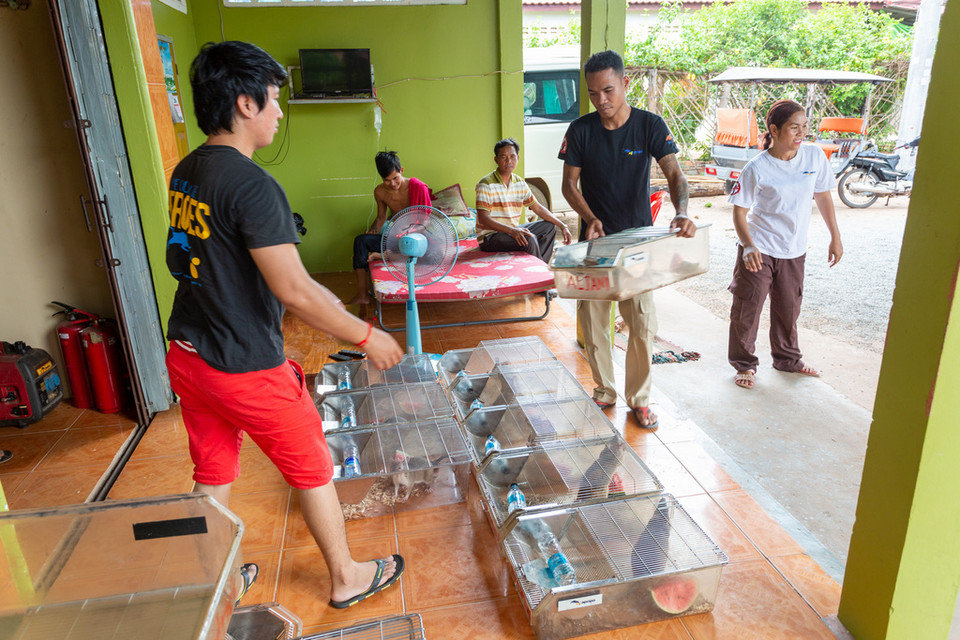 Another busy quarter has passed us by and we're delighted to bring you the following update.
Landmine Detection
This quarter was an exciting time as we celebrated not only International Landmine Awareness Day but also the accreditation of 9 new Mine Detection Rats for Cambodia. The rats arrived from Tanzania at the end of April and were warmly welcomed by the Cambodian team.
The HeroRATs went through an intensive 6-week acclimatization and training period. This involved getting used to new sights, sounds and smells as well as getting to know their new Cambodian handlers and vice versa.
On June 12th-13th APOPO hosted representatives from the Cambodian Mine Action Centre (CMAC) Headquarters, our long-term implementation partner in Cambodia, for external double-blind testing of the freshly trained and newly imported MDR. The two days of testing were held on a test minefield prepared by the CMAC representatives.
The accreditation is "double-blind" because both rats and the handlers are unaware of where the targets are buried, which are known only to the representatives who had them marked on a map. Each of the rats had to search a box of 200 square metres, and all of them correctly indicated the targets within a one-meter radius, with not a single one missed. This reflects the high level of mine detection skill of the MDR and their handlers as well as the quality of the breeding and training at APOPO's Headquarters and training centre in Morogoro, Tanzania.
Tuberculosis Detection
In March we celebrated World Tuberculosis Day with a theme of 'It's Time'.
We took a moment to consider how APOPO researches TB detection rats which are incredibly fast: one rat can screen 100 samples in just 20 minutes. We use our rapid rats as a "failsafe" – re-evaluating human sputum samples delivered from partner clinics. A sample indicated positive by a rat undergoes confirmation testing with internationally approved tests before the result is returned to the clinic. This approach helps to increase TB case detection by about 40%.
We also considered our other activities which are also very much centred around speeding things up: our motorbike sample referral systems in Dar es Salaam, Maputo and Addis Ababa, our rapid testing and result turnaround within 24 hours and prompt action to make sure newly diagnosed patients get on with their TB treatment immediately. Beyond that, a new study has started to find out whether our TB detection rats can identify TB earlier than conventional methods.
As always, it's with your incredible, ongoing support that we and our HeroRATs are able to continue in their missions. Your support allows us to look to the future and develop new humanitarian applications for the rats' powerful sense of smell.
With the future in mind, Global Giving's July 18th Bonus Day is fast approaching and we'll be participating - we hope you can too.
On 18th July ONLY Global Giving will be matching donations from $100 to $1,000 whilst $130,000 in matching funds remain. The higher your donation, the higher the match!
We'll also be participating in Global Giving's August Little by Little campaign from 12th to 16th August and where smaller donations up to $50 will be matched at 50% and higher. More on that to follow!
From all of us here at APOPO - thank you for your support.