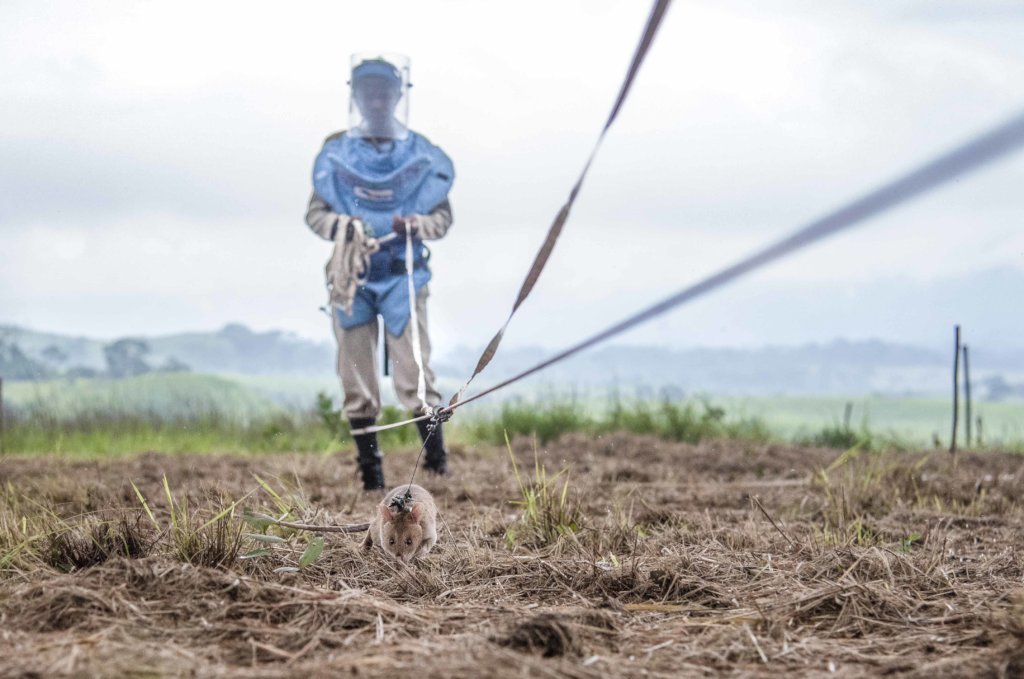 The start to the 2019 year has been a successful one for us here at APOPO as we continue in our fight against landmines and tuberculosis (TB), with your incredible support. With World TB Day already under our belt and International Landmine Awareness Day still to come this April 4th, we have been able to take time out to review the successes of 2018 and 2019, so far.
Landmine Detection Cambodia
In 2018 APOPO Cambodia began working in two provinces concurrently, signing a Memorandum of Understanding (MoU) with the Cambodia Mine Action Centre (CMAC) to commence an additional mine clearance project in Preah Vihear province, running in parallel with our Siem Reap operations. Our work was further boosted in late 2018 through a renewed MoU for the continuation of our landmine detection rat and Cambodia Mine Action Centre (CMAC) clearance operations in Siem Reap for 2019.
About half of Cambodia's minefields have been cleared and yet it still remains one of the most heavily impacted countries in the world. Leftover landmines and explosives from conflict are still a major hindrance to the social and economic development of the country. They block access to fertile land for agriculture, water sources, and travel routes, and isolate communities from health services. With among the highest number of landmine victims across the globe, the remaining threat imposes financial and emotional burdens on families needing to care for a landmine survivor.
Our renewed MoU with CMAC means we will be able to continue to work to clear land for local communities. CMAC has been integrating our Landmine Detection Rats into its programs since 2015 and we have achieved remarkable results; there is hope that this continuing partnership will enable the clearance of over 1,500,000 square metres in 2019.
Landmine Detection Angola
Since beginning our work in Angola in 2012 APOPO has helped our partner, Norwegian People's Aid, to find and destroy landmines and other explosive remnants of war, releasing over 1.1 million m2 of safe area and helping thousands of people back on their land.
In 2018 our work continued as we welcomed a further 16 Landmine Detection Rats to our Angola operations to further bolster capacity. All 16 rats took the long journey from Dar Es Salaam in Tanzania, arriving successfully in Uíge province, Angola having undertaken, and passed, independent testing by our partner, the National Intersectoral Commission for Demining and Humanitarian Assistance (CNIDAH).
Further good news came in the form of a continuation of support from the Stanley Thomas Johnson Foundation, an important partner of our work in Angola since 2017. With their continued support, and the increased capacity from 16 new Landmine Detection Rats, we were able to continue our work to provide a landmine-free Angola to its people by 2025 in accordance with Article 5 of the Anti-Personnel Mine Ban Convention (APMBC).
Despite the work already carried out, Angola remains blighted by large swathes of land contaminated by landmines and other explosive remnants of war with an estimated one-fifth of the population being affected. Our work must continue to make an impact to ensure local communities are provided with security, opening up opportunities for development, farming, and recreation without fear.
TB Detection
In February 2019, APOPO was delighted to be invited by the Organization for Economic Co-operation and Development (OECD) to share a case study on our TB detection program in the companion volume of the new SDG-themed "Leaving No One Behind" OECD Development Cooperation Report. We live in the era of the Sustainable Development Goals (SDGs). These 17 global goals were set by the United Nations General Assembly in 2015, succeeding the Millennium Development Goals, to collectively work towards "the future we want".
APOPO clearly identifies with the SDG. With our tuberculosis (TB) detection program, we strive for Goal 3: ensuring good health and promoting well-being, and for making our contribution to target 3.3, to end the epidemics of tuberculosis (amongst other diseases) by 2030. APOPO researches TB detection rats which are incredibly fast: one rat can screen 100 samples in just 20 minutes. We use our rapid rats as a "failsafe" – re-evaluating human sputum samples delivered from partner clinics. A sample indicated positive by a rat undergoes confirmation testing with internationally approved tests before the result is returned to the clinic. This approach helps to increase TB case detection by about 40%.
By now, we have tested over half a million samples for TB, found more than 14,700 additional TB cases, and have joined forces with community partners to make sure that 'Test' also means 'Treat'. In the last couple of years, partnering with community-based organizations have helped APOPO track down newly diagnosed TB patients in Tanzania and Mozambique and enable 80% of them to promptly start their TB treatment which usually involves the patient taking a combination of different TB drugs. If the correct drugs are taken for the entire duration of treatment, then for most patients this will cure the TB.
Our other activities in the field are also very much centred around speeding things up: our motorbike sample referral systems in Dar es Salaam, Maputo and Addis Ababa, our rapid testing and result turnaround within 24 hours and prompt action to make sure newly diagnosed patients get on with their TB treatment immediately. Beyond that, a new study has started to find out whether our TB detection rats can identify TB earlier than conventional methods.
---
In spite of our successes, much work remains to realise a world free of mines and TB. We are forging ahead through the course of 2019 with a renewed focus on the continuation of our efforts to bring good health, security, peace and the chance of development to the communities within which we work. With your continued support, we will be able to do so.
On that note, GlobalGiving's Little x Little campaign is fast approaching. Between 00:00hrs on April 8th through 23:59hrs on April 12th all eligible donations up to $50 will be matched at 50% at no extra cost to you. There will be $50,000 in matching funds available and we'd love you to help us by making your donation go further! Keep your eyes peeled for our further project appeal email on April 8th.
Thank you for your incredible support for our work.