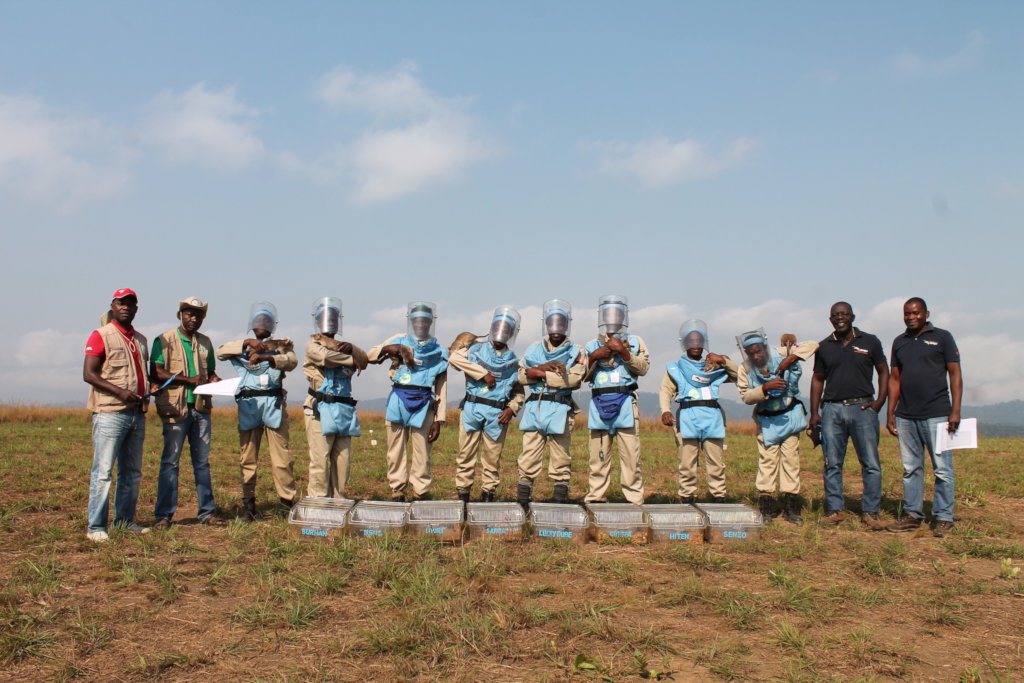 This month, APOPO hosted two representatives from Angola's national demining authority the National Intersectorial Commission for Humanitarian Demining and Assistance (CNIDAH), for the independent, external double-blind testing of 16 freshly trained and newly imported mine detection rats (MDR).
The two days of testing were held in a former minefield previously cleared by APOPO with the assistance of now retired MDR. The test area had been specially prepared by CNIDAH the month prior with deactivated landmines planted for the MDR and their handlers to find.
The accreditation is "double-blind" because the MDR and the handlers are unaware of the locations of the targets, which are known only to CNIDAH who have them marked on a map. Each of 16 MDR were subjected to a search of 200 square metres, and all 16 of the MDR correctly indicated the targets within a one-meter radius of the target, with not a single one missed. This reflects the high level of mine detection skill of the MDR and their handlers as well as the quality of the breeding and training at APOPO's Headquarters and training centre in Morogoro, Tanzania.
"I credit APOPO's training team in Tanzania for preparing a fine group of detection rats, which quickly acclimatised to our premises in Uíge, and demonstrated strong positive behaviour that is easy for handlers to recognise." Zacarias - MDR Supervisor.
"I was excited to meet the 16 new MDRs at the airport in Luanda after having waited anxiously for them since they departed APOPO's headquarters in early May. They have impressively proved themselves as Angola's next team of mine detection rats to take on our next tasked minefields in Angola. With accreditation now out of the way, as soon as we have the certificate from CNIDAH in Luanda, APOPO will immediately deploy the MDR to an ongoing task in Uíge Province located in the district of Quitexe. The minefield was a former military position and camp, and once free from all hazards, the area will used for expansion of the nearby village and for agriculture." Alfredo - MDR Supervisor.
--
APOPO sincerely thanks our wonderful donors and partners for making APOPO's life-saving work in Angola possible.