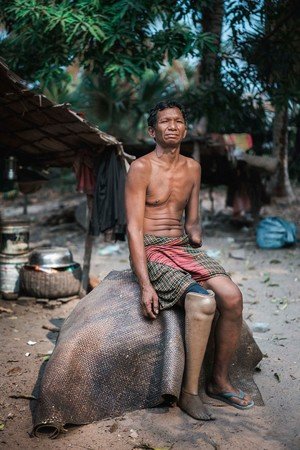 Every day, thousands of deminers around the world risk their lives when clearing landmines in an effort to help the communities who live in terror of these insidious, hidden weapons. For deminers, International Landmine Awareness Day is just a regular day, no different to any other day on the minefield. For APOPO, this day is an opportunity to highlight their courage, to raise awareness of the landmine issue, and to celebrate what has so far been achieved, whilst keeping in context the hard work that remains to be done. The focus this year for landmine awareness day is on protection, peace and development.
Protection
Despite mine action efforts around the world, people are regularly killed and maimed from landmines and other leftover explosives. Children are at risk by playing near their houses or travelling op school, their parents overcome terror every day to work their land and provide for their family. Mine Action is about protecting people and their livelihoods from weapons that were laid for reasons that had mostly nothing to do with them in the first place. Yet, it is the local communities who now bear the brunt of these forgotten, hidden killers.
APOPO, through its mine detection rats, is committed to clearing landmines and releasing land at an accelerated pace, helping to protecting more people and ensuring that children can grow up in a safe environment. Yet the need for protection against landmines is not unique to humans. Mines are also found in isolated areas where endangered wildlife roams, such as along the border between South West Zimbabwe and Mozambique. APOPO's program there is located in a wildlife corridor and designated conservation area, and aims to protect elephants lion and other animals as they move from one protected area to another.
Peace building
The road to peace is shorter when there is hope for improvement and normalisation of life. Clearing mines is an integrated element of building lasting peace and stability after war by returning safe, productive land to communities who for decades have been crammed together on land whose agricultural fertility steadily deteriorates with over-farming, whilst space for development and expansion is unavailable.
Preconditions for peace also require peace building initiatives, including safe movement of peacekeepers and aid workers, along with distribution of humanitarian aid. The presence of landmines can severely inhibit these efforts leaving communities even isolated and sometimes lawless.
Development
The presence of landmines and ERW will always impede development in one way or another, yet the full implications of landmine contamination on a country are often little known, poorly understood, badly documented and wholly underrated. Rural communities may be prevented from cultivation of land and herding their livestock, thus triggering reliance of humanitarian aid. Development initiatives themselves are often hemmed in and hampered, preventing sustainable development and prolonging dependency of such aid. Rehabilitation of infrastructure can be similarly restricted, preventing economic growth and provision of basic services.
Clearing the landmines allows settlement into new areas in contrast to prolonged urbanisation because of war. Angola is an example of a country where migration of people from excess urbanised areas into rural areas is hampered because of landmines.
What we can do
The Anti-personnel Mine Ban Convention (APMBC) has adapted the goal to "accomplish all outstanding obligations under the Convention, to the fullest extent possible, by 2025". This is for the most part achievable if states, donors and mine action organisations give it the priority it deserves and continue with current or probably higher levels of funding. APOPO has for 20 years developed and improved the use of animals for landmine detection. Our efforts ensure more expedient protection of civilians and animals and support peace building and development in mine affected areas. Integrated Mine Detection Rats teams can triple the overall efficiency of a land release process compared manual mine clearance used alone. Through partnership with other mine action organisations, we can ensure a much wider deployment of rats into more mine affected countries.
Our goal is to help vulnerable groups in mine affected countries. We have been successful in doing this in Mozambique, Angola and Cambodia and we strive to expand our efforts into Zimbabwe and Colombia. We have also deployed animals in South Sudan and with partners, we could further expand into more mine affected countries and territories. The International Mine Action day is also the occasion to honour field staff of APOPO and all other mine action organisations who daily risk their lives to achieve our shared goal. The work of these people may not be easily noticed but is greatly appreciated.
---------------------------------------------------
APOPO thanks partners and donors across the countries in which it works for their continued support