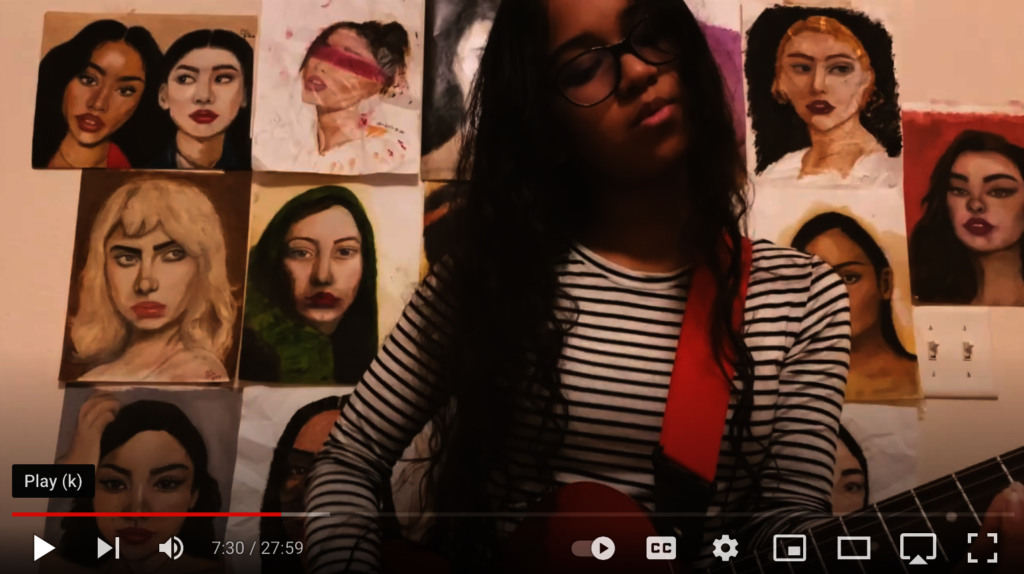 It's time for our quarterly donor report! Before we get started with the details, please sign up for the Spotlight Newsletter, which features new artists, event announcements, inspiring messages, giveaways, and more. Meanwhile, here's what we've been up to...
EXPANDING PROGRAMS
Our scholarship grant helped Girls Rock Austin develop an online music camp this summer and provided financial assistance for campers in need. Pandemics can't stop the power of music! On the last day, campers performed original songs *and* created cool music videos for them. Catch the video showcase on Youtube and witness for yourself the creativity, teamwork, and technical skills that your generosity nurtures in our future stars.
Speaking of stars, we're gearing up to take applications this month for our next Rising Star (you may remember our 2020 Rising Star Izzy Jane). This is a merit-based scholarship worth $550 for teens who would like to attend music camps with a Girls Rock chapter in a city near them. If you'd like to nominate a teen, please email thea@herizonmusic.org for more information.
Backstage Chats with Women in Music released more podcast episodes and made its debut on Pantheon Network, which is like the MTV of music podcasts. Listen to the latest episodes here.
As you know, the pandemic disproportionately hit women in the workforce, and musicians are no exception. In fact, 25% of women in music don't know where their next dollar is coming from. So, Herizon Music launched "Random Acts of Music."
RAM connects artists with virtual event hosts who pay them to perform live streaming or pre-recorded shows for their attendees. Webinars, networking meetups, employee appreciation parties, birthday celebrations. Whatever event YOU have coming up, add music and create a memorable experience while providing a tax deductible gig for musicians.
PUTTING FUN INTO FUNDRAISING (set your reminders)
The co-hosted Mother's Day event with Kendra Scott was our biggest single fundraiser of Q2, bringing in ~$1200. Musical guests Shelley King and Penny Jo Pullus provided the entertainment online and at the Austin store, respectively.
We spent the summer planning the Fall FUNdraiser, starting September 13th to 17th with the Little By Little campaign.
Please mark your calendar because GlobalGiving will match 50% of your gift up to $50. So if you donate $100 or $200, they will chip in $50 to amplify your gift.
Kendra Scott once again co-hosts a "Sing & Bling" event September 23rd (online) and 25th (at the 38th & Lamar store in Austin). Jenny Van West will be streaming live from Maine (!) for the virtual concert, which includes a Fall Fashion jewelry show and music trivia prizes. Musicians for the in-store event TBA.
Last but not least, the first male superstar to support Herizon Music Foundation is donating swag and concert tickets to our upcoming auction on charitybuzz.com. Sign up for our newsletter to find out who this Rock and Roll Hall of Fame inductee is — you don't want to miss out!
GROWING THE TEAM
We've expanded our team with the addition of professional fundraiser Asia Rodgers from Fort Worth, TX. Hiring Asia is a big commitment to our mission of promoting merit-based success for all women in music.
Asia is also tasked with helping us find a full-time executive director. Do you know a candidate with nonprofit leadership experience? We'd love to meet them! Email alr@asialrodgers.com for introductions.
We also welcome Alyssa of Schertz,Texas as our new social media intern. Fun fact: Alyssa served in the Navy on the USS Ronald Reagan as a training leader. She will surely run a tight ship, and we are honored to have her on board! (Okay, I'm finished with the sailing puns.)
And congrats to summer intern Claudia Dortman on graduating from Texas State University. Claudia is now in the job market and wants to use the skills she learned working with Herizon Music. Email claudia.dortman@yahoo.com if you have entry level opportunities available.
Thank you for reading this quarterly report. I look forward to seeing you at our upcoming events and invite you to share the fun with friends and family. Let's keep the momentum going through Q3 and Q4 :)
Rock on!