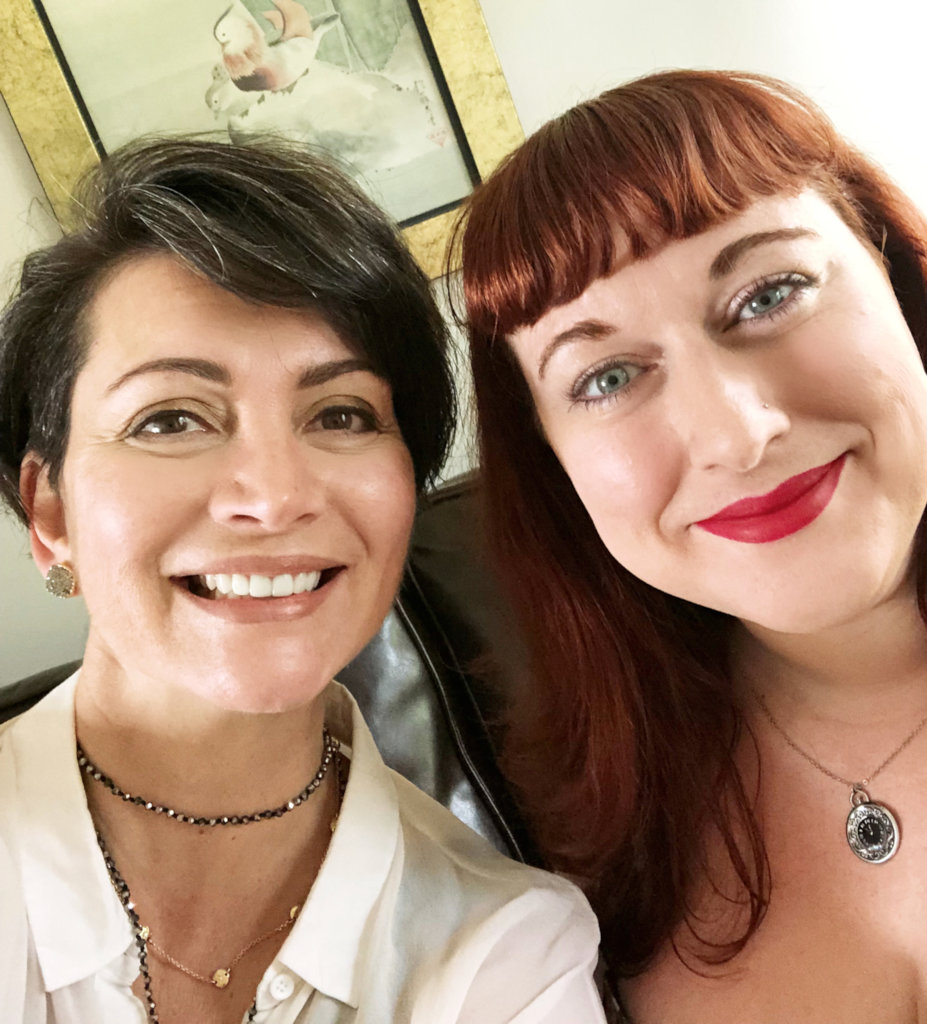 Thanks to YOU, Backstage Chats Foundation was able to meet our December 2019 goal of raising $5,000 for 10 teen girls in need to attend music and sound camps this year. We're also now a "vetted" GlobalGiving.org partner and can reach activists like you worldwide. YES!
When we made the announcement to Girls Rock Austin (GRA) and Soundgirls.org, they were thrilled! GRA started early enrollment for the first time ever, and registrations are already rolling in. So, your contribution came just in time for a high demand year. Attached is a photo of BCF founder Thea Wood (me!) with GRA's executive director Jamie Bahr as we gear up for the big year ahead.
To show appreciation to our December donors (and donors only!), I would like to invite a guest to attend E-women Network's Success Summit event in Austin on February 12, 2020. The day-long event features Sandra Yancey, the E-Women Network founder, 6x best-selling author, movie producer, and CNN American Hero. You'll experience the most elegant, informative, and exhilarating event of 2020 as Sandra shares her formula so you can "S.C.A.L.E. Your Business for Impact, Revenue, and Prosperity." Enjoy delicious food from Maggiano's, vendor showcases, and great conversation with like-minded business professionals. Like Backstage Chats Foundation, EWN is all about empowering women, so I'm honored to share this experience with you.
** The first person to email thea@backstagechats.com with the subject line "Take me to the Success Summit" will get the FREE ticket. So don't wait! **
Start 2020 off right with our latest podcast episode. Susan Rogers is a professor at Berklee College of Music who broke gender norms by becoming one of the few female audio engineers in the 1980s. Her life took a sudden turn when she joined Prince's team and went on to engineer Purple Rain, Around The World In A Day, and Sign 'O' The Times. This episode focuses on her time with Prince and her stories of him as a boss, an artist, and human being. Part 2 will focus on Susan's work at Berklee, the psychology of music, and why women face different challenges than men do in their careers. Listen here.
Our Gratitude Program is ramping up! Listen to your favorite artists and podcasts (like ours!) surrounded by beautiful Balinese artisan pieces from Brilliant Imports. They make great gifts for friends, family, and yourself.
Get 25% off at checkout by using
PROMO CODE: ChicksRock
Thank you again for your commitment to empowering women in music. Stay tuned for more great news and upcoming events. And remember, we love women in music because they remind us to be dreamers, rule breakers, and to unleash our inner rock star. It's a wrap!
-- Thea Wood, Founder of Backstage Chats Foundation