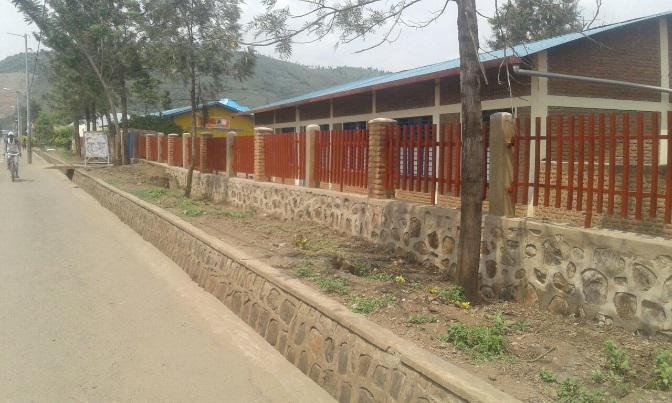 In November 2017 there will be a small team of volunteers leaving the UK to continue the building work at Muko School in Southern Rwanda. We also hope once again to secure the services of one or more English teachers in order to continue with the much needed lessons that are so popular with the local teachers from both this and other nearby schools.
The remaining volunteers along with a local labour force will continue with the very successful maintenance programme that has transformed this School for its ever growing population of pupils - now over 2900 in only 32 classrooms.
The kitchen block we raise the funds for has proved a great success, with all the full-time senior students receiving a daily meal of rice and beans. The now completed perimeter security wall keeps damage to a minimum, and the adjoining flood wall is also a success, diverting the heavy seasonal rains which otherwise were flooding classrooms and the grounds.
There is still much work to be completed - the school's principals will once again be informing us of their priorities.
There are still a number of classrooms with mud floors which would benefit from being concreted. These classrooms have no windows, other than a hole in the wall which does not allow adequate ventilation. Larger windows would also benefit the 40 to 60 pupils who study in these rooms. More water catchment tanks are a necessity for washing hands after using the long drop toilets (which we have installed over the years).
Our volunteers work with local labourers who may have no employment for the rest of the year, and buy all materials locally, which is a boost for the local village economy. Whilst our volunteers spend time in the UK raising money for this project and pay all their own expenses, further finance is always required to continue with this project.
If you have, in the past, made a donation this very well worthy cause, I thank you.
Please continue your support and encourage your friends too! Every little helps...