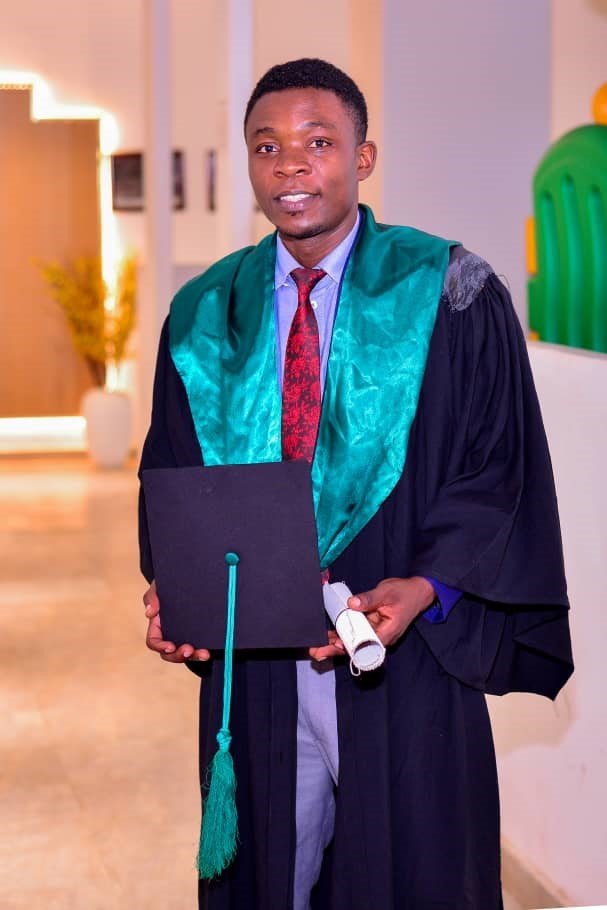 We have sponsored Moussa since we first met him in 2010 and we are so proud of his achievement. Here is his story in his own words:
My name is Moussa and I am one of the HATWJ sponsored students. I am born from a poor family, the 5th of 10 children with a single jobless Mom. I have been sponsored by HATWJ since 2010 when I was studying in senior two at St Paul Muko Secondary School up to now. Currently I am already finished a Bachelor's degree in Veterinary Medicine in University of Rwanda.
I would like to take this opportunity to express my heartfelt gratitude and appreciation to you for being so generous and sponsoring my education. Really your support has been priceless, and it truly means too much to me. The financial support you offered facilitated me to pay for all of my living costs at school, it helped me to get all of my necessary required school materials and also helps me to devote more of my time for serious studying which couldn't be possible before in my school life where sometimes I had to left from school and struggle working for wage salary to find means of living, this occasion has put me on a path to great success in my studies. I cannot forget one of my saddest time which became origin joy in my life when I won National exam for primary six level which had to permit me to attain senior one in secondary studies, I had been sent to an excellent boarding school unfortunately this was the time that my parents divorced illegally then we all 8 children stayed at home with a single Mother, it was so sorrow for 8 children to be raised by a single jobless mom for that my mother couldn't be able to provide basic requirements for us to go at school, I remember how I went to the school with no school fees for three times and even with no some of basic school materials, consequently this led me to be chased from the school then back at home due to lack of school fees, this was a lost year in my education. But because I thought that I had not to drop out from school, the only possible option by then was that in the next year 2010 I had to apply for recruitment to the nearest school at my home village called St Paul Muko Secondary School because school fees there was somehow not expensive. This school is where I met with HATWJ in 2010, really since when HATW came into my life everything has been changed.
I made use of this sponsorship by working very hard at school. The results of your efforts to support me can be shown by my Bachelor's degree in veterinary medicine that I have already awarded and which I could not afford myself as I told you above because before I met with HATW life was so difficult for my family to provide all of basic requirements for our education.
The other thing that showed how your supports has made a difference to my family is that since 2010 I was the first person in my family to continue education beyond primary six level of education as all of my 4 older sisters had dropped out from school at P6 level due to lack of means of my family. This was a such failure to my family but currently most of the rest of my young brothers and sisters are now studying. Really I thank you so much for sponsoring me.
As I can see in my future life, this great achievement shall bright my future. In veterinary profession I can see so many job opportunities that I believe will turn my dream coming true. I need to create a self-employment by setting a veterinary pharmacy where farmers will be buying medicines and animal feed, I will be also working on field facilitating farmers in prescribing medications and treating their animals, I do believe for sure that this will provide me all means to look after myself and my family, I also wish one day to be able to give a my hand to people who live struggling with life like how I was.