Project Report

| Aug 31, 2023
What Does It Take to Keep a Family Together?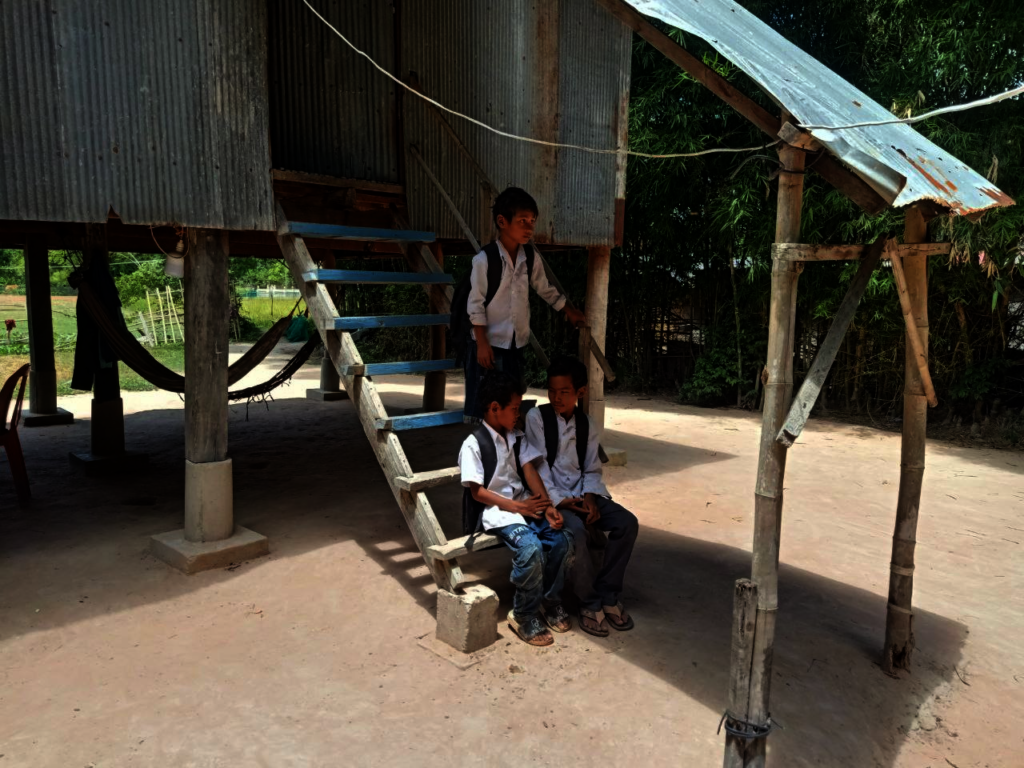 There are many reasons for a child to become separated from family, but one of the leading ones is poverty. In Cambodia, parents in rural areas often feel that they must leave their children in the care of grandparents so that they can find better employment opportunities elsewhere. This may mean going to the city or it may even mean leaving Cambodia to try to find work in another country. Though grandparents can be excellent caregivers, being left with multiple grandchildren to care for can be a real strain for an elderly person, especially when the parents' hope of finding better employment elsewhere does not materialize and the grandparents are left bearing the full financial responsibility.
A few years ago a commune leader contacted CIF, asking for our support in assessing the needs of three children who were living with their grandmother. The grandma was chronically ill and struggling to provide for them. Two of the grandchildren, Sophea, age 10, and Sopheak, age 9, are brothers, and the third boy, Sopha, is their cousin. All three were left in their grandmother's care with little to no support from their parents. CIF, in close cooperation with local authorities, conducted a child and family assessment. The need for additional support to keep this family intact was evident, so CIF enrolled them into our family preservation and family strengthening service called FOR-1 (Family of Origin as 1st Priority).
CIF provided a monthly stipend to cover food and education expenses for the three children, which significantly reduced the burden on the struggling grandma. A CIF case worker also provided regular visits and case management, monitoring the children's safety, health, development, and educational progress. Social work support continued throughout the Covid 19 pandemic, with case management expanded to include awareness raising about protection from Covid 19, along with provision of hygiene supplies and masks.
The grandmother and the three children all received training in child rights and child protection, along with positive parenting, and tips for good hygiene and sanitation. The CIF case worker recognized that, though the monthly stipend was a help to the family, more support was needed. Working closely with the local authorities in monitoring the family's status, CIF advocated for the family to receive a special identification card which made them eligible for monthly cash support from the government. The local authorities also constructed a proper house for the family and processed other important documents for them including birth certificates, family books etc.
A couple of years after CIF had begun to support this family, Sopha's single father, Phorn, returned home and began to contribute to the family's support by fishing at night. Some of the fish were used to feed the family and the rest were sold in the market. This was a help to the family, but CIF continued to monitor the situation and began to include Phorn in family strengthening activities, building his knowledge on child rights, child protection, positive parenting etc.
Unfortunately, the grandmother passed away and it became Phorn's sole responsibility to care for the family. The CIF staff encouraged Phorn to think about ways to improve the family's livelihood where they lived. Phorn decided that raising cows and chickens would be something that he could do successfuly. Phorn started saving gradually and learning the techniques from others in the community who were successful in animal husbandry. CIF provided cash support of $500 to Phorn to buy and raise cows. Phorn used his own savings to build a small cattle shed and to contribute toward the purchase of cows. Phorn was able to buy one pregnant cow and one calf to raise for $572. Later, Phorn also started raising chickens beginning with three hens and later adding two more. He continues fishing at night and is preparing the area around his house for home gardening as well.
"Without CIF's support, I might have had to leave the community again to work outside," Phorn said. He added, "I think of the CIF staff as a brother. He visits me every month, encourages me, and guides me to be hopeful in life, to be proactive in improving our living condition, caring well for our home and for the three children. Thank you CIF!"
CIF will continue to work with the local authorities to strengthen the capacity of the family in providing care, protection and support to the children and to improve their living conditions. Working with the three children to promote life skills, personal safety, and education are key priorities of CIF's case management. In these ways CIF will work with the children and family towards successful case closure inthe near future.