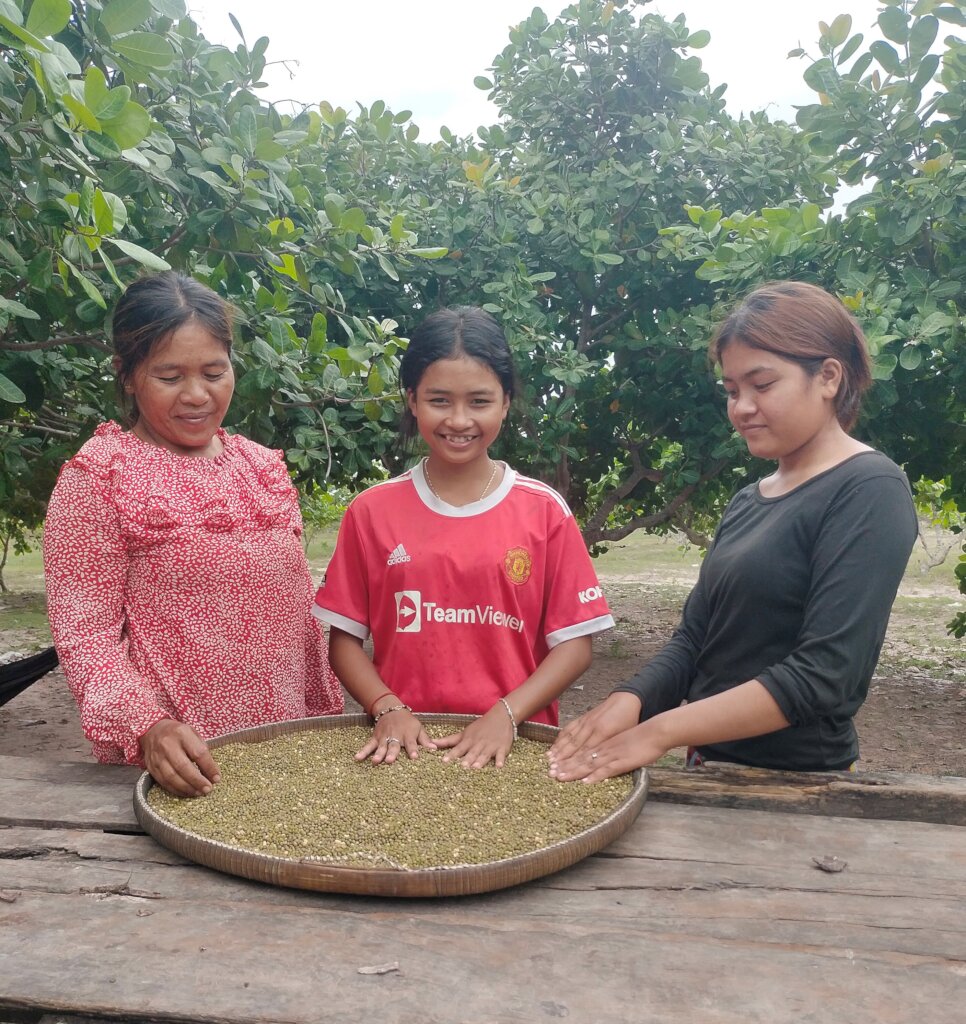 We usually share recent intake stories about children transitioning from difficult experiences into loving families, finding stability. However, we find closing cases and saying "Good-bye" to families can be just as exciting. Because when we finish a case, it is because children are either grown into young adulthood or they are in a stable, sustainable family situation who no longer need our support.
Three years ago, we received a referral from a local police officer, who was also uncle of two girls. He contacted the authorities about concerns he had for his nieces. Nary and Narin lost their father to drowning, and their mother had gone to Thailand to find work. She had been gone for years. Extended family members had taken the girls in, but they were forced by those relatives to drop out of school and work for the family.
After realizing what took place, their uncle and his wife decided to take the girls in, saving them from exploitation. However, the family had three children of their own and a meager income. That is when the uncle stepped up and spoke with local leaders. He wanted to do the right thing for the girls, yet he needed support.
Through our Family of Origin as First Priority (FOR-1) program, we were able to help lift the financial burden of this family, so they could raise their nieces. The girls returned to school.
In that time, they received regular visits from our social workers to monitor the quality of their care and ensure they were in a safe environment. We also helped train the family in child's rights, hygiene, sanitation, healthy parenting skills, the importance of education, etc.
The girls thrived, while the Aunty and Uncle grew in many aspects of their parenting.
A few years later, the mother returned to the area with a new husband and baby. Narin wanted to live with her mother, while Nary remained content with her Aunty and Uncle's family. Local community workers, alongside CIF's staff, built relationships with the parents, evaluating home safety. The stepfather was kind and eager to learn, cooperating well with local authorities and CIF.
Soon, Narin was back with her mother, stepfather, and baby brother, who were also growing and learning. One of the many training courses they received was working on improving their livelihood. Our social worker discussed a seasonal calendar for income: jobs, home, gardening, raising animals, etc. The family found raising chickens for meat and eggs contributed substantially to their monthly earnings. So, CIF gave them business start-up money to increase their flock for better outcomes.
This past year, Nary happily transitioned back in to living with her mother as well.
"Before I didn't know how to care, support, and protect my children. I also did not pay attention to their study. However, things have gradually improved since I met CIF staff. The staff guided me to better parenting and protection of my children. They also encouraged me to follow up with my children's education, providing support for them. My husband and I commit to support them until at least they complete grade 12," the mother said. "I am so excited to reunite with my two children. I am able to take care of them and fulfil my role as a mother. I commit not to abandon my two children anymore in all circumstances."
Narin is in her final year of studies and turned eighteen this year. Her sister, Nary, still has a few years left at home. The local community workers and CIF staff recently determined the family is in a position of financial stability and positive, healthy growth, so they put together an exit strategy from our program.It is with joy we release this family to thrive.
With some of their "chicken money" the parents were excited to save up and buy Narin a motorbike to get to school.
Narin told us, "We [she and Nary] are comfortable and happy to be reunited with our mother. She and our new father take care of us. Thanks, CIF, for supporting us since we lived with Aunty until we moved in with Mother. CIF staff always helped us with self-protection and encouraged our parents to support us positively."
Guiding families in livelihood development, building capacity in families to protect and care for their children, teachinglife skillsto children, engaging local authorities in monitoring and well-being of children, and connecting families to government support services are the crucial aspects of CIF's work and exit strategies for families.
Not only is one more healthy and thriving family in Cambodia a very good thing, but it also means we can now help another family who needs support and strengthening. Because all children deserve to be in loving families.