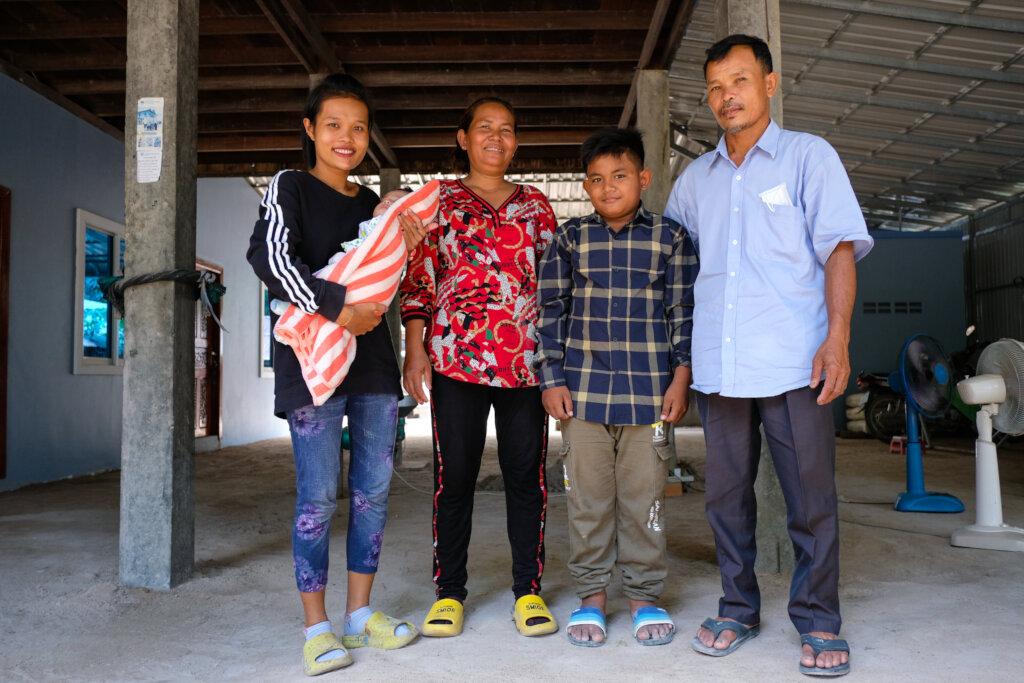 As CIF staff, we are incredibly happy to be back doing in-person visits. Family visits to check-in are so much better when we can sit face-to-face,look at their surroundings, greet neighbors and family as they pass by, andshare victories and struggles over iced coffee. Recently, ourprogram managers, who live in Phnom Penh, went to villages to meet with families and local social workers, as well as to continue to move forward adoption paperwork with provincial government leaders.
Three families in two of our locations adopted their foster sons recently. I got to meet with each of them and hear their stories, from getting their sons as infants and falling in love with their precious babies to nurturing them as they grow and learn.
Children in Families does not merely place children into homes, our staff walk alongside the families, helping, supporting, and teaching. CIF does regular training available to the community. During Covid restrictions these training courses were done individually from family to family, but now we are preparing to resume group gatherings at our local offices. Our training can include topics such as: hygiene to identifying sexual abuse to child's rights to childhood development.
There was a common theme among all of the families when asked about areas of growth in their own life. Every single family interviewed said they learned how to use life-giving words with their children. That their language mattered. They were taught to encourage and build up their children with words, as our staff continued to check and monitor this over the years.
One father told me, "I am a teacher with some knowledge and education. We [my wife and I] got a lot of good advice and training from CIF, and we saw good outcomes as we implemented them. I think people need to respect their children and treat them like humans. Don't bully. Find reason instead of belittling and abusing. It works so much. CIF taught me how to apply this. It was counter cultural to respect child's rights, but we found we had a lot of positive fruit."
Another adoptive family shared how inconsistent they were with schedules and meting out punishments in their early years as parents. Following the patterns learned from their own childhood experiences, they sometimes used unhealthy means of discipline. After signing up to become foster parents through CIF, they were taught consistency is important and there are ways to set boundaries with children that are non-violent. They also learned about the power of words.
They shared, "In the past, we just raised kids our own way. But when we meet with CIF, we were given some rules, education, and boundaries to help raise children. It was a better way. CIF had staff continually checking in on us and inviting us to learn and join meetings. CIF helped with books and some financial support to relieve a burden. We knew we did not have to carry it all on our own. We no longer felt like we were just surviving but like others were for us."
Both the social worker and a community leader who works alongside women and children spoke of this family later and said, "They are so teachable. Everything we give them, they implement."
I was told that although the parents are illiterate, they are now leading family trainings in the community because CIF staff have watched them grow and treat their adopted son, as well as their own children, with incredible kindness and the parents really fight for their children's well-being and future.
The family said the biggest impact on them as parents was learning to speak life-giving words in their home.
Finally, we are also working to extend our reach to even more provinces in Cambodia. Alongside partner organizations, we are in the process of setting up a new office location to meet the needs ofchildren in those areas.