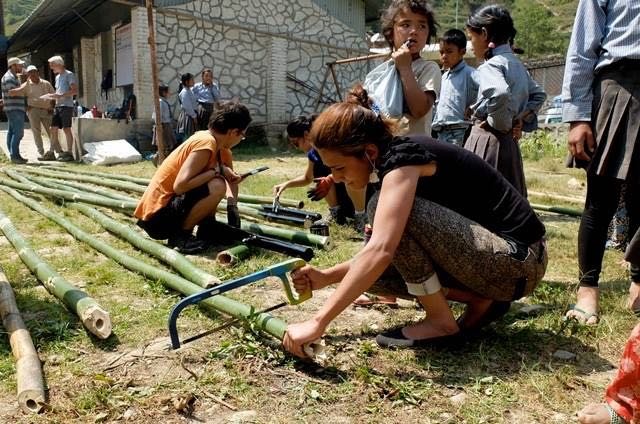 The past three months our LEADers have stepped up in their community as grassroots organizers and were among the first responders, utilizing skills learned through Women LEAD to coordinate relief and recovery efforts. Our commitment as an organization is to ensure that this tragedy becomes an opportunity to rebuild a stronger Nepal with young women leading the way. Women LEAD has been coordinating and facilitating various opportunities for our current LEADers and alumni to be involved in relief and recovery efforts while providing a safe space to process and heal.
Immediately following the earthquake LEADers and alumni came to the Women LEAD office, despite their own severe losses and trauma, and developed an 'Education Relief Project'. The 'Education Relief Project' provided crucial study materials and books for students in grade 11 and 12 that had lost their school materials due to the earthquake. LEADers and alumni gathered all necessary books and notes from various faculties and created study kits that included notebooks, pens, pencils and calculators. The vital study kits were distributed to the most affected areas throughout Kathmandu Valley and in rural areas Sindhupalchowk and Gorkha. The study kits reached 8 different districts and were distributed to 200 students.
Rumi, Grade 11, Khokana:(Student who received a study kit) "Getting the books from the LEAD relief project was a big help. After getting the study kits my confidence really increased and I got the motivation to study too. During the time of the earthquake our whole house collapsed and our income was low. My books were buried under rubble and I thought I'd fail the exams. Thanks to Women LEAD for helping me."
Field Innovation Team a disaster response team based in the United States deployed a team to Nepal to work with Women LEAD on the ground providing emergency response training and youth empowerment activities. LEADers and alumni were equipped with the tools to respond to emergencies and learned various ways to empower their peers, youth and communities who have survived a disaster. LEADers and alumni facilitated the youth empowerment activities in five different schools with over 300 students who have been affected by the earthquake. Along with facilitating activities in schools they have been part of rebuilding projects, working with All Hands Volunteers building a temporary learning center. The temporary learning center was built in Kavre district where a school had been destroyed by the earthquake. They worked tirelessly removing rubble, digging holes, hauling bamboo and helping build the temporary learning center providing children a safe place to resume classes.
LEADers and alumni have also been busy creating and developing their own innovative relief and recovery projects. LEADers Saniya and Sujata, distributed mosquito nets and flashlights to 53 families in one of the hardest hit rural areas, Sindhupalchowk. Alumni Aishwarya coordinated with Women on a Mission an organization based in Singapore, collecting 51 boxes of clothing and distributing them to 7 Village Development Committees throughout Lalitpur district and alumni Sujata developed an education support project that will help support students affected by the earthquake by covering their school fees for one year.
Women LEAD held a three-day workshop hosted by Abby on story sharing through poetry and dance. The workshops gave participants an opportunity to talk about, process and express their experience during the earthquake and how they have been coping the past three months.
LEADer Jemie: "The (poetry/dance) workshop was such a healing tool for us to get rid of our trauma. Combining the three elements- art, poetry and dance was interesting and new to us. The writing kept pushing us to be creative and the dance kept us energized throughout the workshop."
Thank you for supporting the extraordinary leadership and resilience of our LEADers and their on-going efforts to rebuild Nepal!