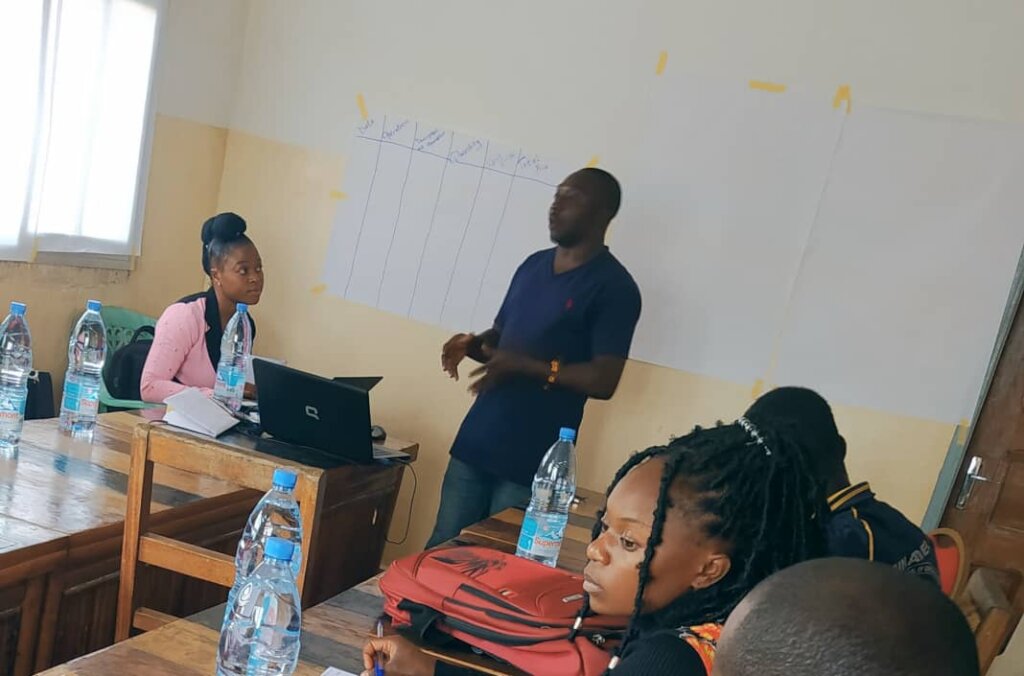 REPORT ON THE TRAINING OF YOUTHS ON BIOSECURITY MANAGEMENT IN POULTRY
FARM AND RECORD KEEPING ON JUNE 11, 2022:
Types of trainees:
Youths (18-35years old) and / Small-holder farmers
Attendance:
Number of members present: 13 (10 women 3 men)
Persons to contact: Mr.Tendong
Date of meeting: 06/11/2022
Venue of the meeting: City FM radio building, Che Street-Ntarinkon Bamenda
Duration of the meeting in hours:
3hrs and 30mins
Start time 10:40 am
End time: 2:10pm
The theme of the training: BIOSECURITY MANAGEMENT IN A POULTRY FARM AND RECORD
KEEPING
Context and rationale: Within the framework of the NASLAAfrica ROOT Biz program, it was identified that many existing and potential poultry farmers in the Mezam Division had insufficient knowledge of BIOSECURITY MANAGEMENT and RECORD KEEPING, from the problem identified and chosen for animation, a theme was formulated as biosecurity management in a poultry farm and record keeping.
The training session started at 10:40 am with 10 participants together with one volunteer, the CEO of NASLAAfrica, and one Resource trainer in charge of the execution of the training.
The agenda was presented as follows:
Registration of participants (signing attendance list)
Opening prayers
Welcome and Introduction of all participants
Objectives and expected results
Training proper

Introduction on biosecurity
Causal agents of diseases in pigs
Prevention and control of diseases in Broilers
How to identify sick animals
Some common diseases in Broilers
Drug administration
Record Keeping

Questions and answers
Other matters and refreshment
Closing remarks
A word of prayer was offered by Ibrahim, one of the participants, the CEO of NASLAAfrica Mr. Tendong also gave an opening word where he used this opportunity to welcome everyone present. He also gave a brief introduction about NASLAAfrica and the ROOT Biz program. There was a brief introduction of all participants who were present at the training ground.
Thereafter, the objectives and expected results of the training were presented by the Facilitator which were;
OBJECTIVES:
To enhance the need for farmers to adopt indigenous practices in poultry farming
EXPECTED RESULTS:
Participants possess a better knowledge of animal health and identification of sick animals
Participants possess a better knowledge of various broilers' common diseases, their signs, symptoms, and drugs of choice for curative purposes.
Regarding the introduction the subject matter "biosecurity" was defined, stating the types of biosecurity and the importance of biosecurity to a farmer's production in relation to Poultry Farming. The different disease causal agents (bacterias, fungi, viruses, parasites, environmental diseases, poisoning, etc.) were discussed.
The Participants were made to understand how to prevent and control these diseases. The following points were examined;
The principles of preventing animal disease attack
Practices,
preventive measures,(offensive and defensive)
The different methods that could be used to identify a sick broiler were also treated with great emphasis being laid on several points (use of sight, observation, changes in behavior, the use of sound, and faces).
Furthermore, some common broiler diseases were examined, their signs and symptoms and route treatments that could be given, and the different ways in which drugs can be administered to the broilers.
To continue the participants were trained on Record keeping where they were thought on:
different record booklets
how draw the record booklet,
How to fill this book coherently and
how to trace errors for future adjustment in farms through record documents,
At the end of the training, a room was given for the participants to ask questions for better understanding and clarification and as well share their experiences. Several questions were posed which were answered detailly with much clarity.
On other matters emphasis was laid on the filling of the management book in relation to the training on biosecurity and its importance.
The workshop ended with refreshments, and group and individual picture taking.