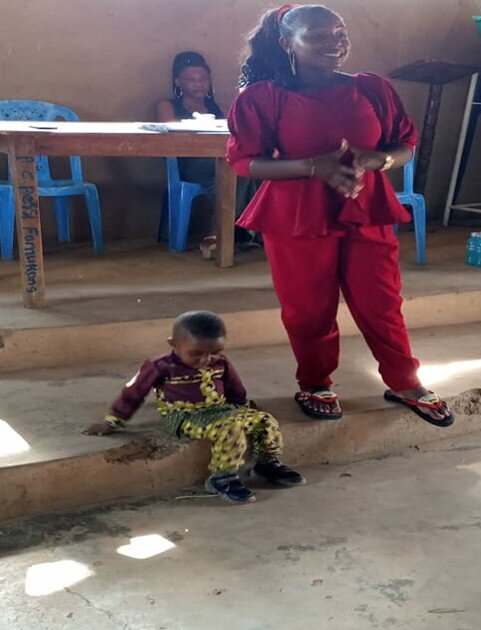 REPORT ON: A ONE-DAY TRAINING WORKSHOP

ON THE IMPORTANCE OF SUSTAINABLE AGRICULTURE



Date: 28/11/2021

Community: Mbengwi Subdivision, North West Region, Cameroon

Venue: Presbyterian Church Hall, Bessi-Fomukong



Main objective: To raise awareness and improve youths/farmers' knowledge on the importance of sustainable agriculture as a bridge to food security, poverty alleviation, and climate/environmental sustainability.



Introduction

Live Empowerment Credit (LEC) in collaboration with the Network of Agric and Sustainable Leaders for Africa (NASLA) organized a one-day training workshop designed to raise awareness and address the importance of sustainable agriculture to youths and rural farmers as a bridge to food security, poverty alleviation and climate/environmental sustainability in Mbengwi subdivision, Cameroon. The workshop sessions were facilitated by the trainers: Tendong Denis (NASLA CEO), Tamugri (LEC Coordinator).



The problem:



More than 75% of rural Cameroonians are subsistence farmers. Due to the population pressure, high demand for healthy food, and the scarcity of quality productive farmlands, many farmers use marginalized land which leads to much lower yields. For over the years, many, especially the youths have had a very negative mindset about agriculture, and so many continue to run to urban cities and even foreign nations in search of jobs. While some have resolved to the use of chemical fertilizers to boost production, others are clearing forest and natural lands to cultivate more farmland, which has exacerbated environmental degradation and climate change. If this problem is not solved in the next few years, farmers will not be able to produce enough food to feed their families, will have cleared most natural forests which is a risk to the environment and many youths will continue to populate the cities which have limited opportunities to content all, hence increase risk of many social ills.



Specific objectives

The training seeks to empower and improve youths and farmers knowledge on:
importance of sustainable agriculture
on climate change while promoting youths and rural farmers to become climate resilient actors.
new innovative farming practices
Simple and low-cost farm business ideas to help boost income and economic growth
Food security, poverty alleviation, and job employment



Expected outcome

The expected outcomes for the training workshop were:


Participants gain knowledge on the importance of adopting to sustainable farming practices
Participants gain knowledge on importance and necessity of establishing the farmer's groups and cooperatives for increasing their yield, building capacities and improving their livelihoods, and mitigating the natural risks;
Action plan for capacity building of the existing farmers in the five pilot villages will be formulated through group work under the facilitation of the LEC team;
Participants to deepen their knowledge on Food security, poverty alleviation, climate change, and job employment
Participants to utilize knowledge to make informed decisions on land use planning and farm management to sustainably increase agricultural productivity;
Reducing environmental degradation
Improving farmer's livelihoods at the community level;



Participants

The training targeted 30 participants of the Bessi-Fomukong Community including men, women, and youths. Many community members expressed the desire to attend this training but due to covid-19 restrictions, only 30 persons were accepted to ensure social distancing during the training.



Annex
Welcoming participants and introducing training objectives
NASLA CEO Presentation
Interactive session with participants
Open discussions with participants about their knowledge on sustainable methods of agriculture
Family photo with participants at the end of the training



Training activities

Activities carried out during training were both appropriate and effective in meeting the needs of beneficiaries and the objectives of the program. However, the program was designed with the goal of enabling farmers to get appropriate skills, information on sustainable agriculture and how it will help secure food, increase income and livelihood.



Setting training norms:

The participants were asked to participate in setting training norms and the following were agreed on:
To have one meeting and no side talking
Minimize disturbances by switching/silencing the phone during the training;
Raising hand for seeking permission
Ceasing in and out movement



Training methods

Presentations, Interactive and participatory training methods were applied in the one-day training workshop. The following methods were used in the workshop:



Lecture and presentation by the trainers

The major training contents prepared by the trainer's team were presented by trainers through verbal communication. No written notes were distributed since the majority of participants were unable to read.



Topics



Sustainable agriculture

During this session, the participants shared the agricultural production and management systems in the community, different agricultural product marketing, problems, and challenges facing the agricultural system. On the other hand, they were empowered on what sustainable agriculture is all about and why they all need to adapt to sustainable farming practices in order to help boost their income, healthy food, the health of the environment, and community growth.



Environmental protection and climate action:

In this session, the participants were educated about climate change and how some of the poor agricultural systems and practices help destroy the planet causing climate change and health challenges to increase poverty. Educating and encouraging the participants to be climate resilient actors.



Growing vegetables/crops, rearing of livestock

This session aimed at letting the participants learn the effective ways and socio-economic advantages of growing vegetables/crops such as tomatoes, peppers, watermelon, water leaves, eggplant, okra, lix, lettuce, celery, cabbages, cassava, sweet potatoes, cocoyam, etc. By taking account of land preparation, soil conditions, irrigation systems, seed sowing, and seed rate, transplanting, manure, and proper harvesting techniques. Livestock such as goats, rabbits, chickens, and pigs and their economic benefits.





Agribusiness:

This session was aimed at building a business mindset in the participants. They were introduced to the importance of having a business plan and taking stock of their farms and the need to recruit labor as they grow.



Conclusion and recommendation

In general, there was a strong sense of appreciation articulated by the participants about being invited for the training. Participants were very engaged and enthusiastic about what they learned about sustainable agriculture, they highlighted that agriculture is their lifeline in food security and livelihood, they urged that future training be done often and should include more practical classes. Participants responded very positively throughout the training and expressed a strong desire to enhance their skills in sustainable agriculture.



Live empowerment credit also appreciated NASLA CEO for bringing his professionalism and life skills in community workshops, and his better mastery of local language to facilitate easy learning. They also recommend more practical skills and field visits from NASLA and requested the expansion of agricultural assistance to the participants to help boast their involvement and growth.



Closing

The training was concluded and closed by LECcoordinator who thanked all the participants for their participation, she also thanked NASLA CEO for his facilitation, which was successful and satisfactory, she was followed by some of the participants who gave their concluding remarks, they promise that they will put into practice what they have learned diligently in their day to day lives and work especially on basics of agricultural practice, growing vegetables/crops.