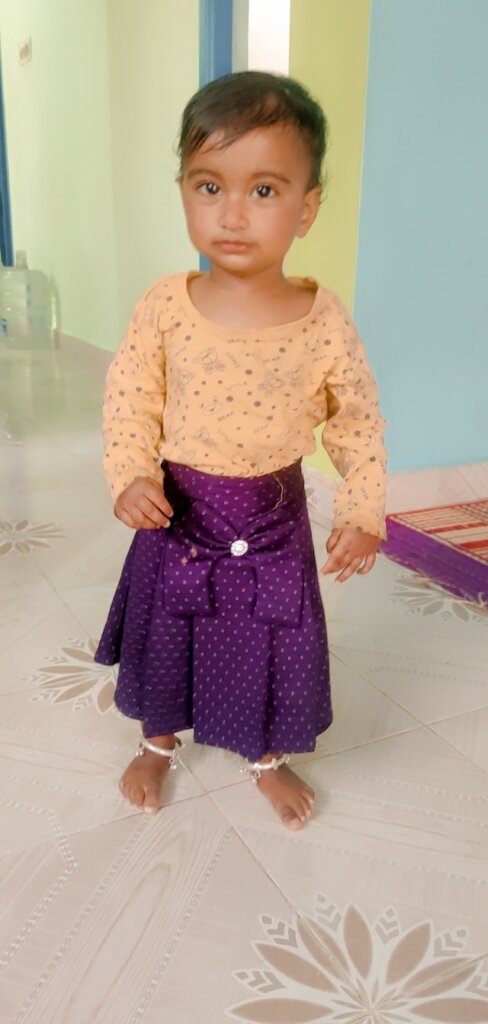 Dear friends,
Greetings from Social Sukriti Foundation.
Your care and compassion bring smiles to little Vismaya and her parents.
Children with disabilities are just as capable of achieving success as their peers without disabilities. It is important to remember that with the proper support, determination and hard work, children with disabilities can accomplish anything they set their minds to. So let us continue to support and empower children with disabilities to reach their full potential.
Today's story comes to you from Vismaya's parents, who are from poor backgrounds.
"It all happened quickly, and my little girl's life changed so much. I never thought that she would stand so soon, still remembering her situation when she was born. Her hip borns had defects, and she couldn't bend her knees. It's not easy when your five-day-old need to undergo surgery. It was like fighting a powerful enemy. We both were defiant. Nervous but held on to hope. After the surgery comes the more painful part - when your little one needs to wear corrective devices. Clueless as we were, if not for the support of the Sukriti Social Foundation, we wouldn't have sailed through.
Vismaya protested, threw tantrums, and cried her heart out when she had to wear the devices. Vismaya's crying has been relentless, too loud for our tiny house to absorb and too big for Vismaya's body. With Sukriti's motivation, we cuddled, cajoled, wheedled, and sweet-talked Vismaya to wear the corrective devices continuously. It was a challenge; what'd you expect from a baby who wants to kick its feet when she sees her mother sweet-talking? But my baby had different challenges. But things changed when we met the doctor after three months. Anxiety filled us when the doctor was checking the x-ray. We prayed and held Vismaya tightly. When the doctor confirmed that she need not to wear the devices, we were taken to another world. It's not just the reality that she need not wear the devices; in the long run, my daughter can be just like any other child.
We thank all our friends who were instrumental in helping Sukriti Social Foundation to give us the devices free of cost. If not for them, we had no idea where to get the devices and had no financial support," narrates the joyful mother.
Thank you, dear friends, for your continuous support and trust in us. There are many more children, just like Vismaya, and we hope to reach out to them to give them a better life.