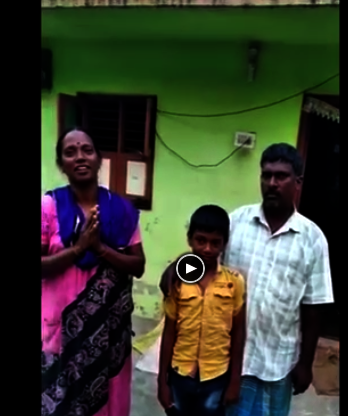 Dear donors,
Greetings from Sukriti Social Foundation.
We hope you and your family are safe during this unprecedented time. As for us, we are safe, but anticipating more difficult times ahead, especially for our community of children. Identifying and finding a remedy for children with birth defects cannot be postponed indefinitely and we are working hard to help them during this difficult time.
Story of Nishanth brightens our day and we want to share with you. It's only because of donors such as you magical moments happen. Thank you.
5-year old Nishanth, for the first time, began experimenting what he could do with his legs. He squeaks, trods, plods and sprints. Why wouldn't he? While splashing water in a stream near this home, he puts his head up; looks at his mother, revealing his new-found joy. Along with the mother, his father lets out a heavy sigh of relief. For the past few years, Nishanth has watched with awe his sisters and the neighbourhood children sprinting endlessly kicking the dust off the ground.
"Nishanth was born with birth defects. As a baby, we never noticed the defects. But, when he was one year, we noticed the difference. My husband works as a mason and he earns only when there is work. So, we were distressed thinking of a remedy for Nishanth," recalls his mother." Thankfully, with the support of the Institute of Child Health and Sukrti Social Foundation, we got the appliances for Nishanth. We never missed his appointments at the hospital and religiously followed all treatment. We need to replace the appliances periodically and Sukriti has been a blessing to us. Now, Nishanth can comfortably walk and is enjoying his time in school as well. There's no other joy for us," says an emotional father. Amidst their poverty, Nishanth progress is seen as a silver lining.
Along with Nishanth, with your support, we have provided the 225 different appliances to 200 children. Your support translates to joy, freedom and greater opportunities. These children, otherwise, would have had a challenging future, simultaneously losing the pleasure of growing up. Your support is crucial, as always.
We hope you'd continue to support us, especially during this difficult time. Providing the needed appliances to newly identified children and changing the worn-out ones to the existing children is an ongoing process. We cannot put a full stop. A child's future will be rewritten. Hope you'd continue to support us.
We are immensely thankful for your continued support and pray that you stay safe.
Warmly
Sowmya