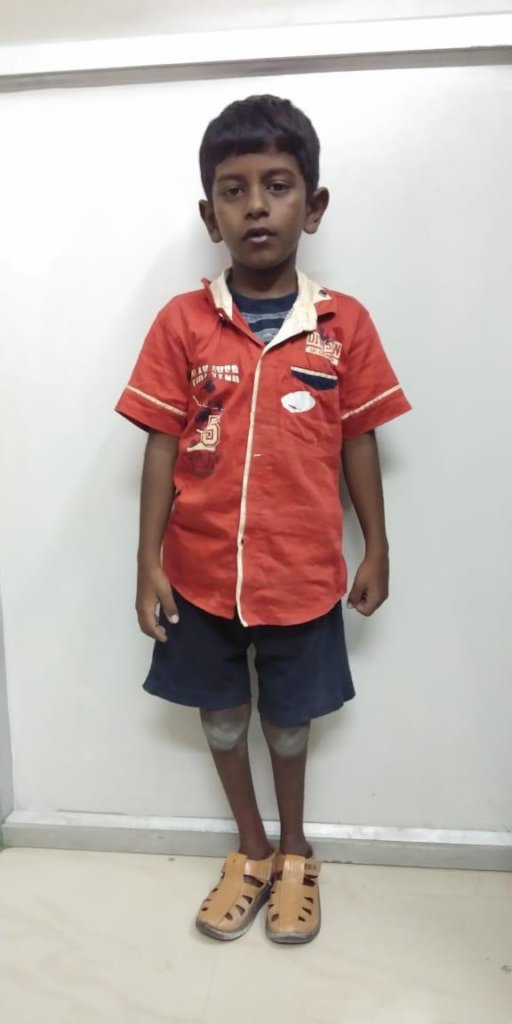 Dear donors,
Greetings from Sukriti Social Foundation.
Thank you for your continued support to carry forward this mission so that children with birth defect could lead to a healthy life.
The story of Chandru narrated below, reflects how early intervention, motivation, encouragement coupled with providing appropriate assistive devices could change a child's life.
"My baby was like the shape of S when I held him for the first time. I knew there was something wrong. I asked my husband, what's wrong with my baby? To keep me calm, he kept consoling me." recalled Chandru's mother remembering the year 2014 when Chandru was born.
Chandru's legs were bent at birth. The poor parents were at a loss when they heard this. As parents, whether poor or rich, you wait for nine months to hold a healthy child in your hand. And the hurt is the same for any parent. However, when you are ignorant, and without money, along with the hurt, uncertainties engulf you.
Most often, donors such as you are the only hope left for them to access the medical facilities that are available to transform such children. Fortunately, Chandru is back to his life, with a hop, jump and a sprint forming part of his life. Exercising is crucial as equivalent to wearing the devices. We are working hard to educate the school teachers to ensure the child wears the devices all the time. Wearing the devices cause pain and children wait for a chance to be without them.
We have changed Chandru's devices more than 8 times. And we must continue to replace the worn devices as grows. A child can permanently be without the devices only when he or she reaches 15 years. We are confident in helping children, such as Chandru with donors such as you supporting us.
For us, along with his parents, it's a joy to see Chandru attending school and enjoying his childhood. If we hadn't intervened, he would have been isolated, deprived of education and his future would have been bleak. Thank you for bringing a positive change to Chandru's life.
Chandru's father drives a three-wheeler, and their income is based on how many rides her get a day. His mother is a housewife. "It's a miracle that my child is walking and running. We only want to see him happy," choruses the happy and relieved parents.
Please share this email with your friends and family members so that they'll be inspired to help many more children such as Chandru.

Once again, thank you for partnering with us.
With gratitude,
Sowmya Simhan