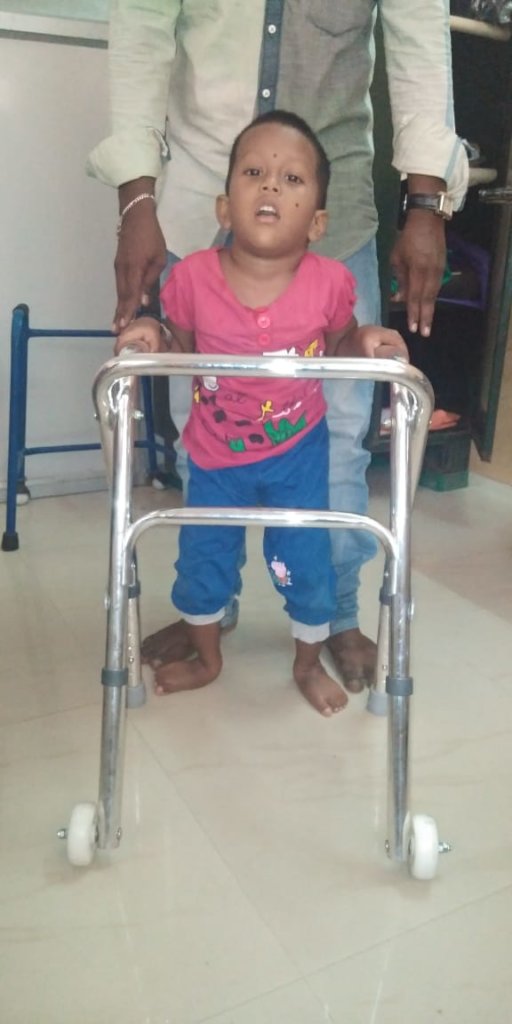 Dear donors
Greetings from Sukriti Social Foundation.
Thank you for helping us change the storyline for children with birth defects. .
Where poverty is the way of life, potentials of children born with birth defects are often overshadowed by the struggle to survive. However, with a correct diagnosis, proper treatment and with the right appliances, even the most vulnerable can change their destiny and create a better future for their children. We stand to provide these appliances to bring in a change in the lives of children. And with you standing by our side, we are confident in this mission. Thank you.
A new hope
Our hearts ache when we see children struggle to balance themselves on an ordinary walker. Often, they stumble, tumble and experience agony and pain, which made us put our thinking cap. We have come out with a new walker, which is not readily available in the market. The children can balance themselves effectively in this walker and thus bringing smiles all around. (Please see the picture below). Thanks to you for making this feature possible.
Since the last report, we have supported 130 children providing various appliances such as :
Ankle-foot orthosis (AFO) - support intended to control the position and motion of the ankle, compensate for weakness, or correct deformities.
Supramalleolar Orthosis (SMO) - supports the foot just above the ankle bone or malleolus
Heel raise sandal
Doughnut Pillow
Below knee Symes Prosthetics
Both limbs Above-knee caliper with wheel walker
Hinged AFO
Taylor's Brace
Cervical collar
and Knee brace, to name a few.
Sometimes, seemingly simple activities for any child become painful and disturbing for children with birth defects. That's when we intervene and make transformative life experiences. One such child, among many others, is three-year-old Ashwina. Her parents had a harrowing time, not knowing how to find a treatment for their daughter. Little Ashwina, after wearing supportive shoes continuously, now walks and even taps her feet to the music Her parents, Amulraj and Sujatha, are happy and composed. "We have had nightmares thinking about Ashwina's future, but now we are confident, and we are certain that she will progress," responded the parents.
When Sridevi gave birth to Sharvin with congenital disabilities, not even in her wildest dreams, she thought he would walk. But, both the parents were strong and fought their battle. Today, Sharvin is five years and has been wearing our shoes continuously. "We are joyful and see a great future. He actively participates in all school activities and even won 1st prize in a running competition," chorused the delighted parents.
These stories, and countless others like them, point to a brighter future for children with birth defects. You have walked with us on this journey, making it a reality. We hope you'd continue your support. We'd be happier if you shared this report with your friends who would, like you, be keen to foresee a brighter future for these children.
Thank you, and we remain grateful,
Soumya
Trustee - Sukriti Social Foundation