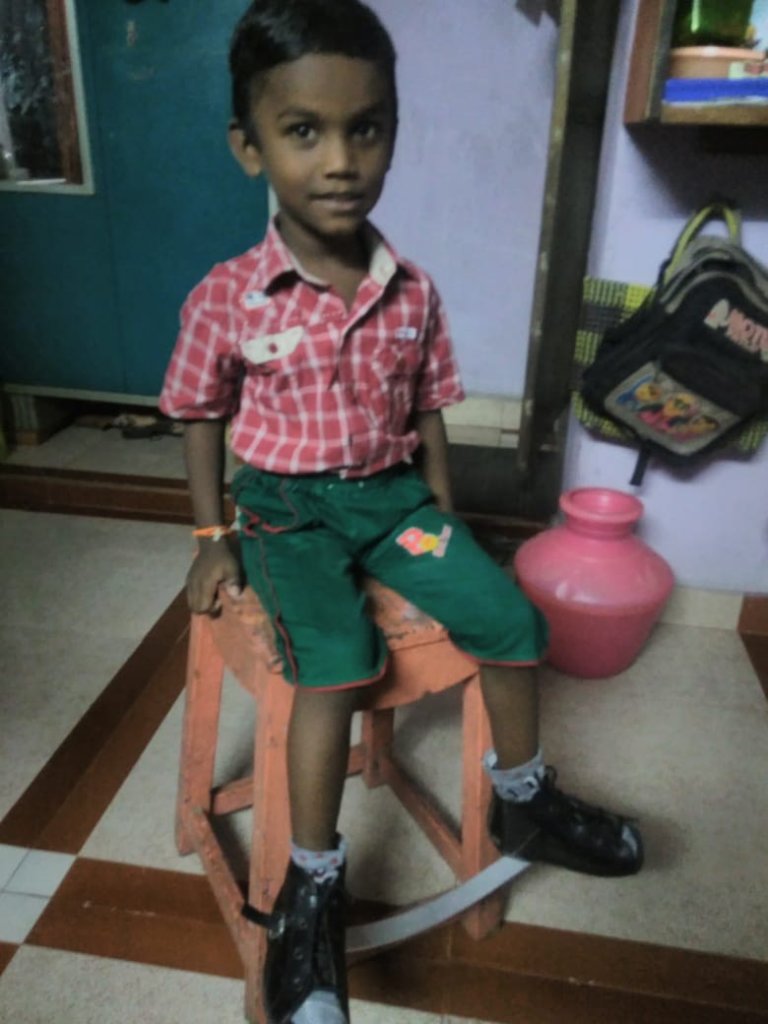 Dear donors,
Greetings from Sukriti Social Foundation.
Thank you for helping us make a difference in the lives of children. Difficult and impossible things get easier when people like you show up to help and a birth defect is no different. Such children and their families need a team to cheer and encourage them on. YOU are part of that team now, taking a greater stride to ensure the children are given a new life. We can't thank you enough.
Your donations are crucial to our work which means a child is transformed - who otherwise would be idle in a village with a bleak future. When we have donors such as you, there's a different story. That's the story we are bringing out in this report.
Birth defects make walking difficult or impossible for children. While it cannot be prevented, it can be corrected by identifying such children and using corrective devices such as:
Ankle-foot orthosis (AFO) - support intended to control the position and motion of the ankle, compensate for weakness, or correct deformities.
Supramalleolar Orthosis (SMO) - supports the foot just above the ankle bone or malleolus
Heel raise sandal
Doughnut Pillow
Below knee Symes Prosthetics
Both limbs Above kneeCaliper with wheel walker
Hinged AFO
Taylor's Brace
Cervical collar
and Knee brace to name a few.
Yeshwanth walks to school free of pain and shame
Five-year-old Yeshwanth wasn't born into an ideal situation. His mother, Latha with weak health and being in a joint family was the target for her son's disability. Either she was blamed or others ridiculed Yeshwanth. The father, working as a carpenter earned only when there was work.
When Yeshwanth, was born, they were sad to learn that he was born with birth defects - a condition that could prevent him from being able to walk or run freely like other children. "How sweet was to hold our newborn baby and feel the pride, and joy he gives. But it broke our hearts to learn that our baby wouldn't be able to walk," said an emotional latha.
His left leg was turned which needed corrective surgery. Soon after birth, Yeshwanth had undergone surgery for his left leg at the Institute of Child Health and Hospital for Children. However, a child with birth defects needs assistive devices soon after the surgery to be mobile. Thankfully, Yeshwanth was able to find the follow-up treatment he needed through us. Additionally, these devices need to be replaced frequently. So far, we have replaced his AFO four times.
Today, when Yeshwanth walks to school, nobody mocks him. Instead, they exclaim, "Look at Yeshwanth, he is walking and running,". We are overwhelmed with joy and a sense of peace. We are very hopeful that our son will study well and be independent. Thank you for supporting us. If not for you, we wouldn't have been able to afford the corrective devices for the past four years and we do realize that Yeswath still needs this support."
Yeshwanth says, "I'm very happy because I'm walking well, and I get to school without struggling."
Donors such as you can create miracles in children like Yeshwanth. He can run, walk and be like any children of his age. Thank you for creating hope in such children.
Along with Yeshwanth, during January and February, we have supported 42 children by offering various corrective devices. They are enjoying a life that previously looked gloomy. Standing, running and playing seem so easy now - though there's pain for little one wearing the corrective devices. However, the parents are given counselling and help to ensure they come back to us for replacement of devices.
All smiles because of you and we are ever thankful to you. Please forward this report to your friends and family members who might be keen to bring in a change in the lives of children with birth defects.
Thank you for standing with us!
With gratitude,
Sowmya Simhan