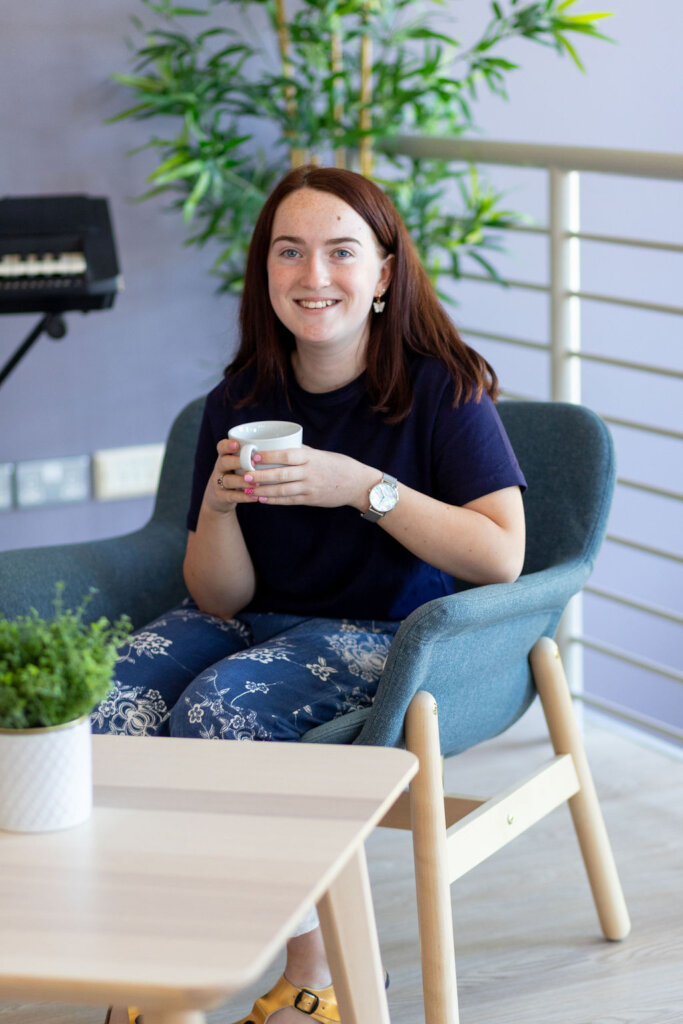 My name is Hannah and I am 18 years old. I first found out about Purple House Cancer Support when my Dad, Paddy, was diagnosed with cancer when I was 8 years old. At that time my brother, Mum and I didn't know where to turn for emotional support and practical help. My Dad also availed of the services and he enjoyed getting reflexology which helped him after his chemotherapy that was very tough on him. I felt comfortable talking with other people who had experienced cancer. The staff were so kind and helpful, and I knew that there would always be somebody there when I needed them.
I availed of counselling, art classes and other areas that I wanted to explore. There was something there to suit all members of my family. It was very open, and I could express myself in whatever way I wanted to. Over time I became more involved as there were other children and families in the same situation as I was, and so I felt comfortable talking with them. It was comforting to know that I wasn't alone. As I became more aware of the services offered by Purple House, I joined the creative arts activities and social activities.
My Dad passed away when I was 10, but we took some small comfort in knowing that there were people there to help and support us in our time of need.
I have met and spoken with Ministers for Health, T.D. 's and other people about the importance of community based organisations and the benefits they have to the community around them. I am very passionate about supporting community development because I understand how important services like Purple House are.
At the moment I am currently involved in the Teens and Young Adults Support Group to promote the issues around Mental Health, Loss and Support. We do fun activities and it's great to catch up with everyone. I have made many great friends in the group.
The help I received from everyone in Purple House has helped me to cope with life after losing my Dad and other challenges that I have faced. I was very quiet after my Dad passed away, but now, I have my confidence back and I have really come out of my shell.
I really enjoy volunteering in the centre, and it gives me a sense of purpose. After 10 years of knowing everyone, they have all become like family. It is such a warm and welcoming place, free of judgement. I have really bonded with everybody there, and I love seeing all the familiar faces when I come in.
I have many great memories from family days out and events that Purple House have hosted and I look forward to making more amazing memories as the years go on. I always love going down to the centre and having a catch-up with everybody. I take great comfort in knowing that the door is always open and there will always be somebody there for a nice cup of tea, a few biscuits and a chat!