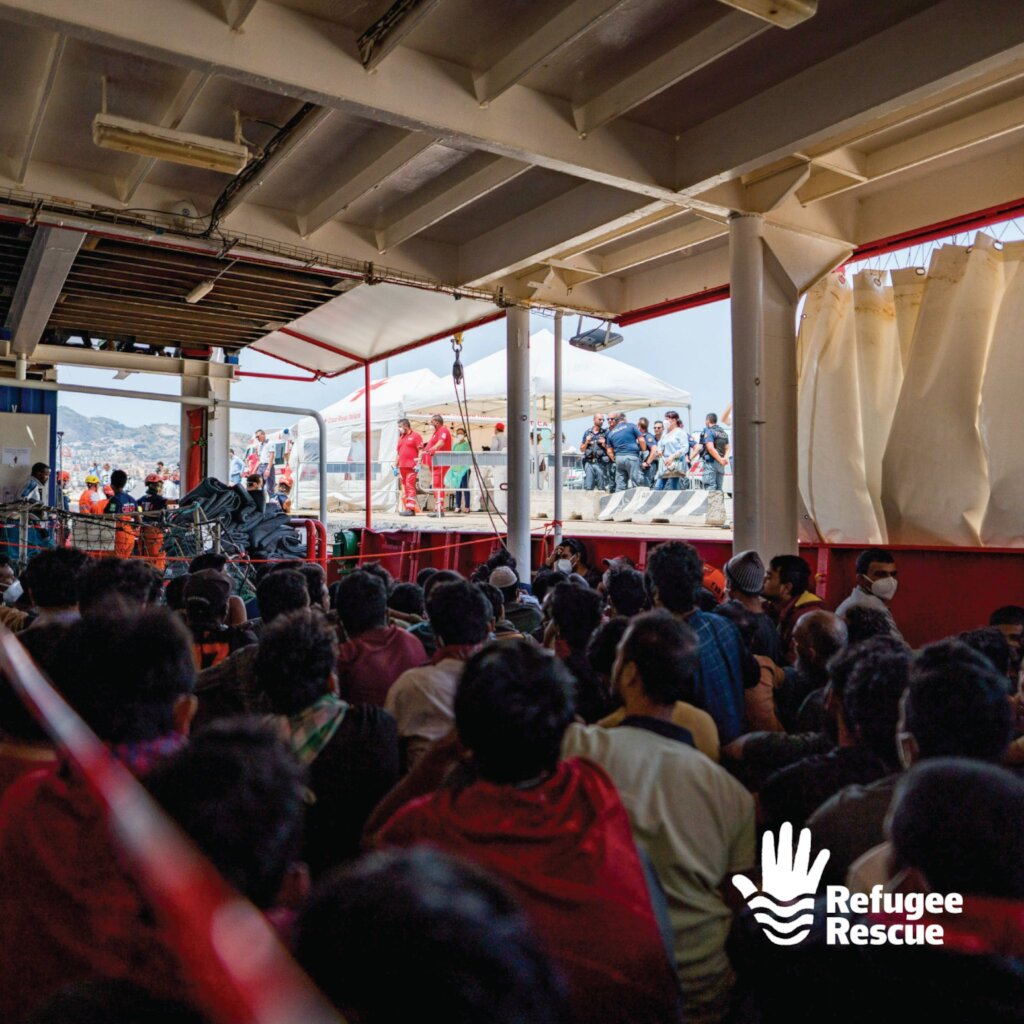 2nd Year Partnership with Sea Eye.
We are proud to celebrate our second year in partnership with the German search and rescue organisation, Sea-Eye. We first embarked on a mission with Sea Eye on the 15th of May 2021. During these two years of this partnership, we completed 12 missions together where we assisted over 2500 people in distress at sea and brought them to safety.
Our current team at Refugee Rescue is made of people from Ireland, the UK, Spain, Portugal and Canada. Together with Sea Eye, our missions at sea are a truly international collaborative effort against the preventable loss of life at sea that happens every day in the Mediterranean.
Mission Recaps
February 2022, was a challenging week for the crew of the SEA-EYE 4. Yesterday afternoon 105 survivors disembarked in Naples. En route to the port, several people were evacuated by helicopter. Sadly, a young man who was taken to hospital died on Sunday night, bringing the death toll of this mission to three people.
On September 16, 2022, along with Sea-Eye, we arrived in Taranto with 129 rescued people, including 48 unaccompanied minors. More than half of the people had been on board for 14 days and were then able to leave the rescue ship, SEA-EYE 4.
On July 31, we responded to a boat in distress in the Maltese search and rescue zone as Malta again shirked their international obligation to coordinate a response in this area. RESQSHIP was the first to respond, providing emergency response equipment including lifejackets and water until we arrived to bring people on board the Sea Eye 4. We now have 87 survivors on the ship, 35 of whom are minors. The situation on board is stable, but many survivors are weak and there is evidence of mental stress.
June 16th, we responded to another distress call from a boat carrying 76 people. When the rescue team arrived at the scene, the boat was already filling with water. It was a difficult rescue, but everyone was brought to safety aboard the Sea Eye 4. The medical team worked late into the night assessing and responding to the survivors' medical needs, including many fuel burns. We had 492 survivors on board the Sea Eye 4.