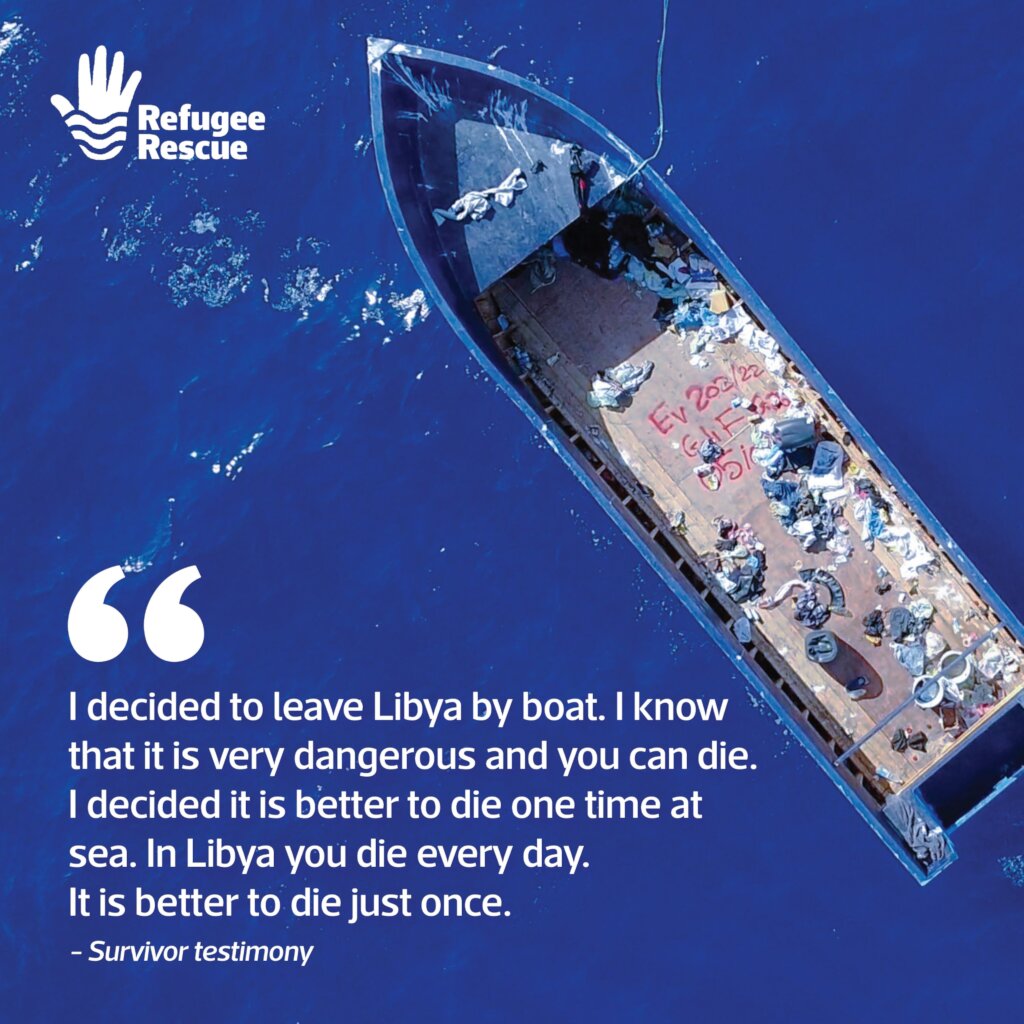 1-year partnership anniversary with Sea Eye.
We are proud to celebrate one year in partnership with the German search and rescue organisation, Sea-Eye. We first embarked on a mission with Sea Eye on the 15th of May, 2021. During the first year of this partnership, we completed 6 missions together where we assisted a total of 1,632 people in distress at sea, and brought them to safety. Our current team at Refugee Rescue is made of people from Ireland, the UK, Spain, Portugal and Canada. Together with Sea Eye, our missions at sea are a truly international collaborative effort against the preventable loss of life at sea that happens every day in the Mediterranean.
Summer Recap
The Sea-Eye 4 left port on June 4 with our rescue vessel Mo Chara on board, marking the beginning our third rescue mission of 2022. During this mission, we responded to three different distress calls, rescuing 492 people in the Central Mediterranean route. We were assigned a Port of Safety in Messina on June 23 to disembark all survivors, except for 18 of them who had to be evacuated beforehand, including women in advanced stages of their pregnancies and people with severe burns.
On July 29, our forth rescue mission of the year started. Together with the rescue vessel Nadir, from RESQSHIP, we assisted a distress case in the Maltese search and rescue zone. Due to the bad weather, many of the 88 rescued people became seasick and the mood onboard became very tense. Finally, after 11 days waiting for a Port of Safety, the Sea Eye 4 was finally assigned Pozzallo to disembark all survivors.
Our fifth mission of the year is currently underway in the Central Mediterranean, with the crew on board carrying out training and SAR watch on an ongoing basis. Stay tuned on our social media accounts for updates on this mission.
Follow our work:
Follow us on social media to stay up to date with our work:
Finally, on behalf of everyone at Refugee Rescue, thank you for your ongoing support and generousity.
The Refugee Rescue Team