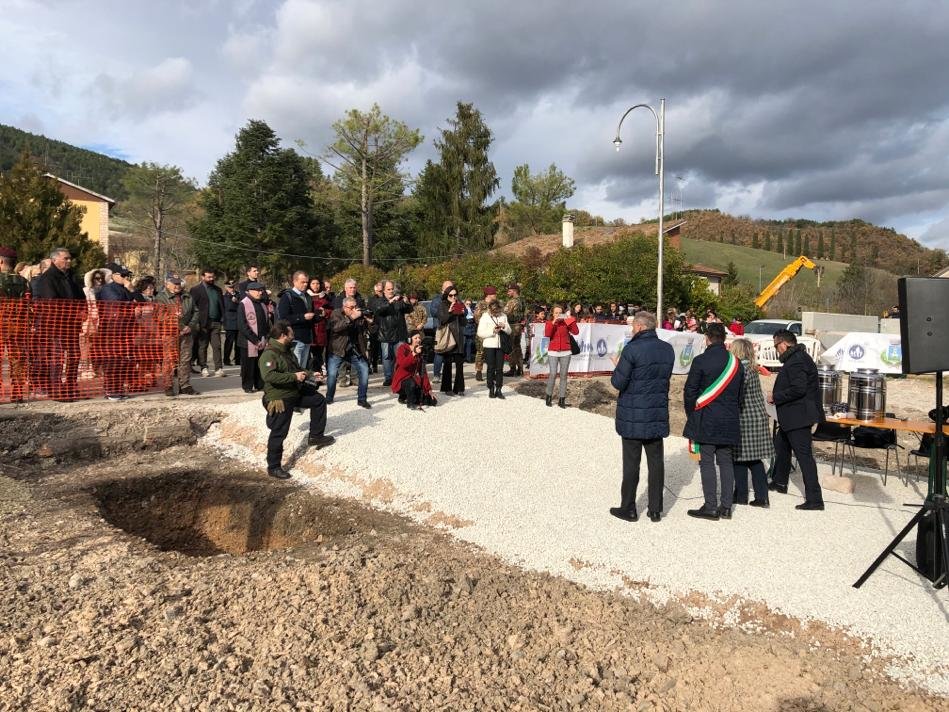 .
On a sunny December day the laying of the first stone of the new Gym and Civic Center took place in Pieve OTrina
"One year after the delivery of our nursery school, we return to Pieve Torina with great emotion" declared Elisabetta Strada, coordinator of the Foundation's projects in the areas of central Italy hit by the earthquake. "In starting the works of what is the ninth school building built by the Francesca Rava Foundation for the children of Central Italy affected by the earthquake, and on the day when the tremors were felt again, this time in Tuscany, we demonstrate, together to the donors who have supported us and to the institutions we work with, that we can make a difference and move forward despite the difficulties ".
The director of QN il Resto del Carlino, La Nazione Il Giorno, Michele Brambilla, then took the floor who, recalling his experiences as a reporter during the earthquakes in L'Aquila and Emilia, underlined the role of information in support of local communities especially in difficult situations, ensuring its commitment to keep the attention of its newspaper high so that the reconstruction does not suffer further delays.
Finally, the mayor of Pieve Torina, Alessandro Gentilucci who, in front of a crowd composed mainly of children, spoke of the future, and of a town, Pieve Torina, which has ancient roots evidenced by the recent archaeological excavations that accompanied the start of the works of construction of the civic center.
"The laying of this stone has a fundamental symbolic value" underlined Gentilucci "because it indicates the will of a country to resist and look ahead thanks also to the generosity of those who made all this possible, primarily the Francesca Rava Foundation"
We thank all the donors that so far contributed to this project, and we prompt your generosity to further support it Grazie!
Links: