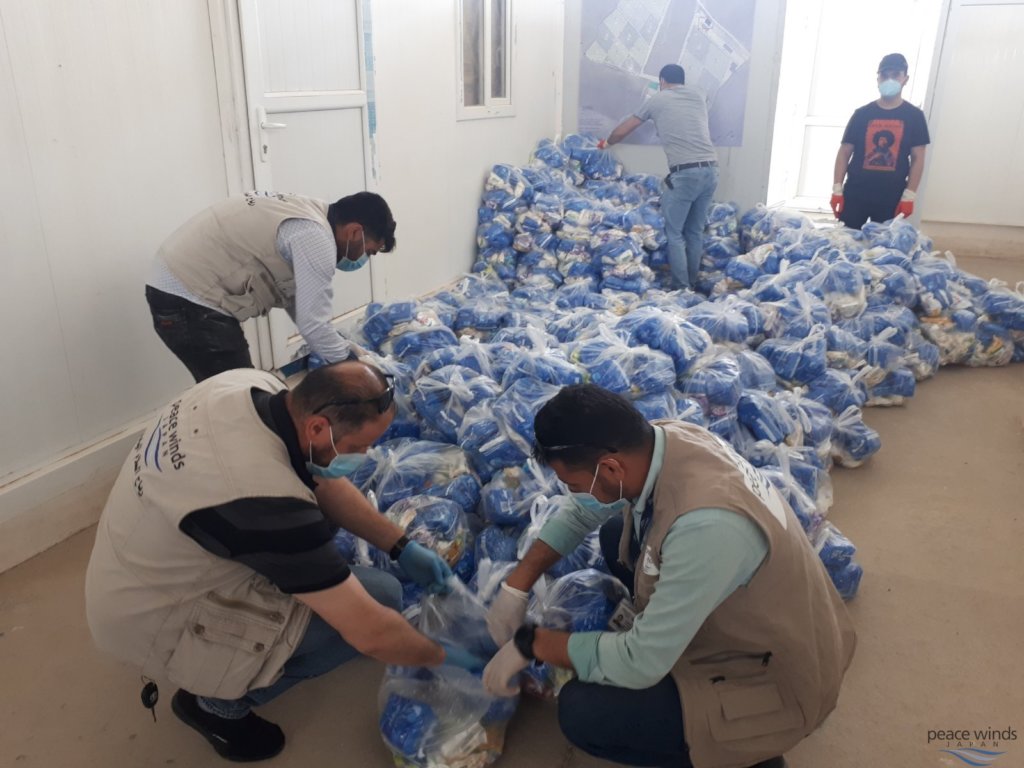 While, the full consequences of this pandemic have yet to be seen, we know that people in the world's most vulnerable countries will suffer disproportionately, as they always do. In response, we are busy raising additional resources needed to meet emerging humanitarian needs. Below is the Peace Winds' multisectoral approach in response to the COVID-19 pandemic.

Peace Winds America: Covid-19 Integrated Multisector Approach

Refugees and displaced persons are at higher risk of contracting coronavirus since they often cannot practice social distancing, and have little to no access to proper sanitation systems or medical care should they become sick. Most of the displaced communities that Peace Winds works are hosted in developing countries, where intensive care units often have fewer beds, fewer ventilators, and limited access to the high level of care needed for the most severe cases.

Barriers to health care and discrimination create an environment where the ill are often not treated, and cases go undetected enabling the rapid spread of the virus. Deep fears and anxieties in individuals and communities can also lead to people turning that fear against refugees and others who are most vulnerable. Prevention or delaying outbreaks, particularly among the most vulnerable, is therefore the best way to protect refugees and host communities.

Peace Winds works with communities to draw up preparedness plans and measures, directly involving refugees themselves from day one. This allows our teams to address specific concerns in outbreak response and to take account of existing social and cultural sensitivities.

Peace Winds' approach to COVID-19 is a multi-sector integrated and inclusive approach. Our coordinated response brings together emergency assistance, water, sanitation and hygiene, education, health, shelter, and community-based protection. Prevention involves a focus on disease-surveillance, rapid-response capacity at Health Centers and Clinics, and effective community and regional coordination. Below are key interventions listed by sector.

Emergency Assistance

Most affected by the pandemic and the curfews/lockdowns are individuals who are not able to work and who are not afforded social protection from the State. Purchasing power has decreased and many people report not having enough cash fluidity to cover basic needs. Furthermore, lack of transportation has meant that many have not been able to access food and/or cash. Already vulnerable groups, like PwDs and the elderly, have also not been able to access health and medical assistance, and basic personal and household NFIs. The limited supply of essential goods and services has resulted in negative coping mechanisms including reducing meals and selling personal items. Peace Winds approach includes:
Provide emergency cash assistance to vulnerable households that are not able to cover their basic needs such as rent, food, medicine, NFIs and access to the internet, particularly to households headed by women, the elderly or PwDs.
Provide food parcels and transportation for the elderly, PwDs, and pregnant women to facilitate access to services.

Water, Sanitation and Hygiene

Often Water, Sanitation and Hygiene (WASH) works separately from the health sector, but there is now a need for these activities to be considered essential public health intervention. Refugee and internally displaced people live in densely populated settings and rely on community facilities, such as shared water points and communal toilets, with access to water often intermittent and only available a few hours per day. The needed hand-washing standard which this pandemic requires, becomes unrealistic. Peace Winds specific WASH approach includes:
Distribution of soap for the general community, combined with hygiene promotion and hand sanitizer for health workers and other staff working in health facilities.
Partnering with UNHCR/IOM to get basic hygiene kits to refugee communities, which include soap, face masks, and other critical commodities.
Installation of hand-washing stations in refugee camps. Where some already exist, we are widely scaling these as quickly as possible. Also, assessing where rainwater harvesting can help supplement water stocks.
In settings where water is scarce, working to form refugee working groups to produce effective hand sanitizer, providing simple ingredients (aloe and alcohol >60%) along with containers for their distribution.

Community Education -- Behavior Change Strategies

Children's education has been disrupted by closure of schools, and due to inadequate tools for remote education. Current camp-wide telecommunication blockages are inhibiting humanitarian actors from efficiently disseminating accurate messages about the current situation that are critical for COVID-19 prevention and preparedness, and countering harmful misinformation. Peace Winds community education approach includes:
Adapt information, education and communication materials about available assistance, services, health information, taking into consideration the linguistic and cultural needs of refugees.
Hygiene promotion through constant messaging, emphasizing the critical role of reducing how often we touch our faces – as touching the face is a key mechanism in the transmission of the virus, far more common than airborne transmission.
Messaging via WhatsApp, facebook, or other media to emphasize what people can do to stay safe, and also to dispel rumors that generate unnecessary fear.
Disseminate recommendations on how to support families with virtual studying for their children via WhatsApp and social media.
Provide support in dealing with general stress in this time of heightened fear and vulnerability -- simple stress-management exercises and parenting activities.

Health Services -- Healthcare Worker Training

Of critical importance is training and equipping staff in the health facilities we are supporting to identify suspected cases, safely isolate patients, and temporarily care for and refer people showing symptoms to specialized testing and treatment centers. Community health workers and volunteers are the front line to communities on prevention of COVID-19 and ensuring people with symptoms receive care early. Peace Winds Health approach includes:
Stepped up training of healthcare workers on surveillance for COVID-19 -- early identification, notification, case management and contact tracing, data collection and analysis and interpretation.
Provide personal protective equipment (PPE), disinfectant, supplies to manage medical waste, laboratory supplies, and pharmaceuticals and medical equipment for case management.
Stockpile essential medicines and medical equipment, including oxygen concentrators
Preparation of isolation facilities in select camps and settlements.
Strengthen the referral system for laboratory specimens and prepositioning laboratory supplies including swabs, and specimen containers.
Ensure continuity of priority health services to avoid increased mortality from other conditions.

Shelter

Sheltering plans, both long term and short term, are being reviewed to include considerations for things that may have not been considered before COVID-19. Peace Winds shelter approach includes:
Construction of isolation tents for Health Centers in need of separate COVID-19 screening, admission space, as well as space for patients needing to be transferred.
Shelter upgrade or modification plans, which do not account for social distancing, are reviewed and modified.