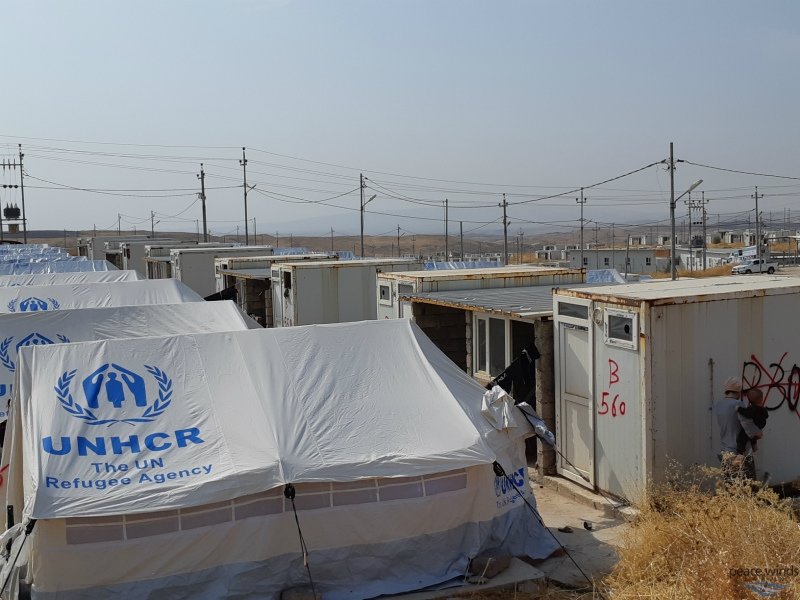 Since Turkey invaded Northern Syria on October 9th, over 13,000 Kurdish refugees have fled from Syria to the Kurdistan Region of Iraq (KRI). Approximately 75% of new arrivals are women and children and some of the children are unaccompanied. On average 1,200 refugees have arrived per day over the past week and are in great need for shelter, food, water, blankets, and other basic hygiene and household items.
Peace Wind's Duhok office has been responding to the crisis in close coordination with local authorities, the UN, and other NGOs.
As an implementing partner of UNHCR, Peace Winds has been setting up emergency shelter and tents in Bardarash Camp, which has been hosting the new arrivals. Peace Winds staff worked long days and nights to complete 2,049 shelters in Bardarash in just eight days before that camp reached its full capacity of 11,000 refugees.
Bardarash Camp was established as a camp for Internally Displaced Persons (IDPs) for displaced Iraqis in 2014. After the return of IDPs and integration of several camps, Bardarash Camp has been unoccupied for more than two years. As a result, there are various needs including the rehabilitation of toilets, showers, water tanks, pipes, etc. Adding to the list of issues, winter season is arriving in northern Iraq, and the temperature rapidly decreases at night. Peace Winds and other humanitarian organizations are coordinating daily and working hard to improve the situation and address the gaps as quickly as possible.
One man who spoke English fluently told us his story. "Back in my home in Qamishli, Syria, we heard a lot of close bombing sounds. We were anxious and we couldn't sleep. I worked in the government as an agricultural engineer, but I left all of my properties and my job and we desperately fled to the border. Tomorrow, my mother and sisters will arrive and I need to find a job." Although the life in the refugee camp is not easy, he seemed relieved by the refuge and assistance provided in Bardarash Camp.
With Bardarash Camp at full capacity, Peace Winds has now begun setting up emergency tents, electricity hook-ups, and lighting in Gawilan Camp which will also begin hosting new arrivals. The Peace Winds staff has been working through the weekend to prepare the sites for the increasing number of new arrivals and plans to set up 1,588 emergency shelters in Gawilan, but that camp too is expected to quickly fill to capacity.
According to UNHCR, approximately 180,000 people have been displaced in northern Syria. Over 50,000 are expected to seek refugee in the Kurdistan region of Iraq in the coming months.
Peace Winds has been in northern Iraq for over 25 years and remains deeply involved and committed to assisting refugees, IDPS, and host communities in Kurdistan and Iraq.