Project Report

| Jun 22, 2023
Transformation of Camp Zervou 2.0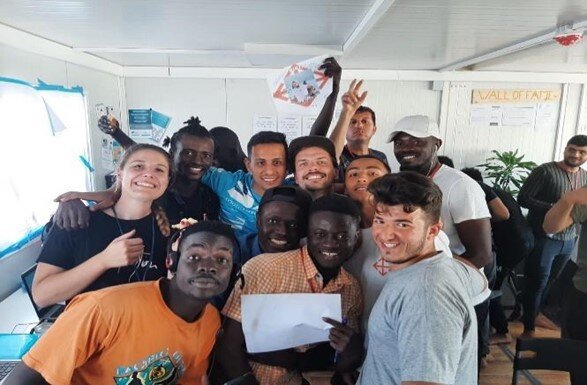 Since our last update roughly 6 months ago, there has been a big change of circumstances. Due to changes in regulations implemented by the Ministry in Athens, MOTG is currently not allowed to work inside the camp. However, this has not stopped our team; we have continued our programs at a location near the camp. We were granted permission by camp management to continue operating the laundries within the camp through our Community Volunteers, who were coordinated externally.
It required a lot of adaptation, but our team managed to resume the integrity of our program outside the camp. It was crucial for us to continue implementing our projects and working with our team, not only because our programs are important but also because the fear of MOTG leaving Samos has deeply saddened the camp residents. Thanks to the hard work of every member of our team, we were able to alleviate that fear and continue many of our programs for the benefit of the residents. Perhaps most importantly, we were able to resume our work of connecting the different communities in Zervou Camp with each other.
So, what have we been up to?
We maintain our Community Spaces for the residents, such as the Chai point.
Also outside of the camp, we were able to build a Chai Point. The purpose is to offer a safe place where everyone is welcome to have a warm beverage, to sit in the shaded area and to play games together. Within our Chai Point we also introduced a printing service accessible to all as many residents needed to print documents - for their asylum procedures or general camp administration - and this service did not exist in camp.
We keep offering our residents essential services with our washing stations.
Thanks to a quality system, we are successfully washing over 700 bags of clothes per week. This program has become essential to the residents in the camp.Thanks to our Community Volunteers, we are still able to continue this incredibly critical program.

We keep creating opportunities for all the residents through our education program.
Our educational program is running at full speed, and our connection with the community remains strong. This connection is particularly important at this time because tensions between different communities in the camp have increased significantly since our departure, as well as violent interactions with camp security and the police.

We support the residents with an Info Point
Many residents simply lack any information about their situation, the camp, and a lot of other critical topics. We decided to fill that gap and build a team of translators to deliver all the essential information to all camp residents. The team was able to provide information to hundreds of resident. More than informing new arrivals, they became a permanent source of information for all residents, informing about topics such as the current MOTG programmes, distributions of needed goods, bus schedules, etc. The info point also includes a printing station
Future
We have many ambitions for the future of our program. Not the least of which is the continuation and expansion of our current programs, from the crucial laundry program to our highly successful Digital Learning Lab (DLL). Additionally, we plan to implement a few new programs that will provide all residents with access to a library and a music program, as well as a leadership scholarship for the Community Volunteers who have demonstrated their dedication through their work as Team Leaders.
We are very proud of everything we have achieved in the past half year. Beyond the impact of each individual program that has benefited the community, our presence in the camp has improved the overall atmosphere. With a team of currently over 60 Community Volunteers, a Chai Point where residents can meet and socialize, and a highly popular Cruyff Court where sports activities take place, our transformation is in full swing.
We have found innovative ways to make our programs outside the camp as effective as within. Through our work, we demonstrate how refugee reception can and should be operated. The blueprint of our work is the key to changing refugee accommodation throughout Greece and Europe. We are well on our way!