The OCP Agroforestry program have made an incredible impact on the protection and sustainability of the environment since the program's inception in 2001. We are happy to report that our initiatives continue to increase crop yields by up to 25% compared to traditional farming methods. And the major accomplishment of decreasing the time land needs to lay to fallow, (or be reusable for planting) to two years from the staggering 10 years it was before.
Many of the farmers around the Okapi Wildlife Reserve live in remote and difficult-to-reach areas. This provides one of the unique and more challenging tasks taken on by OCP - the spreading of knowledge about sustainable practices. The Agroforestry team tackles this through a number of resources. The first is by providing example gardens around the Reserve that attract farmers and people as they pass by on their daily errands and travels. The genuine interest of the people in how they can change their crop selection, crop rotation and planting schedules to improve crop production is making a broad impact across the region in reducing land degraded by slash-and-burn agricultural practices. The gentle encouragement of the agroforestry team recruits local people to not only join the program to increase their crop yields, but also shares the importance of protecting the ecosystem for the benefit of people and animals, including okapi.
Another method OCP uses is education programs. Since many of these farmers live remotely, radio broadcasts are an important way to reach them without having to make the challenging journey around the Reserve. These broadcasts not only talk about sustainable agroforestry, but the protection of resources and the damaging effects of illegal mining and poaching. In addition, our education programs are allowing children to participate in reforestation projects. Their participation gives children a sense of appreciation for nature, and a personal investment in the project.
Our agroforestry team has made the important identification of key sights for reforestation, like a field in the Bandisende area that was previously abandoned by poor farming practices. In order to regenerate these areas, the team collects fruit and nut tree seeds from the rainforest and then uses OCP nurseries to grow the trees. Once they are seedlings, they are replanted into the reforestation zones to regrow the Ituri Forest.
As always the nurseries have been hard at work distributing seedlings - 14,147 this quarter alone. Distributing tools and food seeds provides farmers the necessary resources to practice sustainable agroforestry.
We continue to be impressed and inspired by the hard work of the Agroforestry team. We appreciate your continued support of the project and our efforts to eliminate slash-and-burn agriculture from the Ituri Forest.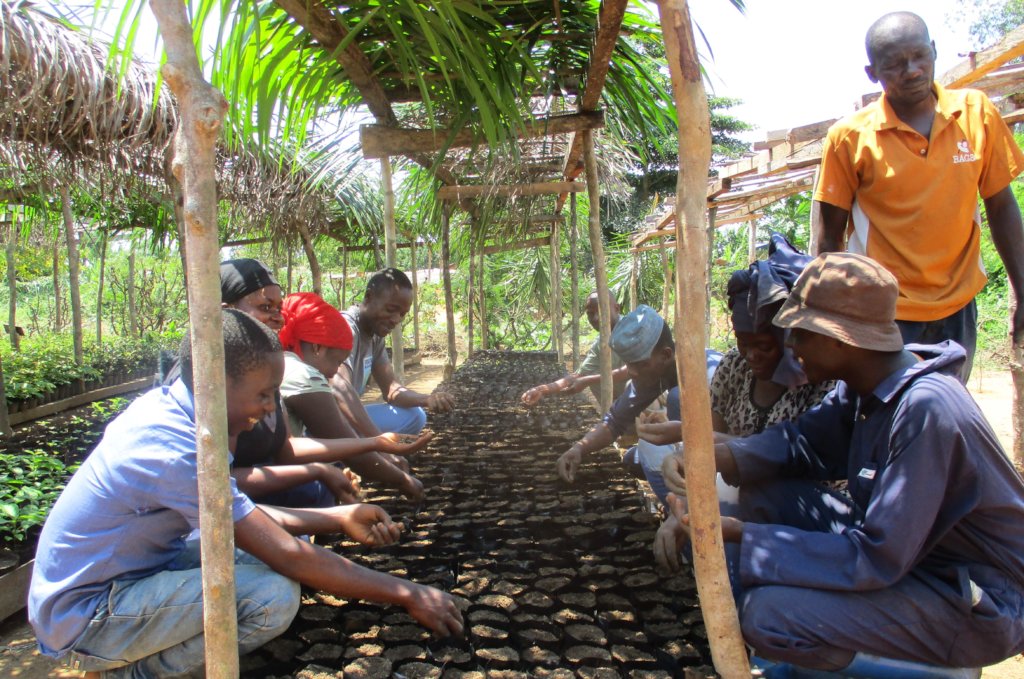 Links: