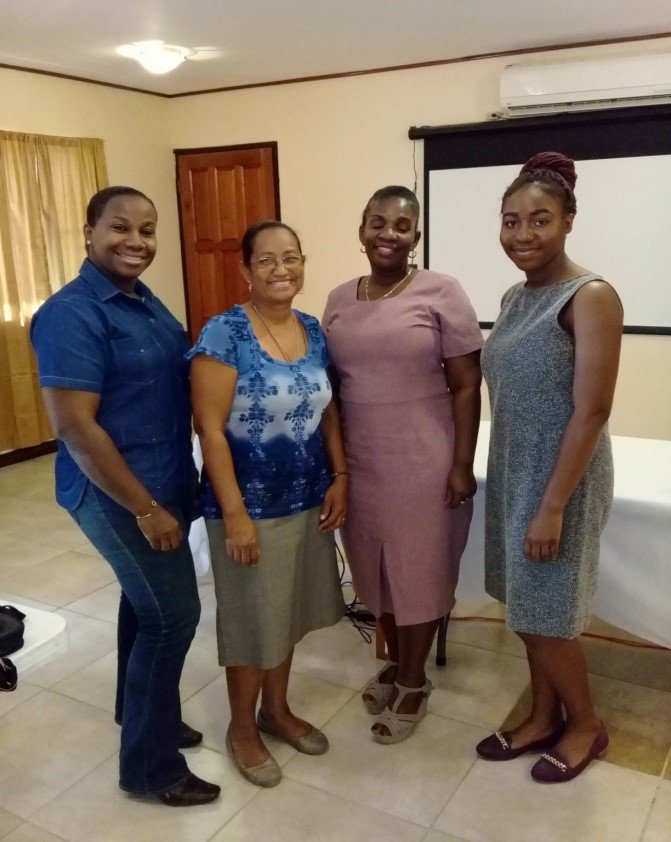 We continue to extend sincere thanks to all our donors international and local, past, present and future. To the past donors we are where we are because you cared and have given us the support needed to move forward, to our current donors we give thanks that you have seen the effect of our work and the need for continued change in our society and to our future donors don't be left out of satisfaction of serving and giving to those in need changing lives by giving women a sense of peace and dignity to move on after DV. And to all we thank you so much for believing in our cause and continuing to support us.
The last three month have challenging and encouraging as well. It is because of our challenges we are able to grow and strengthen so we welcome all challenges with a positive attitude and keep looking at the brighter side of things. Our biggest challenge had been the passing of single parent with 10 children as we continue to grieve we are trying to assist the minors with school and their basic needs by linking them with the available resources available through the government and also with local donors. We will continue to extend care and monitor these youths who are in dire need of guidance, motivation and encouragement.
A fourteen year old female delinquent is presently receiving tutoring and is looking forward to going to high school. This started with the volunteer and after her departure a local has taken up task to assist her and help her be ready for high school.
We also assisted a 2months old infant and father gain safety for the infant as this was an old case of MOD and the information and advocacy provide by MOD enable the police and social service department to make correct decision in placement of the infant who was in danger.
As we continue to work in the field and at the forefront with people of all walks of life in our community we are also engaging with those in decision and policy making position.
While our primary focus is our shelter and serving women and our children affected we are also involve in michanery that is creating the way forward to the elimination of domestic violence in our country. Mary Open Doors was represented at a Gender Based Violence Concept and Methodologies training facilitated by the National women commission (NWC)where the Cayo District Gener-Based Violence Committee was formed. MOD was first to be nominated to be the president of the committee but had to decline due to the lack of staffing at this time. Nonetheless, we are a member of the committee and very committed to serving where possible. A new victims complaint form was also launched to assist clients receive maximum attention and hold those in authority accountable for the services extended to victims.
We need your help to continue to serve and advocate for social justice and any other form of inequality against women and children.
Become a Link that forms the chain of hope with Mary Open Doors Family, as we continue in our struggle to be a part of the solution in the fight against the epidemic of domestic violence in our country and the region. We cannot do this on our own without your help this would be impossible we need each other . Your encouragement and support have kept us motivated and in operation from past and current volunteers and donors.
On May 15 to June 9 Mary Open Doors welcome Criminal Justice undergraduate volunteer from Michigan State University, USA. She assisted us making connections with past and present partners getting our face book page updated and current in one week we had over 2,000 likes coming and supporting the work we do. We have gotten additional food donors and renew relationships that had become dormant. Her statement upon leaving quote:
"I just wanted to start off by saying I have enjoyed my time working with Mary Open Doors. I was a pleasure to work with you and the other ladies. From my short time here I have seen how hard you work and how much more you do for the women and children in the Cayo District than you are required to do. AS I leave and venture of, I would still like to assist MOD in any way I can. As mentioned I will be making contact with Lacasa shelter in Michigan and speaking with them on how they run their shelter and gets sponsors and what not. I will be mailing back brochures and any other important information for your benefit. If there is anything else I can assist or help you with please feel free to contact me anytime and I will be more than glad to help."
We also had the pleasure of presenting to a group (15) of missionary and was able to steer them to our GlobalGiving page in the event they wish to donate.
Work continues at the shelter our long awaited cameras have been installed and our water tank to catch rain water and help with the cost of water is being installed as well.