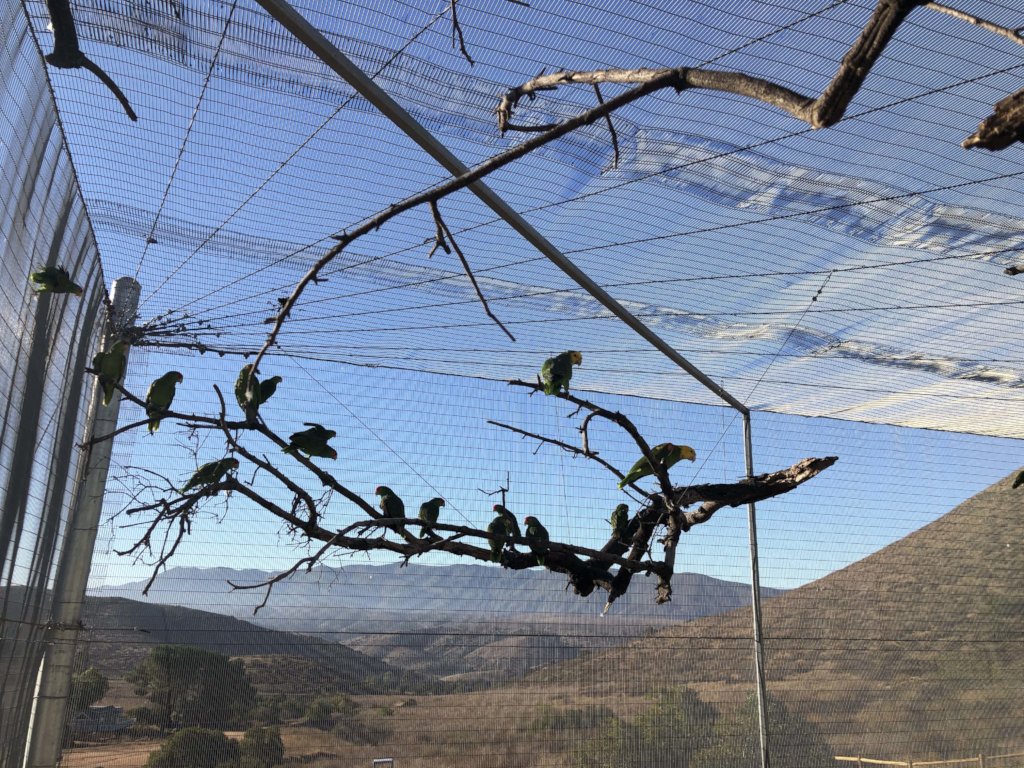 Hello again!
After a few very busy months, we are happy to be starting our "slower" time of year. I say that cautiously, as it always seems like when our rescue numbers slow down, inevitably other areas of the rescue need more attention.
What a year it has been! Thanks to your generous donations, we were able to rescue 107 birds this year (to date). We also released more than 50 back into the urban wild, plus a couple dozen more ready to be released soon. We know this has been a challenging year for everyone, so seeing the donations come through lately means even more to us.
If you haven't had a chance to watch our videos on Facebook or Instagram, you may not know that we have begun moving birds into our new (humungous, beautiful, sunny) facility! So far, the birds are loving all the space. It was a long-term labor of love, and we are so excited to begin the next chapter of SoCal Parrot. The new facility is perched near the top of a hill on our 24-acre plot in rural Jamul, CA. Lucky for us, the surrounding area is all owned by CA Fish and Wildlife, and is natural, protected habitat. When it is safe to have visitors again, we plan to allow small groups to come visit and take a private, guided tour of the new spot. For now, video and photos will have to suffice.
Heading into 2021, our goals are to boost our weekly enrichment plans for all of our residents (rehab patients and long-termers alike), and put together more educational content. For enrichment, we are seeking the most economical way (if possible) to incorporate living trees in each enclosure. We can remove them when they need some rest and regrowth time, of course! It is a new venture for us, so we are still working out the details. Aside from plants, we provide fresh produce to our flock several times a week. As you can imagine, the cost to feed so many birds definitely adds up! That is why we continue to push for donations at every opportunity-- even fresh produce costs are offset by your donations. As for educational content, the shutdowns and change in lifestyle due to the pandemic have required more creativity with how we share our work and advocate for wild parrots. One benefit to shifting everything to virtual outreach has been an expansion of our audience! We have been able to offer conference call-type presentations to groups around the world, not just our local areas.
As always, I would like to sincerely extend our gratitude to you for your thoughtful donation. Whether you are able to send a one-time amount, or if you are a recurring donor, every single dollar helps us continue to rescue and care for wild parrots. In a time when the world seems so hectic, it is lovely to see every notification that another kind soul has donated to SoCal Parrot. So thank you, so very much, from me and the rest of the SCP crew!
Here's to a lovely December, and an even better new year!