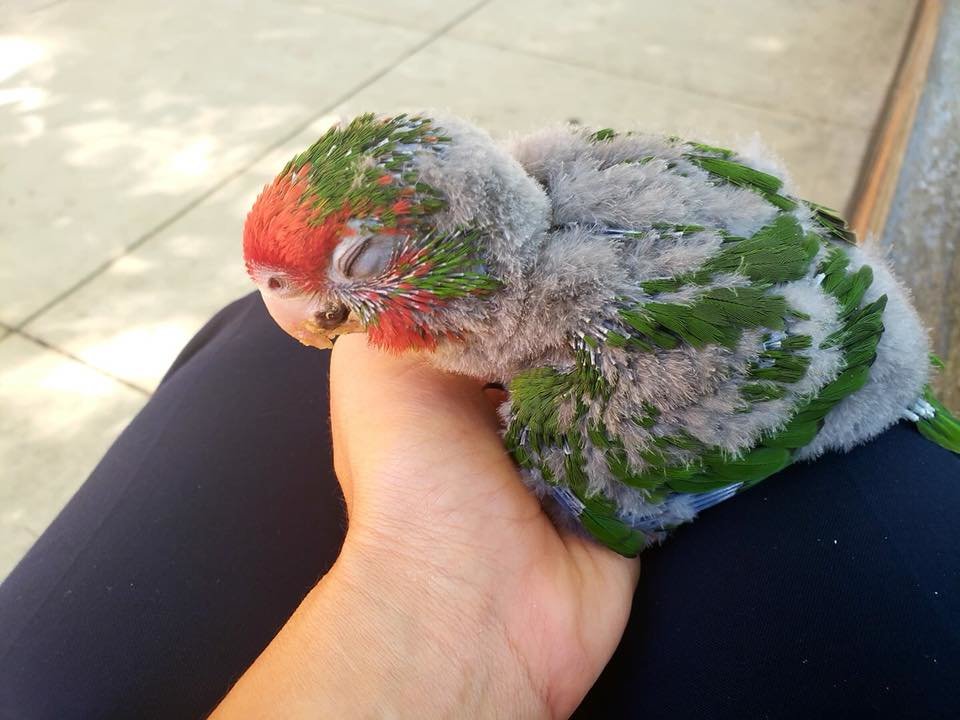 Thank you so much for donating towards the care of our wild parrot rescue patients! It is only with support from you that we were able to rescue a record-breaking number of birds over the past few months. In total, SCP was active in the rescue of 85 birds from July to mid-September 2018. Eighty-five!
Luckily, both Amazon and Conure baby seasons have ended as of late September. In previous years, we saw a drastic decrease in our monthly rescue numbers by this time of year. However, just like during Summer, our numbers aren't dipping as low as before. While this means more work and resources required, we are very happy that our organization is known so well throughout the region.
Rather than bombard you with more stats and numbers, I'd like to spend the remainder of this report sharing a story of a little Conure (nicknamed "Emmett") who came to us recently.
About a week or so into August, we received a call from a member of the public regarding a nestling-aged Conure she had in her care. The bird was originally found by a friend of hers, and had seemingly fallen out of his nest in a very tall palm tree. The woman who called us had been caring for this bird for several days, and had understandably developed an emotional attachment. She even hand-fed him every few hours! Although she was very attached, she also understood that this bird was wild, and she believed he should be given his best shot at being free. When she offered to drive him down from Los Angeles to drop him off with us, we were ecstatic. It is rare to find someone willing to make that trip, as it is usually a staff member or volunteer driving up from Jamul instead.
Generally, the best way for a baby wild parrot to remain truly wild is to put them with other birds of the same age and species. On the morning Emmett arrived, we also received a call from our rescue partners at Wetlands and Wildlife in Huntington Beach. They had 3 nestling-aged Conures in need of care. It was kismet! Emmett was only alone in the brooder for about an hour before the three newbies arrived. Since then, we have taken in a dozen more young Conures. They are all wild and on their way to eventual release back into the urban wild. Aside from his colored leg band, we can't even tell Emmett apart from his foster brothers and sisters now!
This story is important, as it shows how much work a single rescue really takes. Someone found Emmett, someone else cared for him, he was driven from LA to Jamul, he has spent 2 months in our care with other young birds as his foster flock. Emmett's success is a testament to the hard work and efforts of all wild parrot-lovers in Southern California. We hope he can inspire other folks to help whenever they come across a wild parrot in need.
Here are some photos of Emmett when he was young. Photo credit to Nurit K, who so lovingly cared for Emmett and sent him to us.