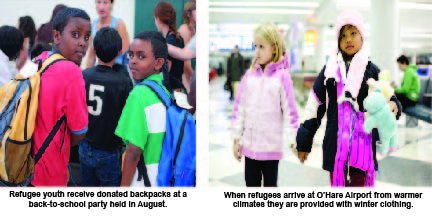 Hello All,
Here are a few updates from our organization:
Backpack Drive Update
Thank you to all who donated to the RefugeeOne Youth Program Backpack Drive! Your generous donations allowed us to supply more than 300 backpacks for refugee youth for the upcoming school year. The backpacks and supplies will help to ensure that these youth are equipped to do well in their studies this academic year.
RefugeeOne Winter Clothing Drive!
As you may know, during Chicago's coldest winter months, temperatures can drop dramatically to below freezing.
Many of the refugees we resettle come from regions of warm climate; specifically Burmese refugees from Thailand, Malaysia and Bangladesh, and refugees from African countries. These refugees have never owned winter garments. Others, like those from Nepal, are unable to travel with their winter attire and thus arrive in Chicago with no winter clothing.
In order to provide refugees with warm clothing, we need help from our supporters. If you are interested in donating clean items in good condition, you may drop them off between the hours of 8:30 am – 4:30 pm at:
RefugeeOne
4753 North Broadway, Suite 401
Chicago, IL 60640
773-989-5647
Or you can make a donation online to cover the purchase of winter clothing for refugees. Collection runs September 15th – November 1st.
At this time, we are only collecting hats, coats, scarves, gloves, and boots.
Visit our website for more details: http://www.refugeeone.org/2011/09/winter-clothing-drive/.