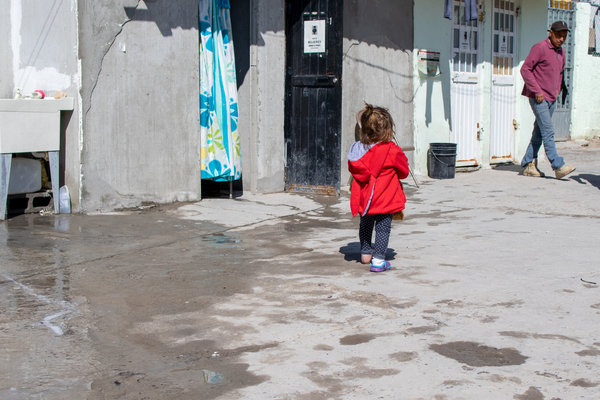 Why are people requesting asylum at the U.S. border?
No one takes the decision to migrate lightly. Asylum seekers who travel to the U.S. border risk a perilous journey because staying home would put them in even greater danger.
Many have fled harrowing situations in Central America, Cuba, Brazil, and Venezuela, where they and their families were no longer able to safely go about their daily lives. Over 4.5 million Venezuelans have left the country since 2015 due to growing insecurity, instability and violence. People living in Central America's "Northern Triangle" region—Honduras, Guatemala and El Salvador—are enduring violence akin to a war zone.
One mother who had been stuck on the Mexican border for nine months explained that she fled because of an assault and a death threat.
"Many years I was threatened," she said, as she described fleeing with her eight- and fourteen-year-old daughters. 'And my children, all of them."
Why are asylum seekers being sent back to Mexico?
Two policy changes under the Trump Administration have left an increasing number of people stuck in border towns on the U.S.-Mexico border.
First, through a process called "metering," the administration placed an arbitrary daily limit on the number of asylum seekers allowed to present themselves to U.S. authorities at official ports of entry along the U.S.-Mexico border. This policy has forced some to wait months and even over a year in border towns in Mexico to submit their request.
The second, a policy called the Migrant Protection Protocols or "Remain in Mexico," was recently briefly blocked by the Ninth Circuit Court of Appeals before a three-judge panel allowed it to temporarily go back into effect. Under the policy, asylum seekers are sent right back to Mexico even after they are able to make their claim to U.S. border officials.They then have to wait there until their case can be heard by an immigration judge in the U.S. To date, over 60,000 people have been sent back because of the "Remain in Mexico" policy—and many remain in harm's way.
On top of putting asylum seekers in dangerous situations, this change makes it much more difficult for those seeking safety to have a fair review of their claims. One study found that only 0.1% of asylum seekers affected by Remain in Mexico were eventually granted asylum.
Why is it not safe for asylum seekers in northern Mexico?
When asylum seekers are sent to border towns in Mexico, they become vulnerable to the same gang violence and gender-based violence that forced many of them to make the dangerous journey to the border in the first place.
Mexico has long been plagued by violence from drug cartels and gangs, and that danger has only increased in recent years. With nearly 35,600 homicides, 2019 was the deadliest ever recorded in the country.
Local communities in northern Mexico have worked valiantly to welcome asylum seekers and keep them safe, but services are stretched thin. Shelters are often at full capacity and in desperate need of funding and assistance to help all those in need of support.
"In Ciuadad Juárez, there are 20,000 people waiting," André explained on the Oprah's Book Club episode. "Shelter capacity is very limited so other people are living in makeshift camps, rented rooms, and hotels.
The lack of services is putting already vulnerable women and children at particular risk. Children are reported to be at risk of sexual abuse, gang recruitment and violence, and women are vulnerable targets of criminal gangs engaging in human trafficking. An IRC survey across four shelters on the northern border found an unusually high number of families citing safety and protection from violence and gangs as priority concerns.
Why are women particularly vulnerable?
Policies that turn away or block asylum seekers are particularly dangerous for women.
Many women and girls are seeking safety precisely because of gender-based violence. In 2016 alone, some 65,000 women from the Northern Triangle attempted to seek asylum in the U.S. because of gender-based violence.
Women turned away at the border are again vulnerable to violence in Mexico, as the country itself has experienced high rates of gender-based violence. One study found that approximately 66% of women over 15 in Mexico had experienced some form of violence at least once and 44% had been abused by a partner. Over the last five years, there was a reported 137% increase in femicide (the murder of women because they are women). Currently, a woman is murdered every 2.5 hours in Mexico.
"The limited health, protection and legal services are putting already vulnerable women and children at particular risk," said André. "Many of the people we work with started their journey in an unsafe place, embarked on an unsafe journey, and are still unsafe in Ciudad Juárez."
What is the International Rescue Committee doing to help?
The IRC is supporting local nonprofit organizations and partners in northern Mexico to aid migrants and asylum seekers stuck in border towns.
We are focusing most of our programs on the needs of women and girls who have experienced violence. We're working with local partners to increase their access to medical care, psychosocial counseling and other assistance, bringing services directly to shelters where women are staying. This reduces risks for women and girls and ensures they receive the help they need while they are on the move. The IRC also works to increase access to information and legal services for migrants and asylum seekers.
Despite these efforts, more resources are badly needed to support asylum seekers. Shelters, large and small, have opened their doors, yet many are overwhelmed and past full capacity. Asylum seekers who cannot find room in a shelter must stay in rented rooms, hotels, or even makeshift camps, where they are especially vulnerable
"This is a crisis that is really under-funded," André told Winfrey. "A lot of organizations like the IRC are struggling to gather funding and attention to this crisis."