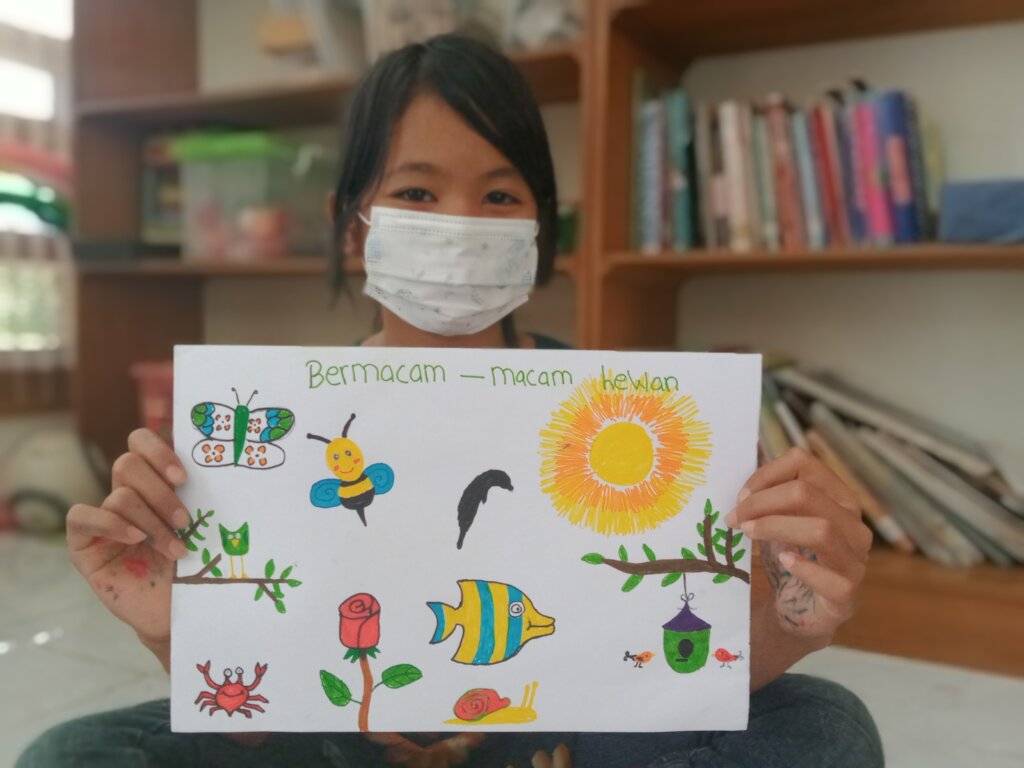 Hello there!
Thank you everyone for your continuous support of our library in Central Kalimantan. As you know, since the beginning of the pandemic, the library has focused on providing additional learning support for students in the early grades who are still struggling with reading, writing, and math. Though these students also had access to quality reading resources and some activities, we tried to limit the number of children on our premises. However, as the number of Covid cases have drastically reduced, we have slowly resumed several other activities at the library, though these are only for those library members who have been granted permission by the parents and strictly follow all health protocols during their visit.
Besides the Dance club, other activities such as drawing & coloring, arts & crafts and the English Club have been reactivated. The children are so excited! Each activity starts with 10 minutes of reading. For everyone's safety, only two activities may run in a day. The activities are limited to 15 participants and wearing a mask is mandatory. The YUM staff sanitize the tools after each activity.
"I love to visit the library because I can play and do some coloring activities with my friends. And after we are done with the activity, Miss Rusti will give every one of us a glass of milk." Fahmi, kindergarten student
"I have known the YUM Library since I was in primary school. I borrowed many books from the library to read at home. Since the schools closed in March 2020, I feel so bored trying to do everything from home. Luckily, now the government regulations are less strict. I can stay longer in the library to look for a good book and hang out a bit with my friends." Nurlela, secondary school student
The library continues to be a safe and comfortable facility for the many children living in the surrounding villages. Will you help us continue to keep the library open? This year #GivingTuesday takes place on November 30th. As you may know, this will be a global day of giving and it will be a great way to start getting into the 'giving back holiday' spirit! If you'd like to participate and join millions of global givers, you may donate at this link https://www.globalgiving.org/projects/help-promote-good-reading-habits-in-kalimantan/ Your donation will continue to ensure that children in the remote area of Bukit Batu, Central Kalimantan, have access to quality reading materials and educational activities.
Thank you again for your amazing contribution!