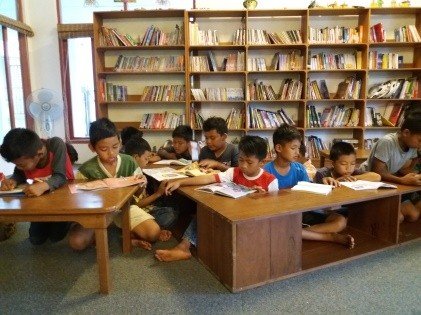 Dear GlobalGiving Donors,
Happy new year 2020!
I hope this year will bring everyone of you more joy and happiness.
On behalf of YUM's beneficiaries and staff, I would like to express our gratitude for your generous support to the "Help Promote Good Reading Habits in Kalimantan" project through GlobalGiving for all of these years. Your continuous support has enabled YUM to furnish the library with qualified reading material, tutors and properties. Thank you!
The YUM Community library has been one of the essential parts of many people's lives in Bukit Batu, Central Kalimantan where YUM is located. Everyday more than 35 children spend their spare time in the library for reading and participating in various fun, educational and creative activities. Below are the stories of Amara and Nova, YUM's library new members.
"I am Amara, 2nd grade at Tangkiling Primary school in Bukit Batu, Palangkaraya. I am a new member of YUM Community Library. I am so surprised knowing that YUM library offers so many updated reading books, educational and fun activities. My favorite book here is "Aku Mau Makan Sendiri" (I can eat by myself) and my favorite activity here is watching movies. I am happy being here in the library because I can meet and have many new friends here."
"Hi, everyone. My name is Nova; I am 2nd-grade student at one of primary school in Sukamulya. I have known YUM a long time ago before I started going to school. At that time, I only come to the library to participate in the Creativity Day. I was still shy because I was not able to read. The library now looks very beautiful, especially with the new white clean floor. My father used to drive me here, but since I get older and brave enough, I now go to YUM library together with my friends. We walk from our home. I have two favorite books at the library; 'Indonesia Folktales' and 'The Great Child series'."