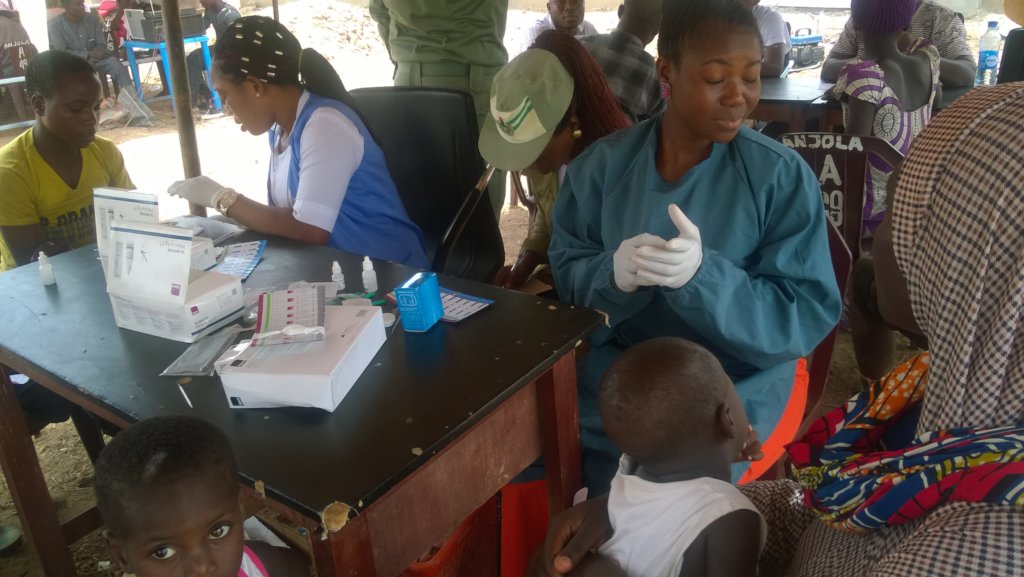 In continuation of our malaria prevention and control activities, PSJ's medical team visited Tegina, a rural community in the central district of Niger State. The team conducted an integrated malaria and other endemic disease medical outreach. This outing was particularly important given that this is the period of rainy season with the resultant increase in the malaria vector (female anopheles mosquito) breeding sites that inevitably leads to more malaria cases and attacks among children and pregnant mothers. Tegina being one of the poorly-resourced communities in rural niger State, continues to struggling with inadequate health care resources.
During the outreach, over 650 community members received malaria prevention education, including environmental sanitation and the importance of sleeping under an insecticide treated net especially for under-five children and pregnant women who are most vulnerable to malaria attacks and malaria related deaths. With the assistance of the new Rapid Diagnostic Test technology, our team was able test and treat 160 children and 37pregnant women who tested positive for malaria. Our team also offered pregnant mothers malaria prophylaxis and treatment.
In addition, community members were also treated for other common ailments such as diarrhea, respiratory tract infections, typhoid fever and other common ailments. Our team also distributed Vitamin A supplementation and deworming for all under-five children that presented during the outreach. Pregnant women and other community members (145 ) were also provided HIV testing and counselling services. It was a well synchronized package of malaria and other medical clinical services.
As the medical team rounded up activities on that day, we were wondering aloud how many more children would have succumbed to malaria attack in Tegina community without the support our donors who provide all the resources to sustain this malaria outreach project. It was a day that will linger in the memory of Hadiza, the mother of 3year old Nasiru for a long time. She heard about the outreach through the village announcer and hurried to present Nasiru to the medical team on the day of the outreach. Nasiru had been very sick and having a running battle with recurrent episodes of high fever two days before he was presented to the outreach medical team. Young Nasiru tested malaria-positive using the rapid test, and was immediately commenced on a three-day therapy with artesunate combination therapy (ACT), without his mother paying a dime. He made a complete recovery two days later, as corroborated later by his mother.
Community members were full of gratitude for the free medicines and malaria testing. On behalf of the communities we serve, we express our sincere gratitude to all our donors who made financial contributions to this project so far. We know some of you have donated over and over again to this project. Gradually, we are inching towards achieving our overall goal.