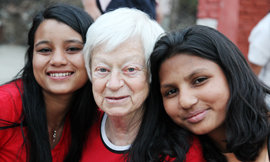 Dear Friends:
First, I would like to thank you for your generous contributions to our program to Rescue Children Suffering From Severe Malnutrition (www.nepalyouthfoundation.org/programs/health/nrhindex.html). This project's impressive accomplishments, including giving lifesaving treatment to more than 1,000 malnourished Nepali children every year, would not be possible without the support of people like you.
Additionally, I want to tell you that I am retiring as the President of the Nepal Youth Foundation and that the Board has appointed Som Paneru, our former Executive Director in Nepal, as my successor.
This is bittersweet – on the one hand, I am leaving a position to which I had devoted the last 25 years of my life. On the other, I'm taking a step toward fulfilling my most ardent wish – that the Nepal Youth Foundation (NYF) continue to provide life-changing help to the neediest children of Nepal. The appointment of Som as the new President will bring to NYF the skills, the passion, the smarts, the creativity, and the experience to assure its future long after I am gone. NYF has a bright future.
Let me tell you a bit about Som. He is a product of NYF's scholarship program and the son of a poor farmer from the Ghorka District of Nepal. In the 1990s, after we granted him a scholarship to Tribhuvan University in Kathmandu to study science and math, he brought several of his young siblings to Kathmandu from his village to assure that they, too, would receive an education. He enrolled them in school in the city, and provided all the care they needed, and full support. Several of his siblings now have advanced degrees.
After Som graduated, he wanted to teach, but not in a private school for rich kids, but in a poor village where the instruction in science and math was pitifully inadequate. He explained that he had "a lot to pay back" to those who had helped him to get an education.
NYF was growing quickly, and in 1995 we offered Som a job. It became apparent very quickly that he had an uncanny knack for creating and administering programs. Our very popular Indentured Daughters Program was his idea, and he was instrumental in creating the ingenious "piglet for a girl" method to liberate these young girls from slavery (www.nepalyouthfoundation.org/programs/freedom). And it was his idea and his excellent relations with the Ministry of Health that led to the government agreeing to take over and fund all the 14 Nutritional Rehabilitation Homes we have built after we operate them for five years (http://nepalyouthfoundation.org/programs/health/nrhindex.html).
I will continue to be involved with NYF, of course. I hold the post of Honorary President, and will continue as a member of the Board of Directors. It is hard to exaggerate the pleasure your support and encouragement have given me over these many years. It has enabled NYF to grow from a tiny organization to what we are today – a well-run foundation providing transformative help to thousands of Nepali children every year.
Warm regards,
Olga Murray
Founder and Honorary Board President
Nepal Youth Foundation
P.S. Please learn more about the Nepal Youth Foundation's diverse programs for children in need at www.NepalYouthFoundation.org.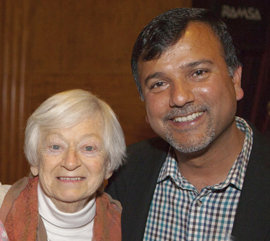 Links: