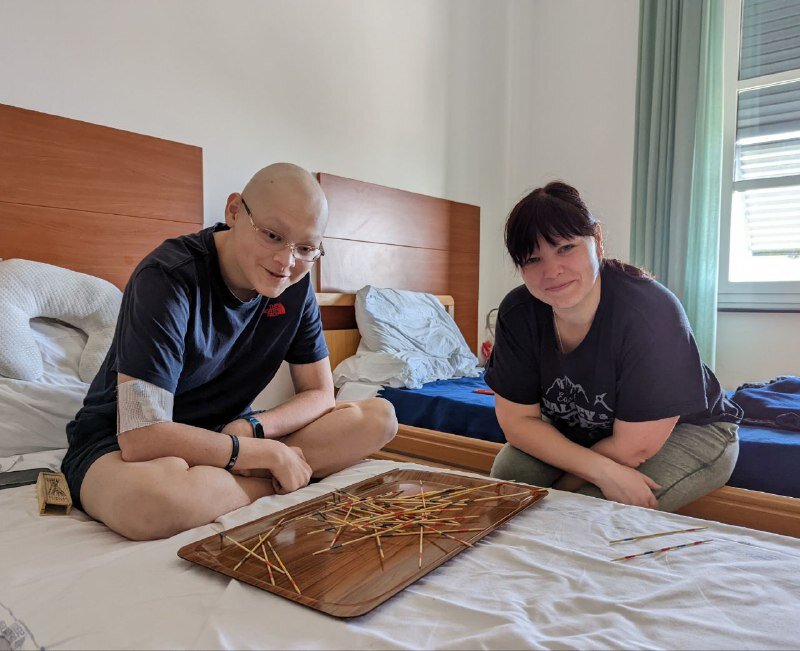 Dear friends,
thank you for supporting Ukrainian kids in time of war.
Your contributions make it possible to support the healthcare system of Ukraine and children and their families who need individual aid, including medication, psychological support, and physical rehabilitation. Please, see the infographics in the attachment below with the map of Ukraine and aid provided.
The children we evacuated abroad receive treatment free of charge but still they need our financial support for basic expenses like food and clothes.
One of such children is Oleksandr from Kryvyi Rih, a cancer patient who has been on treatment in the Italian city of Genoa for a few months with his mom Olga.
In Ukraine, Sasha was preparing for a critical examination, on which the next stage of treatment depended. The war ruined all the plans. When Olga saw missile strikes near their hospital, she realized she could not save her son in her home country.
They decided to go for treatment abroad. The evacuation was not easy. The van transported them to the Ukrainian-Polish border, and they had to cross it on foot at night. Then there was a night in Poland and a medical flight to Italy.
The adaptation in Italy was not always easy. There was a language barrier. The feeling that no one understood you and you understood no one, was so sharp at first that Sasha and his mom panicked and wanted to return home. Still, humans are adaptive, so over time they adapted too. Of course, a Google translator and Italian lessons by local volunteers helped.
The Italian doctors were amazed by the awareness of the Ukrainian mothers, who easily used medical terms when talking to them. Italian mothers don't seem to be like that – they completely trust their doctors. People in Ukraine who always have to think of survival got used to live according to the principle: trust, but verify. That's why Ukrainian mothers learn their children's protocols and all possible medical terminology.
There were other problems, for example, unusual local food that the Ukrainian kids couldn't eat, especially after chemo, that's why they remained hungry. At first, the mothers were not allowed to cook but when the doctors saw the children's reaction, they gave their mothers access to a kitchen. Then the kids could enjoy their favourite borscht, Ukrainian beetroot soup, and buckwheat.
No matter what Olga is happy that her son Sasha can receive high-quality treatment in time. But she dreams of returning home too. Sasha's younger brother remains with his granny, he misses his mom very much. All of them want to be together at home one day. But first, Sasha must win over cancer, and Ukraine must win the peace.
Thank you for being there for Ukrainian kids and their families in the most difficult time!