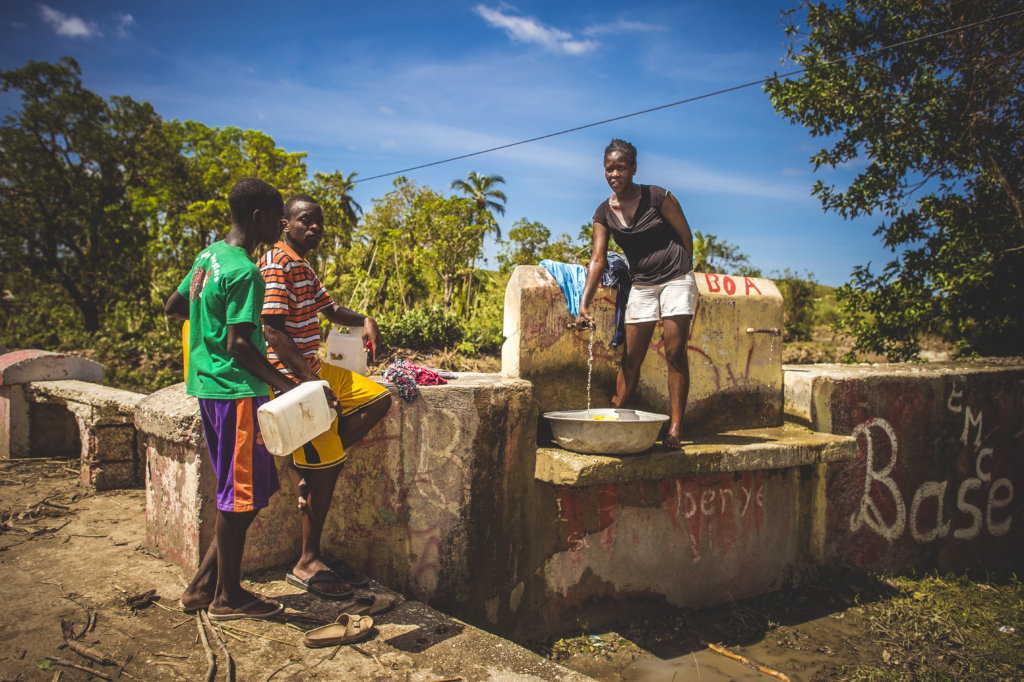 All photos: Sean Sheridan for Mercy Corps
The Haiti context
Haiti remains one of the western hemisphere's poorest countries. Ranked amongst the most affected by natural disasters, Haiti regularly deals with devastating floods, droughts and hurricanes. In addition, Haiti's political situation is fragile and uncertain, causing currency devaluation and inflation.
In the face of these daily challenges, Hurricane Matthew struck the country on October 4, 2016 with 145-mile-per-hour winds and heavy rain. The storm destroyed roads, infrastructure, properties and crops, leaving over 15,000 people displaced and over 750,000 people in need of urgent humanitarian aid. Haiti's farmers were particularly hard-hit – many were still recovering from the devastating earthquake in 2010 and had not yet built in safeguards to protect them from the next disaster.
Supporters like you gave through GlobalGiving immediately and stepped up to make a difference. Thanks to their generosity, people in Haiti are rebuilding and recovering from the storm that took lives, homes, and belongings.
A quick pivot to emergency response
Mercy Corps' global mission is to empower people to survive through crisis, build better lives and transform their communities for good. In response to the January 2010 earthquake, Mercy Corps opened operations in Haiti to help meet urgent needs, and today we still have 32 team members living and working on the ground to help vulnerable Haitians increase incomes through vocational training and entrepreneurship, access savings and loans, promote conservation farming techniques to increase profits and build food security, and promote clean energy technologies and land conservation to rehabilitate degraded land, maintain fertile soil and reduce damage from recurring natural disasters.
As soon as the hurricane passed, our staff began assessing damaged areas and the impact on local communities. These assessments showed that the Carrefour-Feuilles and Canaan areas in the greater Port-au-Prince area, where Mercy Corps has established programming, were not significantly impacted and did not require any emergency response. Mercy Corps resumed its regular programming in these areas, with heavy emphasis in the Arcahaie-Montrouis corridor where agriculture production was severely impacted, with an average of three-quarters of farmers losing 80% or more of their harvest. We are continuing work there as part of our ongoing programs.
In addition to continuing operations in our regular program areas, Mercy Corps proposed providing emergency assistance to the department of Nippes, where there was a significant gap in assistance. In coordination with other organizations, the government, and local actors, Mercy Corps conducted rapid assessments in six communes (equivalent to municipalities) assigned by the local office of the Department of Civil Protection.
The needs assessments indicated that the most urgent needs were clean water, shelter, and food. Once these most basic human needs were met, the focus moved to restoring crops and livelihoods, particularly as the lean season approached and families were left without a harvest or means to purchase seeds. In coordination with the local government, Mercy Corps made the decision to focus on access to water, shelter and income.
Access to Water
Since October, Mercy Corps has reached more than 30,000 people with clean drinking water, hygiene kits and cholera prevention measures. Highlights include:
Providing immediate clean drinking water to 2,778 people via water trucking to distribution points, a temporary measure while assessing and undertaking repairs to the water system. For more remote communities, Mercy Corps provided jerry cans.
Repairing two water systems serving five communities, restoring permanent access to clean drinking water for 4,155 people. Mercy Corps is also training communities to maintain these systems for long-term sustainability. Our focus is on restoring permanent access to clean water, for now and years to come.
Distributing hygiene kits for 4,600 people. Mercy Corps prioritized vulnerable households, in particular those headed by single mothers and youth.
Conducting cholera awareness-raising activities, reaching 22,995 individuals. Facing the threat of outbreak, Mercy Corps prioritized raising awareness about cholera prevention.
Shelter
Immediately after the storm, Mercy Corps distributed emergency shelter kits and today we are providing materials and training to help families rebuild their homes and generate income. Highlights include:
Providing basic reconstruction materials such as lumber, cement and roofing materials to enable 200 families in the remote, mountainous region of Arnaud to repair their homes. By pooling funds alongside our shelter partner, Habitat for Humanity, we were able to continue to provide shelter for families who had initially received emergency shelter kits.
Training 125 young people and local mason workers on proper construction techniques to ensure stronger construction using locally available materials and reduce vulnerability to future storms. A select number of those trained who are unable to carry out their own repairs will also qualify for a small stipend to help cover rebuilding costs. This will allow us to achieve both the repair of homes as well as generate some income in the community so families can buy food and other basic items.
Restoring Livelihoods and Food Security
Mercy Corps has been working in the mountains above Arcahaie, about one-hour north of Port-au-Prince, since 2011. Approximately 60% of the farmers there lost between 60-80% of their crops, and there was near complete loss of livestock (mostly goats and chickens). Mercy Corps and our local partners spent a great deal of time and thought on how to respond to these extraordinary circumstances without undermining six years of development work and self-reliance with the nearly 3,000 farmer members. Our thoughtful and collaborative approach included:
Mercy Corps provided 16 megatons of black beans and 7.5 megatons of Congo beans to our three farmer association partners for distribution to 3,300 affected farmers. The associations and their members determined that these items not be distributed as charity but in a way that also reinforced resilience against future threats.
Farmers will also use these beans to start a seed bank that can serve as a form of insurance if there is another hurricane or drought in the area. Mercy Corps is particularly proud of its local partners for having designed an approach to the humanitarian response that also takes into consideration ways to reduce risks in future disasters.
Mercy Corps is providing approximately 1,200 households with unconditional cash transfers. The disbursements to the selected households in the communes of Anse a Veau and L'Asile will be completed by the second week of April.
Thank you
Your support is helping Mercy Corps reach families and communities in Haiti with emergency food, shelter, and clean water, and helping people rebuild with cash transfers, working markets, and stable and resilient communities. Thank you for your incredible support in the wake of Hurricane Matthew's destructive path – through GlobalGiving, Haitians are rebuilding homes, recovering land, and finding a way forward.
How you can help
Donate today. Every single contribution helps us provide cash, water, shelter and support to Haitian families and others in crisis around the world.
Tell your friends. Share this story and spread the word about the millions of people who need us.
Get your gift matched. Many companies match their employees' - and sometimes retirees' - gifts, doubling your impact and reaching even more people in need.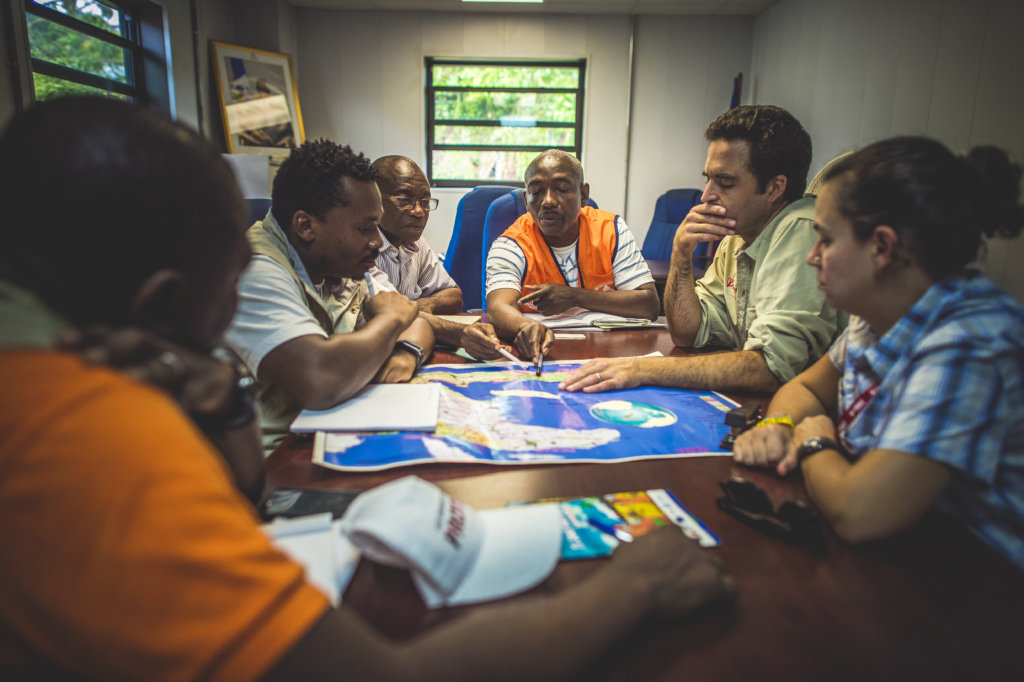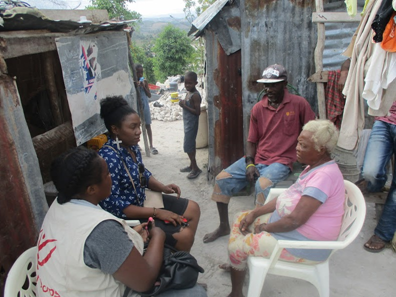 Links: