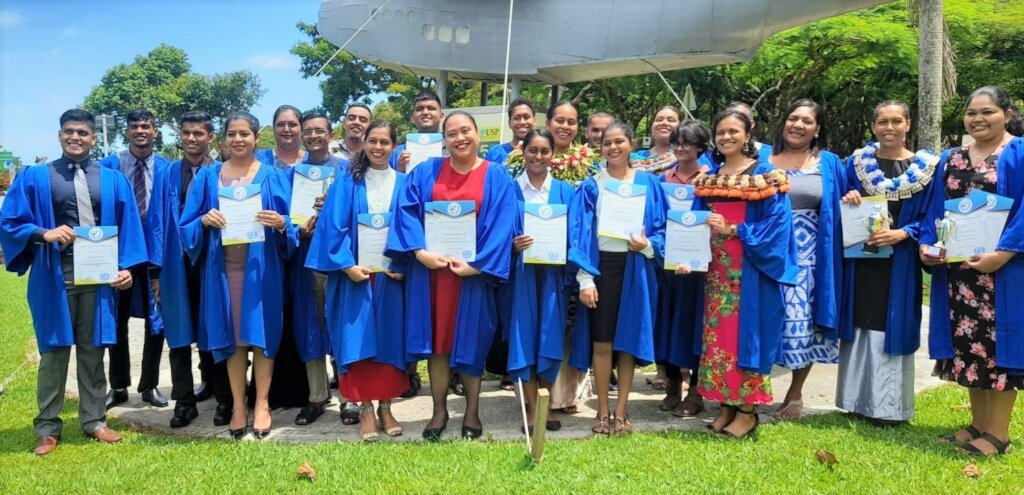 Please note, names have been shortened or removed to comply with GlobalGiving's rules. To see the full report and the list of distinguished guests please visit our website UNAFiji.
23 graduands of UNA Fiji's Basic Diplomacy Training Programme (BDTP) 2021 finally became graduates on Saturday, 5 March 2022 at The University of the South Pacific (USP), Laucala Campus, Suva. In attendance were distinguished individuals, including Ambassador Retired and former High Court Judge, H.E. Mr. M – who was the Chief Guest for the event, with Samoan High Commissioner H.E. Ali'ioaiga Mr. E, Charge d'affaires ad interim the United States Embassy to Fiji Mr. G, and Acting British High Commissioner H.E. Mr. W as invited guests of honor.
The Diplomacy Training Programme is UNA Fiji's major programmatic work and promotes the concept of "leadership through the art of diplomacy" through an interactive learning experience that aims to create Active Fijian Citizens who go on to become Active Global Citizens by inspiring change in Fijians and paving a brighter future for our beloved nation-state.
Chief Guest, Ambassador Retired, H.E. Mr. M commended the graduates for the knowledge and experience they received through the Basic Diplomacy Training Programme and told them how fortunate they were to have participated in it. He shared his own experiences as a diplomat during his service to the Republic of Fiji and gave key advice on how to become successful diplomats, stressing the importance of having integrity, being courteous, staying relevant, and showing empathy. He encouraged the graduates to "never feel small because you are from a small country, have a guerilla mindset, and don't be limited by what's in front of you. Always think big and develop skill sets that are multifaceted whilst staying focused on your diplomatic mission and express friendliness so it becomes infectious and opens areas in diplomatic engagement" were just some of the notable remarks made by Ambassador M.
In his address to the graduates, Samoan High Commissioner H.E. Ali'ioaiga Mr. E encouraged them to "treat your family, your community, your organization, your workplace, your Fiji, and our Pacific region as your United Nations. Contextualize and translate the UN agenda, including SDGs into the everyday needs and aspirations of all Fijians," He continued by recommending that they should relate the UN charter to the Fijian context to better tackle everyday issues and challenges faced within the nation. High Commissioner Mr. E also spoke on the importance of family values, female representation in communities, and diplomacy, saying, "Don't advocate because it's fashionable to do so, rather walk the talk as actions speak louder than words". He also reminded me that the best way to solve a problem is to look at it from all perspectives.
Charge d'affaires ad interim the United States Embassy to Fiji Mr. G also congratulated the BDTP2021 graduates saying, "This is your day, you worked hard for it,". When speaking about his experience at the United Nations Headquarters in New York, he also mentioned how international organizations such as the UN implement world order through the art of diplomacy and the importance of world order, such as during the Covid-19 pandemic. Mr. G went on to commend how every Pacific Island country present at the UN General Assembly last week voted 'yes' on a resolution to the Russian-Ukrainian crisis, reminding everyone present that every vote matters in the General Assembly, regardless of the size of a nation or region. Mr. G ended his address by saying how proud he was to see them working toward covering international crises and practicing world order through the art of diplomacy.
Finally, Acting British High Commissioner H.E. Mr. W reminded the graduates of what it means to be a diplomat and public servant. "As a diplomat, you must defend the position of your country, that you personally may not agree with," he said. High Commissioner Mr. W also paid tribute to the Association, its President Mr. A, and the BDTP 2021 graduates who he had also addressed in a training session facilitated in 2021. He also acknowledged and praised the Island nations for standing together in condemning the recent actions of Russia towards Ukraine, mentioning how proud he too was of their sense of resolve. "Each vote is equal… your vote, your voice, your opinion, has equal resonance as the United States or any other country". He reminded the graduates that they can make a difference in people's lives and hoped that some of them will find their way into the area of Diplomacy and International Relations.
The BDTP 2021 graduation ceremony was long-awaited due to the Covid lockdown period last year and the necessary postponement of the training sessions. However, as a graduate speaker, Ms. L said "COVID-19 did not stop us. It reminded us to cherish the small, important elements in life." She also highlighted that despite differing backgrounds and expertise, diplomacy united her and her fellow graduates' and made them one. She ended her speech with encouragement and a reminder, saying, "We have reached this level, and there is only one way from here – UPWARD. Let us reach out to others and pull them up. Go out, teach, and empower. Share the knowledge, make a difference, and make an impact."
Special Awards were presented to the following graduates during the ceremony:
Graduate Speaker Award & Best Research Award – Ms. L
Coordination Award – Mr. S
Meritorious Award – Ms. C
Best Delegate Award – Mr. P
Honorable Mention – Ms. A
Activist Award – Ms. N
Dedication Award – Mr. C
Best Team Award – Be Positive
Certificate(s) Of Appreciation - Mr. S & Mr. D
Before officially closing the ceremony, tokens of appreciation crafted by a graduate of BDTP 2021, Ms. C were presented to the special guests. The President of the Association Mr. A also received a token of appreciation as the graduates' way of thanking him for helping them on their diplomatic journeys and for the invaluable knowledge he has imparted to the graduates through the Basic Diplomacy Training Programme.
A vote of thanks was moved by UNA Fiji's Governance Advisor Ms. S, who also spoke on behalf of UNA Fiji's Patron, Ambassador Extraordinary and Plenipotentiary of the Republic of Fiji to the Republic of Indonesia H.E. Mr. Y and Senior Vice-Patron of UNA Fiji Ambassador Extraordinary and Plenipotentiary of the Marshall Islands to South Korea H.E. I, who sent their utmost gratitude to all those who contributed to the event and the Basic Diplomacy Training Programme as a whole.
Once again congratulations to the graduates of BDTP 2021 on a job well done and a big vinaka vakalevu to all those who attended and helped make the event a success. Special thanks to the friends and family of all the graduates and facilitators of the BDTP sessions for their continuous support towards molding our young leaders into becoming Active Fijian citizens of their beloved nation.
With Class, Dignity, and Elegance –
#UNAFiji
#ActiveFijianCitizen
#GlobalCitizenshipEducation