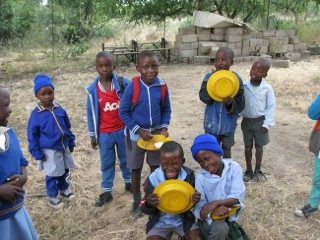 Dear Supporters,
It's about time that something from Zimbabwe made your smile- and here it is- we'd highly recommend you watch this video!
The Marula children gave a concert for some visiting American students, and the highlight was a performance from the from Grade 0's, of their very special rendition of Baa-baa-black-sheep, and the Wheels on the bus. A scuffle broke out during rehearsals between two little boys in the front row when the wheels on the bus went in opposite directions, but this was quickly resolved by the teacher!
Meanwhile, in the crazy world of their elders, President Mugabe and his entourage of over 50 people, including his wife, flew to New York for a week by invitation of the U.N. to attend an Oceans Summit, in order to contribute some crucially important opinions from landlocked Zimbabwe.
Our President has blown over $20 million in foreign travel in the first half of 2017 alone. Perhaps it escaped his notice that according to the Africa 2016 Wealth Report, Zimbabwe has been ranked as the country with the poorest people on the continent. It's almost impossible to believe that in 2000, on a per capita basis, this was one of the wealthiest countries in sub-Saharan Africa.
Meanwhile, on the streets, acute cash shortages mean that banks are limiting the amount of money both individuals and companies can withdraw, to as low as $20 a day – often dispensed with sacks of coins. The fact that it is so difficult to access their money also makes people reluctant to put it into their banks. In any case, the majority of Zimbabweans live in the rural areas, in a hut with no power or running water – and certainly no chance of ever owning a bank account.
Economists report that poverty levels in the country are skyrocketing, with average incomes now at their lowest levels in more than 60 years – with more than 76 percent of the country's families now having to make do with pitiful incomes that are well below the poverty datum line.
Many of the day scholar parents at Marula can no longer afford the school fees and even if they could –there is no cash available to do so. But still, their children keep coming – and the school hasn't the heart to send them away.
And you can rest happy knowing that every single one of them (270 +) is receiving a nutritious meal every day, thanks to your hard-earned donations.
Thank you!
With love from all at Marula School