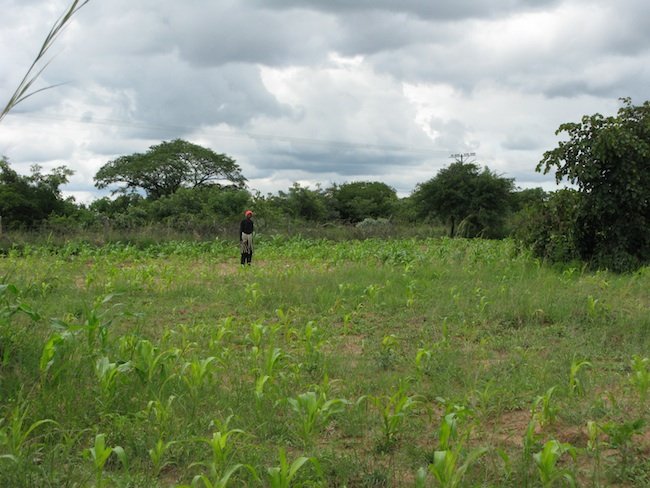 Dear Supporters,
The New Year started with high hopes of a good rainy season and a bumper maize crop. And what a season it has been, our area in the south-west of Zimbabwe has been literally awash. Rivers that have been dry for years are now running, dams are full and the cattle and the wildlife, at last, have full bellies.
But – and there is always a but in Africa – the welcome rain turned into a flood, particularly after the arrival of Cyclone Dineo, which first made landfall in Mocambique. The effects on the crops have been dire. They have either been swamped or washed away, as have many mud and thatch houses, which are simply not designed for such a downpour.
The photos attached are from a village near the school. The maize plants should be at least 1.5 m high at this time of the year, but all that is left are a few yellowing stalks. Fortunately, the big dam from which people draw their water is intact, though many of the smaller dams in the area, as you can see from the photo, simply couldn't take the pressure of such a huge volume of water.
Thanks to you, though, feeding continues unabated at Marula school, to the relief of local families. As expected, the introduction of our "bond" notes as a result of the mysterious disappearance of real money has led to inflation, and prices of basic commodities have risen sharply in the last couple of months.
These problems, however, do not affect our leaders. Here is a report from a local rag about the President's 93rd birthday party that was recently held in our area:
"The Mugabe family and their cronies feasted on a 93 kg cake at a requisitioned school in Matobo where local people live in desperate poverty, their children starving, increasingly cut off from the outside world by decaying infrastructure."
And here's another eye-opener from the president's wife:
"For her part, Grace Mugabe, as befits someone with a doctorate, takes a more scientific view. She wisely warns girls that they are more likely to get pregnant than boys and cites her evidence: 'If you look at the statistics, girls have nearly 100% chance of getting pregnant, while boys have nearly zero chances of falling pregnant. This means girls have to be extra vigilant"
Thank you, everyone, for helping our little school – you'll never know just how much it appreciated.
Lastly, here's a cheerful picture- one kind donor arrived with a box full of soft toys for our littlies, and the elephant was a favourite!
With Gratitude,
Bookey Peek