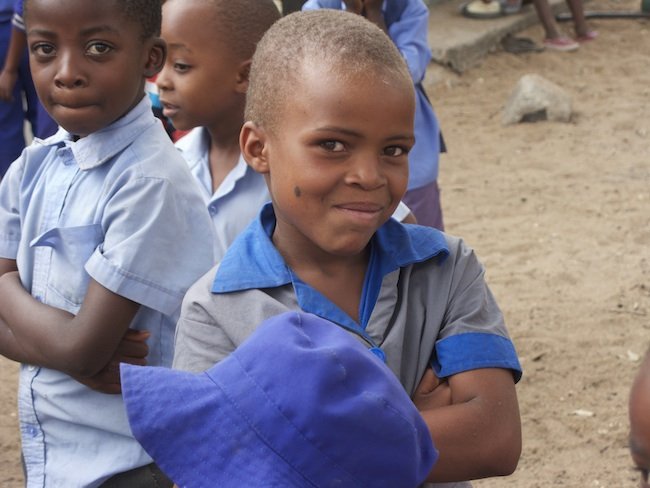 Dear Supporters,
Our very best wishes to all our donors for 2017 from all of us at Marula Schoolease
To kick off the year, please watch our amazing choir practicing for their performing of Amazing Grace (video on our Facebook page). The choir is made up of both boarders and day scholars and lead by their gifted music teacher, Mrs. Dube. They sing like angels! Late last year, they competed in the national finals - having won on both the district and provincial levels. We can't believe that any other school will sing Amazing Grace as beautifully as they do!
We have had some early rains, which have been erratic, but nonetheless very welcome indeed. It remains to be seen whether the maize crop will be successful this year, but it's certainly been a great start.
As one would expect, the sound of jingle bells and the rustle of wrapping paper are not a feature of the Christmas season in rural Zimbabwe. Instead, the children are anxiously awaiting the start of the school term in the second week of January –when they will once again be receiving their daily lunches.
The lives of all Zimbabweans have been made increasingly difficult because of the shortage of money – the banks having mysteriously run out of the US$ that have kept us going since 2009 when our local currency was scrapped. In 2008, we almost made history with a rate of inflation of 89.7 Sextillion percent – when a single egg cost over a billion dollars.* But here we go again. Despite violent opposition on the streets, Government has once again introduced the dreaded "bond notes", backed by fresh air and breezy promises that they will continue to be on a par with the US$, when the fact is that on the day that the first notes appeared, the fuel stations were already loading them with a 20% premium.
This, of course, makes food even less available to the vast majority of Zimbabweans (say, 99%), who at the very least need a regular supply of mealie meal – their staple diet. As usual, Government made no provision this year for grain imports, and what little did come in was earmarked strictly for party members only.
For most rural people, their only assets are their cattle. But stock losses in our district alone have numbered in the thousands as farmers cannot afford supplementary feed, and selling them is hardly an option with so many animals on the market. So, this early rain has been a godsend for those that have survived (and of course for the wildlife!)
I'll be posting some updated pictures when school opens, but in the meantime, our heartfelt thanks to you as always for helping these children - and for giving them the best present they could ever ask for – one square meal a day.
* A few months ago, the son of the Governor of the Reserve Bank was detained at the border post with South Africa carrying US$7 million in cash.
Thank you for your interest in our project and for your generous support over the 2016 festive season. Your donations will go a long way in 2017!
With Gratitude,
The GVI Trust