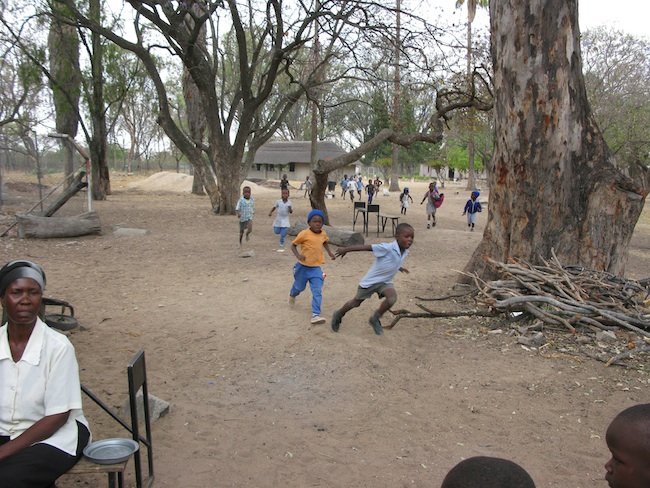 Dear Supporters,
Zimbabwe may be in a bigger mess than ever, but the 270 day-scholars at Marula school are happy, thanks to you, our very generous donors. Happy, in Zimspeak, is simply a good meal – and thanks to you, we have been able to feed every child a nutritious lunch every school day so far this year, and this will continue until the first week of December when schools break up for the holidays.
Every school day at 12 noon, grades 0 and 1 tear out of the classroom to the smoke-blackened little hut where local ladies are stirring two huge cast iron pots - one containing "sadza", a thick porridge which is the staple diet of Southern Africa, and the other with a mix of cabbage, tomatoes, beans etc. Each child gets a full plate. When the littlies have had theirs, in come the Grade 2's, and so on, till the Grade 7's have finished, and the ladies can finally clean the pots, pack up and walk home. It's a big job.
Even though our rate of unemployment is around 99% these days, and it's very probable that none of these children will ever have a job, their parents would rather go without food themselves than deprive their child of an education. The 80 or so boarders, whose parents are employed, and can afford the fees, receive their meals at the school. The day scholars pay $25 per term, a huge sum for their unemployed parents, which is indicative of how crucial they consider education to be. Those children receive nothing but their tuition at the school. When the bell goes for lunch, the boarders head for the dining room, and were it not for the meal our donors provide, the day scholars would be left hungry outside.
With food in their bellies, their lives are transformed – for them joy is a square meal. Children smile so easily – and you are giving them something to smile about. Compared to daily hunger, our own concerns and irritations seem so trivial.
Today, Scout Jabulani Khanye and I went up to the school when the infant grades were lining up with their empty plates, and as you can see from the pictures, I was swamped – dozens of little hands reaching out to shake mine.
There are so many worthy causes that you could contribute to – and we feel immensely grateful that you have chosen support this little school.
As for Zimbabwe, we keep hoping for change. We don't give up - we've been hoping for over 30 years now, and it must come. May I recommend a marvelous book for those who are interested in our country? It is called The Struggle Continues – 50 years of Tyranny" - written by David Coltart, a lawyer and political activist who has fought against our corrupt dictatorship ever since his university days. This is the only definitive political account of our country ever written, and in my view, the man should be in line for the Nobel Peace Prize, having survived 5 attempts on his life and still fearlessly carried on.
Lastly, here is an excerpt from a recent report from Oxfam which refers particularly to the problems in our area:
"In 2015/16 up to 75 percent of crops failed in some of the most drought-affected districts in the south due to prolonged dry spells and record high temperatures. Agriculture based livelihood was severely impacted, leading to loss of crops across two cropping seasons. This subsequently had an impact on livelihood options for the majority of poor households across the country, especially in the south. As a result of the ongoing dry spell and drought, there are acute water shortages in the affected districts and nationally, 31 percent of boreholes are no longer functional. South of the country currently faces acute food insecurity and disruption to agricultural practices impacting on food security. As per FEWS-net Masvingo and Matabeleland South provinces (Southern provinces) continue to experience Crisis(IPC Phase 3) food security outcomes from April through September. According to the findings of theJuly 2016 Zimbabwe Vulnerability Committee (ZimVAC) Assessment, 4.1 million people will need assistance at the peak of the 2016/2017 lean season. This group of affected community will therefore remain the main priority for humanitarian support for the remaining part of the year. Oxfam's assessment in the target districts highlight severe food insecurity at community level, loss of crops; absence of carryover stocks, asset loss including critical water shortages impacting the targeted communities."
Once again, thank you from the bottom of our hearts for all of your donations, it really does give us something to smile about!
With Gratitude,
Marula School