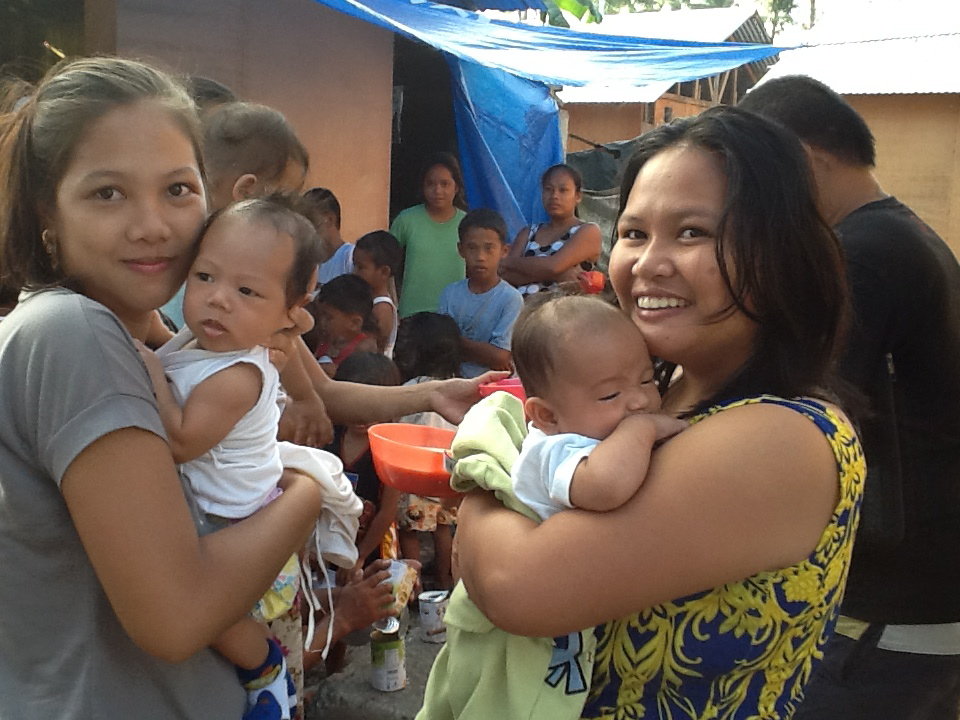 Thanks to your amazing support we recently worked with our partner Mobile Soup Kitchen for Kids (MSKK) to provide hundreds of hot, nutritious meals in Tacloban's Barangay 88.
This is one of Tacloban's coastal communities and it was devastated by typhoon Haiyan and the accompanying storm surge. All the houses were destroyed and environmental damage meant that families, who mainly relied on fishing to survive, also lost their livelihoods.
Families living in Barangay 88 have received temporary houses but life is still very tough. People in the community work hard but when they try to fish the catch is usually poor. What they do catch they have to share with the actual owners of the fishing boats, which they just "rent". Some people look for construction work, but this can only be found occasionally. As a result of all this it's a daily struggle to put food on the table.
Our recent work providing hot meals in the community offered a few days relief from this struggle and gave families, still struggling to recover from typhoon Haiyan, an important lifeline.
The meals we provided saved families from having to use precious savings to pay for food. It also meant that kids didn't have to go to school hungry. By placing a special focus on young children and mums with nursing infants these meals also helped keep some of the most vulnerable residents well nourished and healthier.
Of course, while important in providing relief, feedings like these aren't a long-term solution to food insecurity and full recovery from the typhoon. What Haiyan survivors really need are increased livelihoods opportunities so that they can provide for themselves once again.
We realised this soon after arriving in Tacloban and in response we've previously helped communities to grow their own food through vegetable gardens. We've also provided sewing machines to enable women to make products to sell.
But we wanted to do more to help families with their long-term recovery. So, we're delighted to have recently partnered with Oxfam to help lift 150 fishing families out of the poverty caused by Haiyan. We've done this largely by providing a sixty foot fishing boat to a local fisherfolk association in another of Tacloban's coastal communities.
The city's coastal waters were damaged by Haiyan and have since been heavily over-fished due to many small boats being provided. However, our boat is large enough to travel into deeper waters where fishing is more productive and sustainable.
The boat is also communally owned by members of the fisherfolk association. This means that they don't have to provide a share of their catch to boat owners.
Finally, while the fishing crews are still predominantly male, many women are actively involved in the process of drying and selling the catch. This means that families are now working together, both as households and as a community, to recover from typhoon Haiyan.
Thanks so much for helping us to meet both immediate and long-term needs after the typhoon.
As always, if you ever have any queries about how we're using your donation, please don't hesitate to email Andy@IDVolunteers.org. I would be delighted to hear from you.